There's a sushi spot Ryan and I love that has the most amazing smashed cucumber salad with a briny and slightly spicy sauce on it. I had my eye on a recipe from Kitchn for some time, but also had a container of shishito peppers waiting to be used. So I combined the two and I'm so glad I did! And that's how this Spicy Cucumber Salad with Blistered Shishito Peppers was born. It's salty, and spiced, and crunchy, and so richly flavored. And also couldn't be easier!
Now, I had thought this would be a salad that needed to be enjoyed immediately, but after *accidentally* leaving it in the fridge while our family went to the mountains, I was surprised to find that it tasted amazing, if not better, 3 days later! The cucumbers remained crunchy and the sauce permeated the vegetables even more deeply.
Persian Cucumbers 
Persian cucumbers are small and thin-skinned, seedless, and a little sweet! They are delicious in any salad, but this one lets them be a star! Generally speaking, the more seeds a cucumber has, the more watery it is. So Persian cucumbers, without seeds, stay crisper and yet also take on the dressing better than their conventional counterparts would in this spicy cucumber salad with blistered shishito peppers. 
Garlic Chili Oil 
There are loads of garlicky chili crunch oil options available these days. The condiment became something of a viral sensation and versions are now sold by everyone from celebrity chefs (David Chang of Momofuku) to chain grocery stores (Trader's Joes). It is salty and umami and quite addictive, to be honest! Essentially, it is a combination of chili flakes, oil, salt, and garlic that can be added to lots of things (salads, dressings, burgers, to name a few). 
Chili Oil Substitute 
If you'd like to make your own version of this spread, look for dried garlic pieces. These pieces will be small, but much larger than granulated garlic. You'd want to fry them up in a hot pan with oil, chili flakes, and salt. You can also substitute a bit of sriracha instead of the chili crunch in this recipe.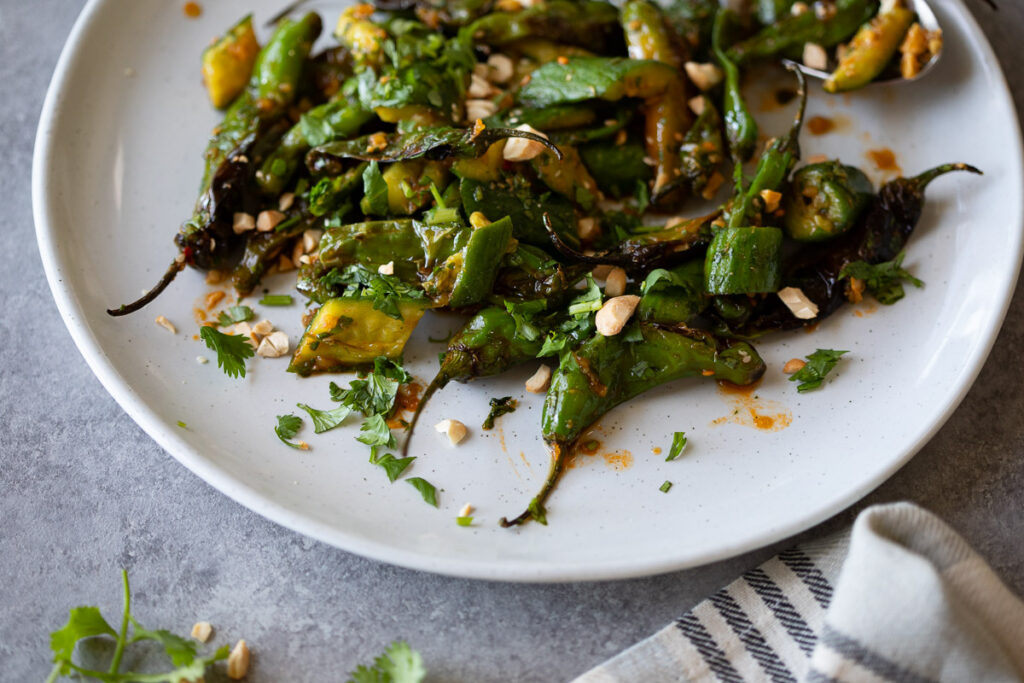 Japanese Peppers 
Shishito peppers are Japanese peppers with long narrow bodies and thick stems. They have very few seeds and a thin skin. They take heat easily and quickly and when grilled or put in a hot pan, their skin turns dark. You want this! It's called "blistering" the peppers and it really develops their flavor nicely. So make sure you give them a good sear in your hot pan and then let them do their thing — don't touch them!
Are Shishito Peppers Hot?
Shishito peppers are not hot…usually! The statistic is that about 1 in every 10 peppers has some heat to it. So, occasionally you may encounter one that has a bit of spice, but they are mostly quite mild and even when you do get a spicy one, I don't find it overwhelming. 
Cucumber Pepper Salad 
I hope this salad expands your horizons a bit — the flavor is so unique and if you're like me, once you make it, you won't want to stop! Enjoy.
Want more easy salads to try?
Watch me make this Spicy Cucumber Salad with Blistered Shishito Peppers on Instagram
View this post on Instagram
Shop the Recipe
Print
Spicy Cucumber Salad with Blistered Shishito Peppers
Author:
Prep Time:

30 minutes

Cook Time:

7 minutes

Total Time:

37 minutes

Yield:

4

1

x
Category:

Side Dish

Method:

Stove top

Cuisine:

Japanese
½

pound Persian cucumbers

1 1/2 teaspoons

coarse sea salt

2

cloves garlic, crushed

1 teaspoon

freshly grated ginger
Juice of

1

lime

1 tablespoon

chili crunch

2 tablespoons

coconut aminos

2 teaspoons

toasted sesame oil

1 ½ tablespoon

coconut sugar

⅓ cup

chopped fresh cilantro leaves

1 pint

Shishito peppers

2 teaspoons

avocado oil

2 tablespoons

chopped dry roasted cashews
Instructions
Trim the ends off the cucumbers. Using the flat side of a large chef's knife firmly crush the entire length of the cucumbers to release their juices. Wipe the cutting board dry and slice the cucumbers crosswise on a diagonal into 1/2-inch thick slices. 

Transfer to a colander set over a bowl and sprinkle with 1 teaspoon of coarse salt. Toss to coat and let sit for 30 minutes.

Meanwhile, in a large bowl, whisk together the garlic, ginger, chili oil, coconut aminos, sesame oil, coconut sugar and cilantro. Set aside.

In a large bowl, toss the peppers with the oil. Heat a large cast-iron skillet over high heat until the oil shimmers. Add the peppers in a single layer and cook, without touching, until blistered underneath, 3 to 4 minutes. Flip and cook until blistered in spots, puffed, and tender, another 1 to 2 minutes. 

Transfer the cucumbers to the bowl with the sauce and add the blistered peppers. Stir gently to coat. Season to taste with the remaining coarse sea salt. Top with cashews and cilantro leaves. Serve immediately or chill for up to 5 days. 
Spicy Cucumber Salad with Blistered Shishito Peppers