Easter is right around the corner so I wanted to share an exclusive recipe from the Easter chapter in my Celebrations cookbook! This recipe for Asparagus Prosciutto Tart is a wonderful dish to make if you are planning to have an Easter brunch or if you just want to treat yourself and loved ones to a special Spring breakfast. It is also a really nice recipe to make for a baby shower or Mother's Day, so be sure to archive the recipe for the future! 
Breakfast tarts are elegant and tasty and can be served for breakfast, lunch or in between. This tart is not only a treat for the eyes but is also full of beautiful spring vegetables and rich flavors from the egg yolks and prosciutto.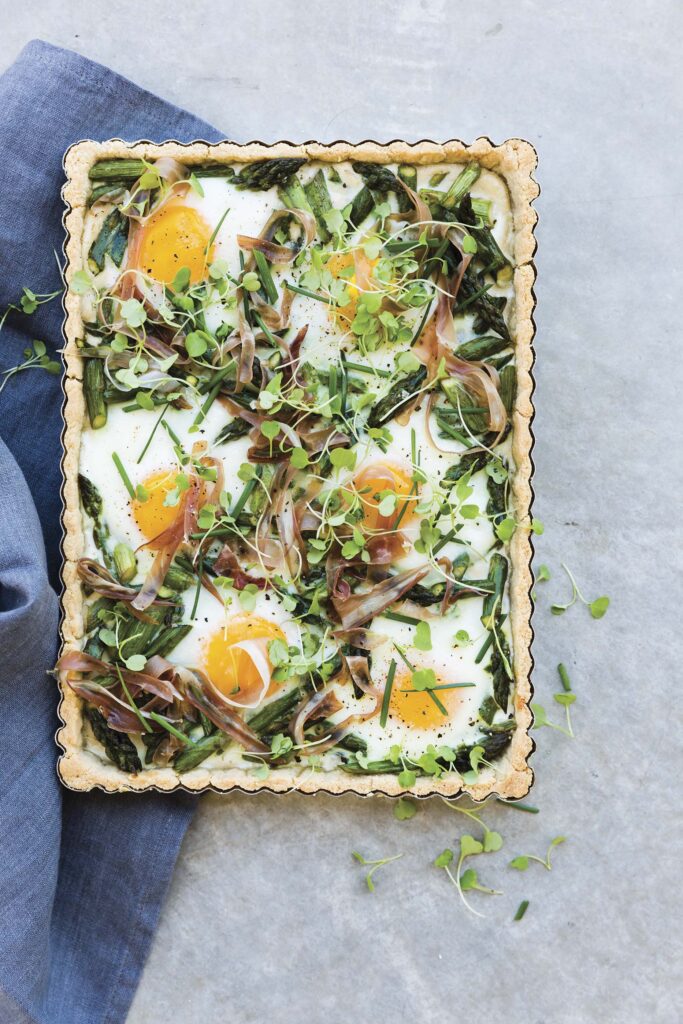 Make it ahead tips: 
If you are planning to make this for your family on Easter and would like to get ahead, you can certainly prep it ahead of time to make the morning less stressful. I like to bake the crust and make the cashew cream the day before. This keeps me from spending too much time in the kitchen the day of and allows me to spend more time with my family. You can store the crust tightly wrapped and the cashew cream in an airtight container in the refrigerator. When you are ready to bake the tart, just bring them out to sit at room temperature while you prepare the filling. 
Dairy & Cashew Substitutes: 
This recipe uses a cashew-based cream for the dairy, but if you are able to tolerate dairy, I recommend substituting it with creme fraiche. I'm able to tolerate dairy in moderation as long as it is from grass-fed cows, sheep or goat. I find that sheep or goat cheese is significantly easier to digest compared to cows dairy. I always look to buy organic and grass-fed, as they are less likely to have added ingredients in them and are easier to digest without the added hormones and preservatives. For more information on why I buy grass-fed, you can read this blog post. 
If you are unable to tolerate cashews but can do almonds, I recommend substituting with Kite Hill Almond Based Ricotta. Just skip the steps to make the cashew cream in this recipe! 
The Tart Pan: 
For this recipe, I used this stainless steel tart pan. If you don't have a tart pan on hand you can use a 9-inch pie dish. If you are using a pie dish I recommend doubling the filling recipe, then proceed as directed for the tart. You can also use individual ramekins if you wish to serve this as a single dish. It is a fun way for everyone to have a personalized dish! 
More Easter Recipes! 
If you need more recipes to round out your Easter menu, I have a full Easter spread in my cookbook Celebrations! Some of my personal favorites are the Caramel-Pecan Sticky Buns Butter Lettuce, Citrus, and Haricots Verts Salad, Lavender-Rosemary Leg of Lamb, Sweet Potato Orange Cups and Paleo Carrot Cake! There are also several fun beverages you can choose from including my recipe for Lavender Lemonade, Mimosas or Ginger Peach Sangria. 
More Tart Recipes! 
If you are interested in more tart recipes similar to this one, I have several throughout my blog and books. This Spring Vegetable Tart is another great recipe to make for your Easter Brunch or my Asparagus, Leek, and Prosciutto Quiche from page 42 in my cookbook Against all Grain. I also have a recipe for Sausage Quiche with Sweet Potato Crust on page 38 in my cookbook Against all Grain and Quiche with Bacon, Zucchini, and Chard from page 58 in my cookbook Meals Made Simple that make spectacular brunch dishes. 
If you are looking for sweet tarts, I have my recipe for Toasted Marshmallow S'More Tart, Berry Tart with Dairy-Free Vanilla Bean Custard or my Chocolate Pecan Tart on page 260 in my cookbook Celebrations.  
I hope you enjoy this recipe and be sure to tag me in photos when you make this Asparagus Prosciutto Tart! 
Shop this recipe!
Print
Asparagus Prosciutto Tart
Author:
Yield:

8

servings

1

x
crust
filling
3 tablespoons

extra-virgin olive oil

1

pound asparagus, trimmed and cut diagonally into1⁄2-inch pieces
Juice from

1

lemon

2

cloves garlic, minced

1⁄3 cup

cashew cream (page 324)

6

eggs

1⁄2 teaspoon

fine sea salt

1⁄4 teaspoon

freshly ground black pepper

6 ounces

thinly sliced prosciutto, cut into ribbons

1 cup

microgreens

3 tablespoons

chopped fresh chives
Instructions
Preheat the oven to 325°F. Lightly grease an 11 by 7-inch tart pan.
To make the crust, combine the almond flour, egg, arrowroot, coconut oil, water, and salt in a stand mixer fitted with the beater attachment, or use an electric handheld mixer. Beat on medium speed until a loose dough forms. Gather the dough and press it into the bottom and up the sides of the tart pan. Bake for 15 minutes, or until the crust is golden on the edges. Remove the crust from the oven and increase the temperature to 375°F.
To make the filling, heat 1 tablespoon of the olive oil in a skillet over medium-high heat. Add the asparagus and 1⁄2 teaspoon of the lemon juice and sauté for 3 minutes. Add the garlic and continue cooking for 2 minutes, or until the asparagus is crisp-tender.
Spread the cashew cream on the bottom of the crust, then spoon in the asparagus mixture. Gently crack the eggs on top, spacing them out evenly. Sprinkle with the salt and pepper. Bake for 10 to 12 minutes, just until the egg whites are set and the yolks are still soft.
Remove from the oven and sprinkle with the prosciutto, microgreens, and chives. Drizzle with the remaining 2 tablespoons olive oil and theremaining lemon juice. Serve immediately.
Notes
make it ahead Bake the crust and make the cashew cream the day before to save time during your party preparations. Store the crust tightly wrapped and the cashew cream in an airtight container in the refrigerator. Bring them out to sit at room temperature while you prepare the filling.
tidbits To make this suitable for Passover, substitute smoked salmon for the prosciutto.
If you can tolerate dairy, substitute crème fraîche for the cashew cream.
Keywords: danielle walker, paleo, grain free, gluten free, breakfast, easter, brunch, mother's day, baby shower, tarts, against all grain
Asparagus Prosciutto Tart