My friends, are you ever hungry and you know you really need a solid snack, but also that what you really want is a delicious treat? If you're like me (tell me I'm not alone here), and you've found yourself in this situation far too often, then I have a magical recipe for you. These Birthday Cake Protein Balls are that elusive combination of substantial and indulgent. So these no-bake, high-protein bites can be a snack, or a treat, or both!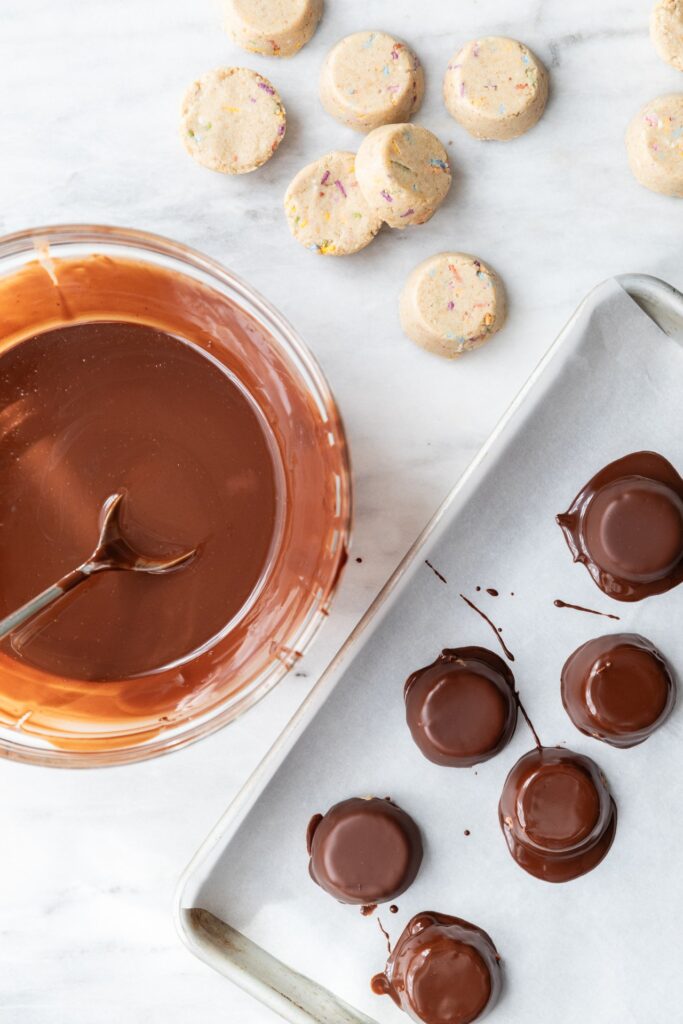 Easy high protein snacks
Why are these such a good snack? Their combination of ingredients hits all the right notes, with protein from several sources coming together to create these cake-like bites. Though I love them as much as the kids, I find they are also a great post sports treat that will actually fill the kids up, unlike some of the fluff snacks we all resort to at times. And here's why:
Is collagen a protein? 
Collagen is a protein! But, it does contain a different spectrum of amino acids than other protein sources that are considered complete protein sources. This means that you're not able to sub collagen for say, animal protein in your diet, but it is indeed a protein source for your body and can help maintain your energy. 
What is coconut butter?
Coconut butter – also sometimes called coconut manna – is blended coconut meat. It is a creamy spread and a wonderful ingredient in these bites. It is high in fat, which keeps you satiated, and it imparts a lovely sweetness and smoothness. 
Cashew nut butter
Cashew butter is probably the most versatile nut butter. It is smooth and rich, but takes on other flavors very well. Here, it mixes with the coconut butter and maple syrup to create that cake-like flavor. If you need, you can use almond butter instead. However, the end result will have more of an almond flavor and won't be as smooth as when you use cashew butter.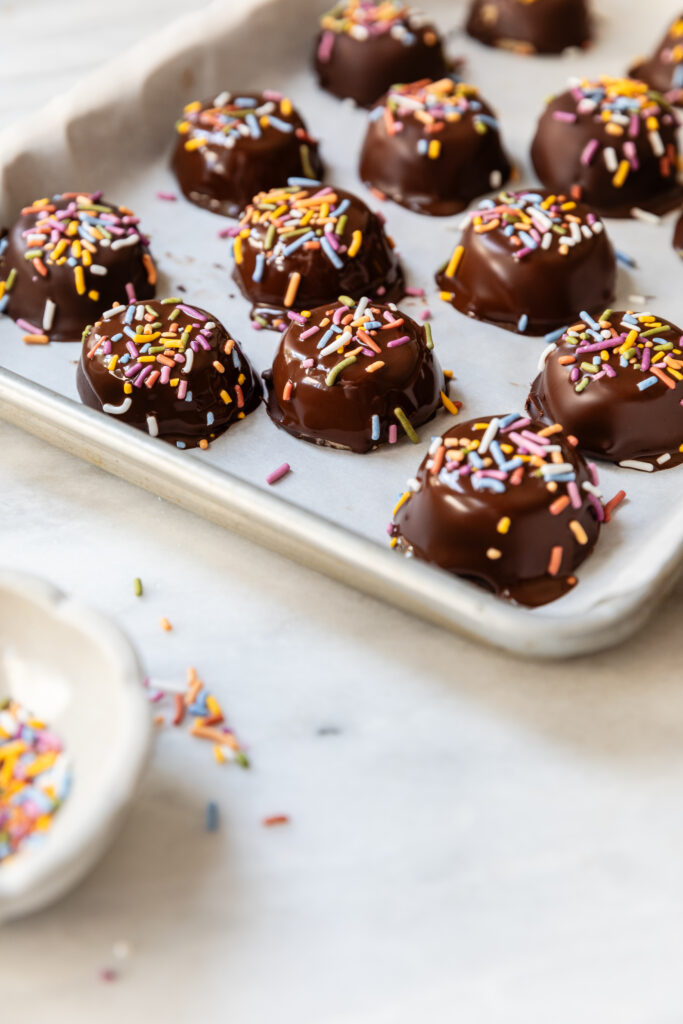 Benefits of almond flour
Almond flour is an excellent source of protein and a gluten-free baking ingredient I turn to often. In these bites, it absorbs some of the butters and creates structure so the balls stay together. 
Protein bites
These Birthday Cake Protein Balls are impossibly easy to make. You truly just mix up all of the ingredients — minus the chocolate coating ones — and you're on your way to a delicious protein snack treat. Each bite packs over 6 grams of protein — as much as an egg! 
No bake cake pop
And have I mentioned these little wonders are no bake? They do require some time to freeze up – a few rounds in the freezer between steps – but there is no baking necessary here. If you'd like to actually make them into pops, you can add sticks into their centers once you've pressed them into the silicone mold. You can find sticks on Amazon and likely at your grocery store in the baking aisle too. 
A final tip: Because their chocolate coating has coconut oil in it, these are best stored in the fridge or freezer until you're ready to eat them. Enjoy! 
On-the-go healthy snacks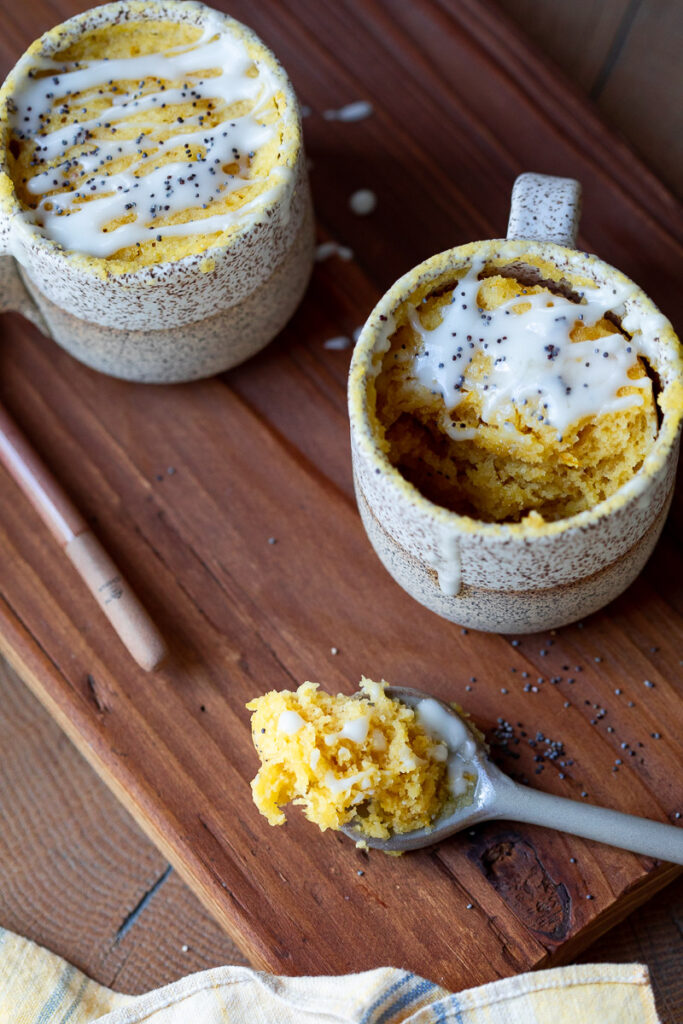 Shop the Recipe
Print
Birthday Cake Protein Balls
Author:
Prep Time:

30

Cook Time:

20

Total Time:

50 minutes

Yield:

16

protein balls

1

x
Category:

snacks

Method:

no bake
For Coating:
Optional Garnish:
Instructions
In a mixing bowl, combine coconut butter, cashew butter, and maple sugar. Mix well until the ingredients are thoroughly combined.

Add almond flour, collagen powder, and vanilla extract to the bowl. Stir until all the ingredients form a dough. Gently fold in the ¼ cup of sprinkles.

Scoop the dough mixture into 16 mini silicone muffin molds, pressing it down to create a compact layer. Make sure the molds are filled evenly.

Place the filled molds in the freezer and let them chill for at least 20 minutes or until they firm up.

While the bites are freezing, prepare the chocolate coating. In a microwave-safe bowl, gently melt the dairy-free chocolate chips and coconut oil. Stir until smooth and well combined.

Remove the frozen bites from the molds and dip each one into the melted chocolate, ensuring they are fully coated. You can use a fork or toothpick to assist with dipping.

After coating, place the chocolate-covered bites on a baking sheet lined with parchment paper. Freeze for 30 minutes, then coat with a second layer of chocolate.

Immediately sprinkle the optional dye-free sprinkles over the chocolate-coated bites before the chocolate hardens.

Once all the bites are coated and garnished, return the baking sheet to the freezer for an additional 10-15 minutes to set the chocolate coating.

After the chocolate has hardened, transfer the Birthday Cake Dough Protein Bites to an airtight container and store them in the refrigerator.

Serve chilled.
Birthday Cake Protein Balls