A family member brought an old family favorite salad to a gathering over the holidays. I was reminded of how much I loved it, but also that it had sugar and canola oil in it, so I knew I wanted to remake it in a healthier form. This Broccoli Crunch Salad is a dish where you can make healthier swaps, while still maintaining the delicious taste of the original recipe. The creamy dressing is so satisfying with the crunchy broccoli, seeds, and crisp, salty bacon. I love it as a side dish or I often add some leftover grilled chicken on top to make it a balanced lunch. 
Broccoli Crunch Salad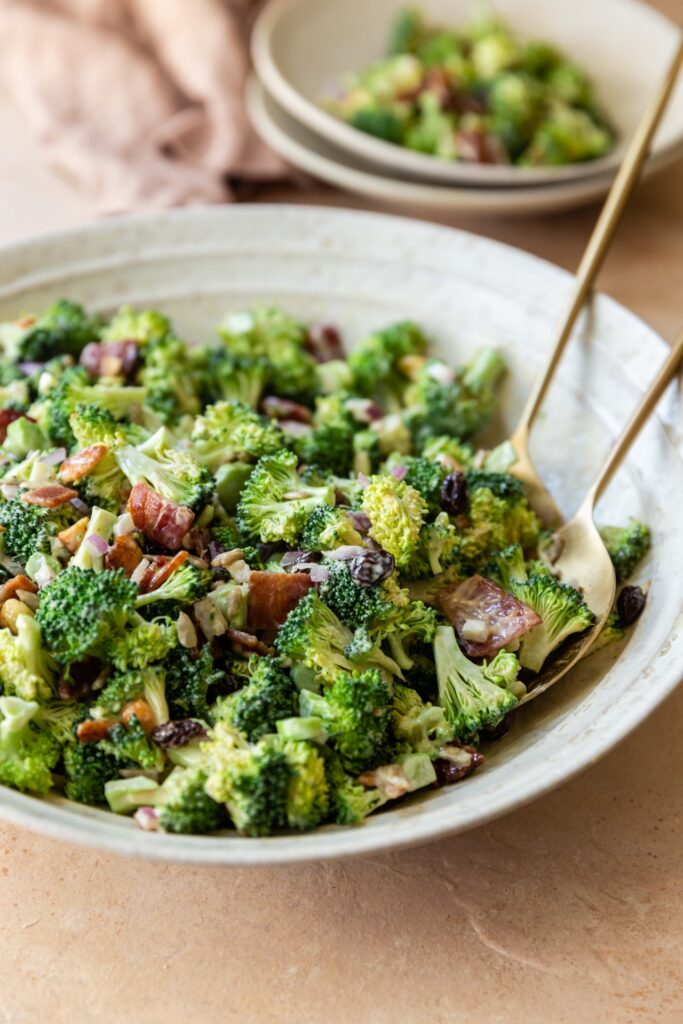 How to Cook Crispy Bacon 
There are so many ways to cook bacon and everyone has their preferred method. Mine is without a doubt, cooking it in the oven. I think it cooks more evenly and gets crispier than it does in a pan. Plus, no splattery cooktop to deal with afterward! 
Here's how I cook mine: I set the oven to 400 degrees and place my bacon in a single layer on a parchment-lined sheet pan. I let it cook for 10 minutes and then flip it and cook it for 10 minutes more. At that point I check it and either remove it, or let it cook up to 5 more minutes depending on doneness. When I remove it from the pan, I place it on a paper towel-lined plate to absorb the excess grease. 
I always like to have extra cooked bacon in my fridge — which is harder than it sounds as my family tends to gobble it all up in no time. But if you can hang onto some, use your leftovers for this recipe!  
How to Make Salad Dressing with Mayonnaise 
Mayonnaise creates the creamiest dressings and you can easily make your own mayo by following my recipe for Paleo Mayo. But personally, my go-to is avocado oil mayo. And I usually go for convenience over making it and purchase a clean version like this one. 
Mayo acts as an emulsifier — meaning it brings all the other ingredients together and keeps them combined— and works so well with the red wine vinegar to give this salad it's creamy tanginess. 
One tip: add minimal salt to your dressing initially. Mix it with the broccoli and top with bacon and then check the seasoning. The bacon adds such a salty bite that you may not need to add more. And by waiting to finish seasoning until the Broccoli Crunch Salad is assembled, you'll avoid making it too salty. 
Date Syrup Benefits 
Date syrup is a really wonderful sweetening option and I think it works beautifully in this salad. It is made by combining dates with water, then blending and straining them in a process that ultimately removes the water from the mixture. This leaves a syrup — lighter in color and less thick than molasses — but with a rich flavor and dark color. 
Since it's made from a fruit, it has fiber, unlike maple syrup or honey. It has a lower glycemic index than those other sweeteners too, plus it contains some potassium, iron, and calcium.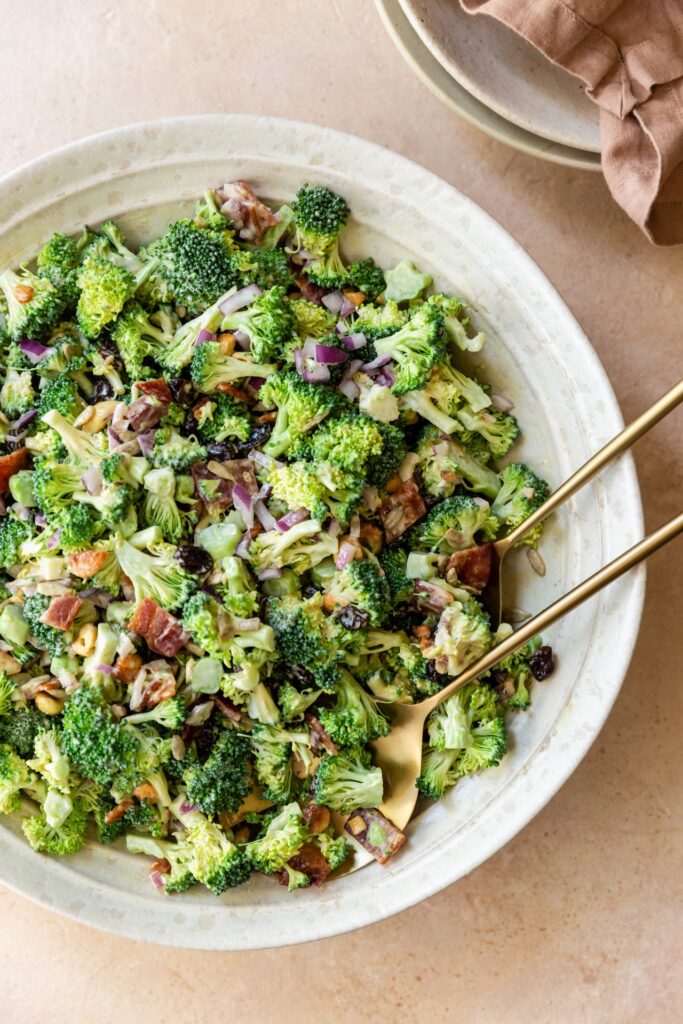 Difference Between Nuts and Seeds 
Most nuts are seeds, but not all seeds are nuts. Which sounds confusing, but basically nuts are the hard shelled fruits of certain plants and seeds are an edible plant enclosed in a seed coat. 
This Broccoli Crunch Salad recipe calls for sprouted sunflower seeds which describes sunflower seeds that have been dried at a very low temperature. The idea is that sprouting releases enzymes which makes the seeds easier to digest. 
Some of my favorite sprouted seeds and nuts are: 
Sprouted Almonds
Sprouted Pumpkin Seeds 
In this recipe, you could use any mix of these or use cashews as the recipe calls for. I do recommend keeping the sunflower seeds in as they offer a really satisfying crunch and flavor. Enjoy! 
Easy Salads to Make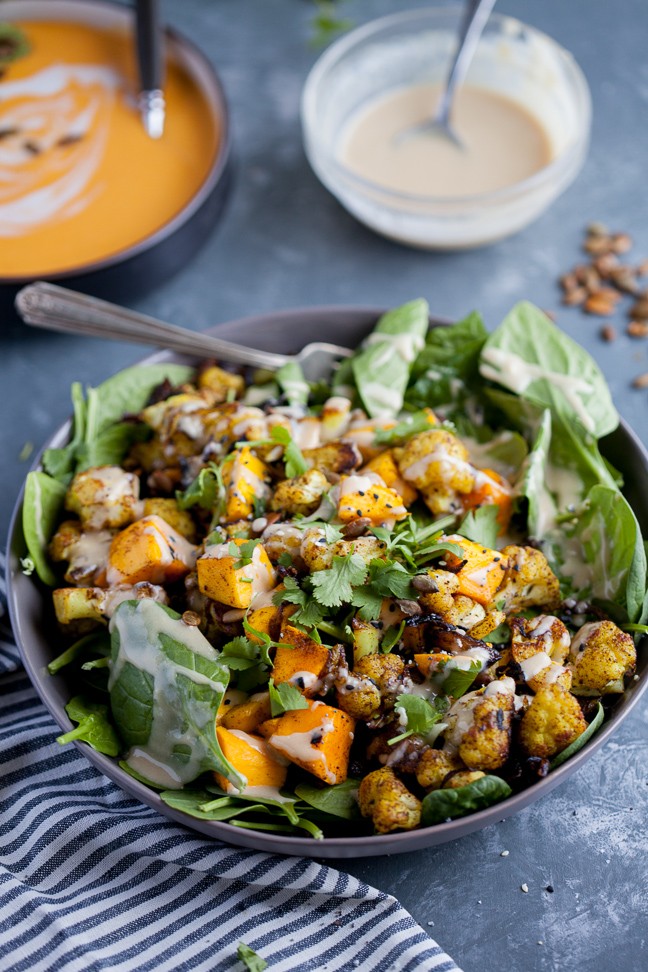 Shop the Recipe
Print
Broccoli Crunch Salad
Author:
Prep Time:

5 minutes

Cook Time:

0 minutes

Total Time:

5 minutes

Yield:

4

servings

1

x
Category:

Side Dish

Method:

None

Cuisine:

American
Instructions
Mix together the broccoli, bacon, raisins, cashews, sunflower seeds, and onion.

Whisk together the mayonnaise, vinegar, date syrup, Burnt Broccoli seasoning, salt and pepper.

Drizzle over the salad and mix to combine. 
Keywords: salad, vegetarian, Danielle Walker, against all grain, paleo, gluten free, grain free, lunch
Broccoli Crunch Salad