This Meyer Lemon French Toast recipe was inspired by a Williams-Sonoma recipe that my mother-in-law lovingly texted me the link to with "pretty please" as the subject. Ha!
I don't usually look at and convert recipes so closely because I like to get creative and do my own thing. However, she had just taken home a dozen of our beautiful (almost fake-looking!) Meyer lemons from our tree a few days prior, and knew I had about 50 to find a use for. While I'm a chocolate dessert gal, Ryan's mom is a lover of all things lemon. Any lemon desserts in my books and blog over the years were first tested on her. My Meyer Lemon Meringue Pie on page 276 in Against all Grain, the Lemon Bars on page 117 in Celebrations and my Meyer Lemon Curd Cakes on page 276 in Meals Made Simple all received her stamp of approval before adding them to the books!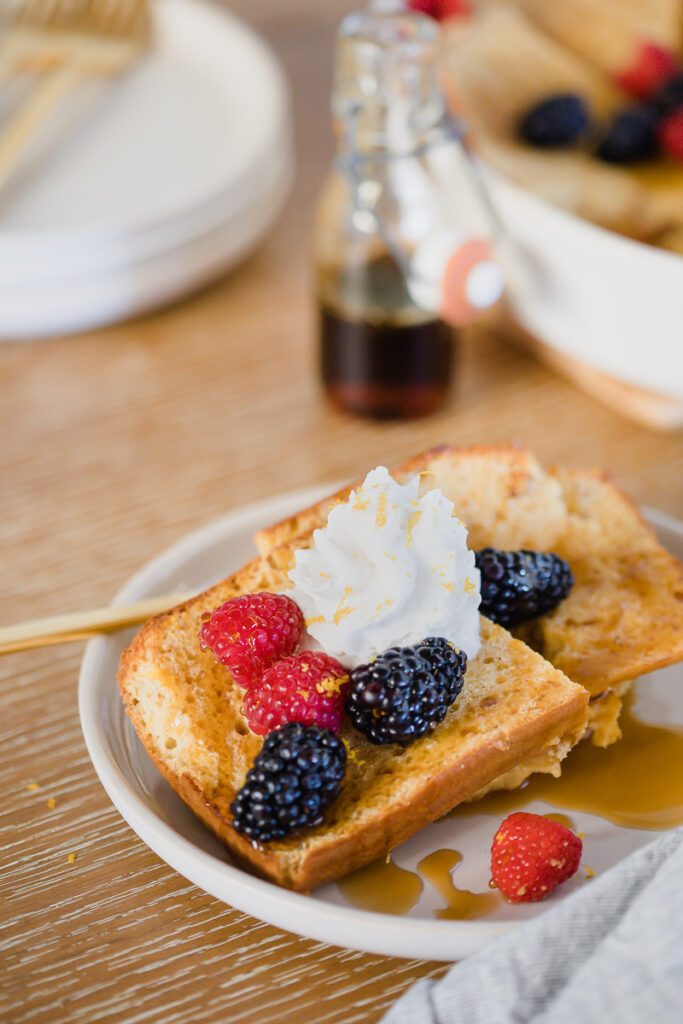 So, I set out to recreate this request using my staple ingredients. I already have a few French Toast recipes, and even a baked one in Against all Grain, plus the custard base doesn't change much – so I knew it wouldn't be a hard feat!
The rest of my lemons were used to make preserved lemons. I love Yottam Ottelenghi's recipe. They taste amazing on a simple roast chicken or a white fish. In my opinion, preserved lemons should be a kitchen staple. They add such complexity of flavor to any dish. When preserved, they have a heavy citrus flavor that really packs a punch! I love how versatile they can be too – you can add them to protein, your favorite citrus cocktail, stews or dressing.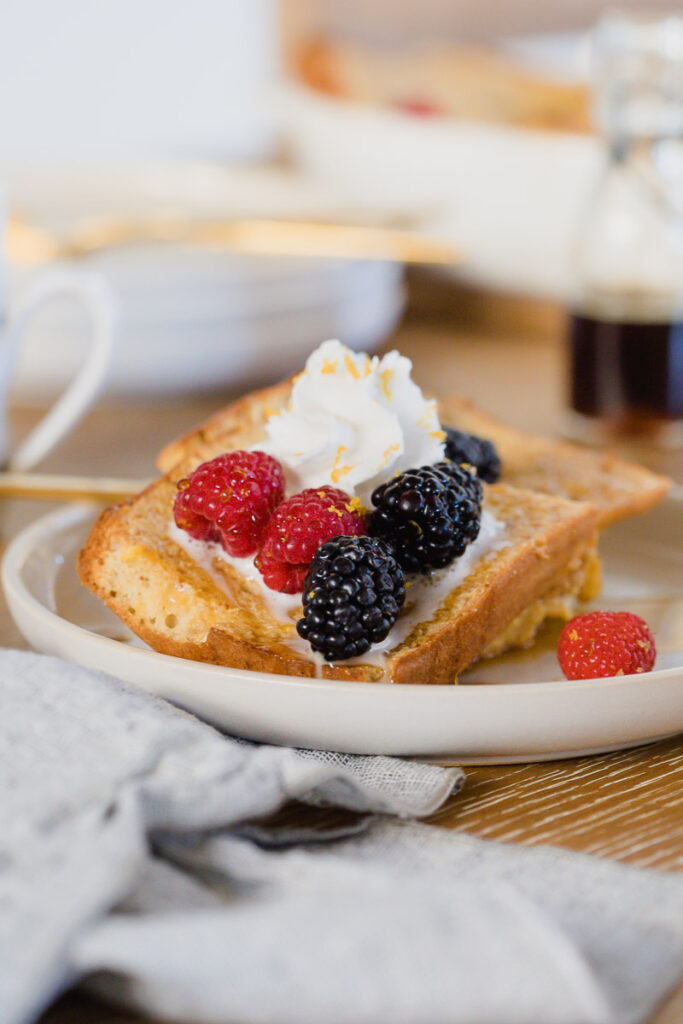 The Bread
In this recipe, I used my Sandwich Bread from page 226 in my cookbook Against all Grain because I had a loaf ready to go in my freezer, but both my Blender Bread recipe or my Nut-Free Sandwich Bread from page 48 in my Eat What You Love cookbook would be just fine to use in this recipe! If you don't have the time to make homemade bread, you can use whichever store-bought gluten-free bread that you are able to tolerate. There are tons of options in the freezer section, just be sure to read the ingredients carefully.
The Custard
The custard in this Meyer Lemon French Toast recipe is what gives it that thick and creamy center. Typically French Toast is coated in eggs, some milk and vanilla, but this recipe uses eggs, a combination of almond milk and thick coconut milk, mixed with the zest and juice of a Meyer lemon, vanilla extract, cardamom and maple sugar. This combination gives it a thick custard consistency that will absorb into the bread.
How to Serve:
This french toast recipe is a special occasion in our family. I think it would be a delicious option to make for a special brunch for a birthday, bridal/baby shower, or Easter. You can prep it the night before and pop it in the oven the morning of, which is one of my favorite parts of this recipe. It is rich and flavorful on its own so I added lighter toppings like fresh whipped cream and berries with some maple syrup. Feel free to use whatever you have on hand!
Shop the Recipe!
Print
Meyer Lemon Frech Toast
3

large eggs

¼ cup

unsweetened almond milk

¼ cup

full-fat coconut milk
Zest of

1

meyer lemon, plus more for garnish

3 tablespoons

Meyer Lemon juice

1 ½ teaspoons

pure vanilla extract

⅛ teaspoon

ground cardamom

¼ cup

maple sugar or coconut sugar
1 loaf grain-free or gluten-free bread (I used my Sandwich Bread from Against all Grain because I had a loaf in the freezer, but I think my Blender Bread or my Nut-Free Sandwich bread would be really good in this)
Toppings: coconut milk whipped cream, berries, pure maple syrup
Instructions
Lightly grease the inside of a 9-by-9-inch baking dish or skillet with ghee or coconut oil. I used a 9-inch oval gratin baker.
In a shallow bowl, whisk together the eggs, almond milk, coconut milk, lemon zest, lemon juice, vanilla, cardamom, and 3 tablespoons of the maple sugar.
Cut the loaf into 1-inch thick slices. Dip each piece in the custard mixture, allowing it to soak up a little of the liquid before flipping it to the other side. Place the pieces in the prepared dish, slightly overlapping them. Pour any remaining custard over top.
Cover tightly and refrigerate overnight. Preheat oven at 350, bake, covered, for 25 minutes, until the custard is mostly set. Uncover and bake an additional 15 to 20 minutes, until the custard is set and the bread is golden.
Remove the pan and turn the oven to broil on high. Sprinkle the remaining 1 tablespoon of maple sugar over the french toast and place the dish back in the oven on the highest rack. Broil for 45 seconds to 1 minute, until the sugar has browned and the bread is slightly golden on the edges.
Serve hot topped with desired toppings.
Store leftovers tightly covered in the dish in the refrigerator for 3 to 5 days. Reheat in an oven set to 400F for 6 to 8 minutes.
Keywords: breakfast, paleo, paleo lifestyle, danielle walker, against all grain, lemon, baking, French toast,
Meyer Lemon French Toast