I've been making stuffed sweet potatoes using whatever ingredients I can find for years. Once I moved from SCD to a Paleo style diet and realized I could tolerate sweet potatoes, they became my go-to when I needed starchy-carbs. This recipe for Purple Stuffed Breakfast Sweet Potatoes with Sausage and Blueberries may sound like an odd and unlikely pairing, but trust me on this one- it's delicious. It is a great option for an egg-free breakfast that keeps you full for hours. It's packed with essential vitamins and nutrients, which can be hard to come by with egg-free breakfast foods. I also have recipes for sweet potatoes stuffed with Enchilada Filling, Buffalo Chicken,and simple Bacon, Chicken and Vegetable! 
These Purple Stuffed Sweet Potatoes are stuffed with apple chicken sausage for protein, fresh blueberries, cinnamon, chia seeds, nutmeg, and coconut milk. I created it while I was on Whole30 and needed to switch up my breakfast routine. The blueberries, cinnamon, nutmeg and coconut milk help pull everything together and give this recipe that warm comforting breakfast flavor you love. When I'm not eating eggs, I try to include leafy greens with every meal, and my body digests sauteed spinach best so it's a frequent side. The touch of coconut milk adds a great healthy fat, and makes them ever-so-slightly creamy. It is extremely simple to make, and can be easily prepped several days ahead to make breakfast time a breeze on busy mornings.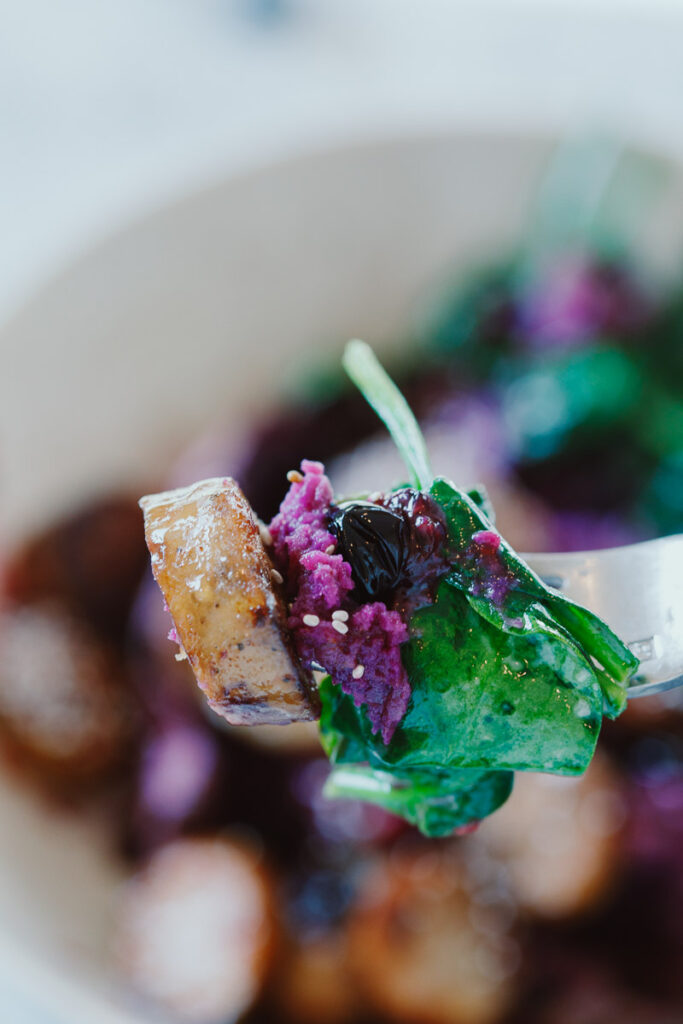 Why Purple Sweet Potatoes 
For this recipe, I choose purple sweet potatoes because they are less sweet than yams and regular sweet potatoes. I try to stay away from sugary breakfast foods first thing in the morning, so purple sweet potatoes felt like the perfect option to use for this recipe. Purple sweet potatoes also have similar texture to white potatoes. They are typically drier than your regular orange sweet potatoes and yams. Since I personally do not tolerate white potatoes, purple sweet potatoes normally satisfy that craving for a white starchy potato. Given their vibrant purple color, they also have the highest level of antioxidants along with more vitamins and nutrients compared to other potatoes. Plus, if I am going to be adding blueberries to sweet potatoes, I might as well add them to the same family of color! 
I find my purple sweet potatoes at my local Whole Foods and also found a 5 pound bag of Stokes at Costco last week! If you can't find them by you, you can always ask your grocer if they can order them or check your local health food store or co-op. You can certainly use yams or sweet potatoes here – it will change the flavor slightly and the blueberries might discolor the potatoes a bit, but they will still work!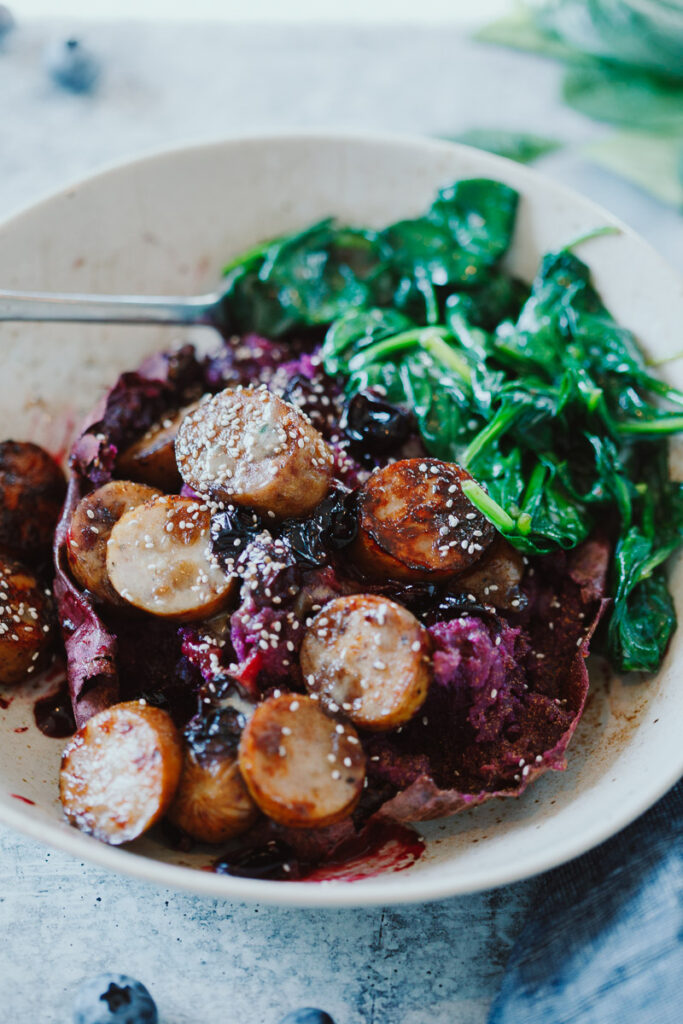 Prepping 
You can easily prep this recipe at the beginning of the week. Then, all you have to do in the morning is assemble the potato and heat it up. I like to make a big batch of roasted potatoes over the weekend and store them in the fridge. For the sausage I like to buy the pre-cooked Chicken Apple Sausages from Applegate. In the morning, all I have to do is slice and heat them up in the skillet. If you buy your sausage raw, you can save time by cooking them when your sweet potatoes are baking and store in the refrigerator for about 5-6 days. I am all about quick and easy breakfast foods, so prepping ahead of time is key in my house! 
I hope you give this recipe a try. When I first started making stuffed sweet potatoes for breakfast, most of the time I was just using whatever leftovers we had from the night before. It's a versatile recipe so feel free to be creative. I really don't think you could go wrong with stuffed sweet potatoes in any way and I'd love to see your variations! 
Looking for more recipes and inspiration to keep you on track all through Whole30?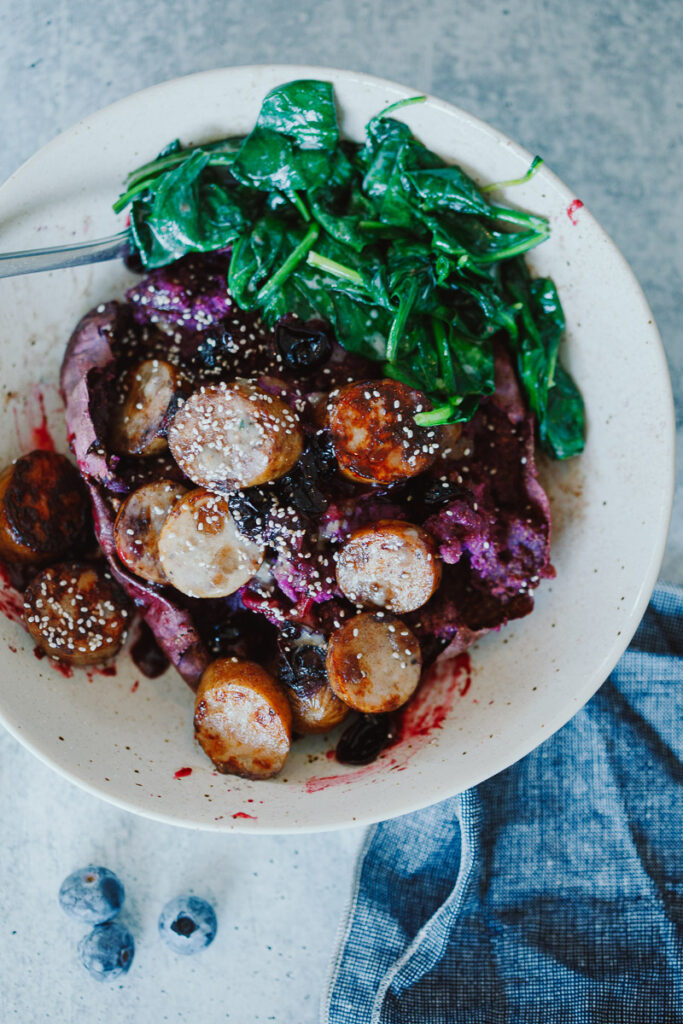 Print
Purple Stuffed Breakfast Sweet Potatoes
Author:
Prep Time:

2 mins

Cook Time:

4 mins

Total Time:

6 minutes

Yield:

4

-

6

servings

1

x
Category:

Breakfast

Cuisine:

American
Instructions
Cut a slit on the top of the sweet potatoes and gently fluff the flesh with a fork, being careful to leave the skin intact.
Heat 3 tablespoons of the ghee in a skillet over medium-high heat. Add the sausages and cook for 1 to 2 minutes, until well browned. Flip the pieces and add the blueberries. Cook for 2 to 3 minutes longer, until the blueberries, have begun to burst. Use a spoon or fork to gently crush any remaining blueberries.
Divide the sausages, blueberries, and any juices between the sweet potatoes.
Return the skillet to the stove over medium-high heat and add the remaining 1 tablespoon ghee with the spinach, salt, and nutmeg. Sauté for 30 seconds until just wilted. Stir in the coconut milk in and cook until the liquid has evaporated. Remove from the heat. Top the sweet potatoes with cinnamon and chia seeds, and serve the sauteed spinach on the side.
Keywords: paleo, breakfast, egg free, sweet potatoes, against all grain, brunch, stuffed potatoes, danielle walker
Purple Stuffed Breakfast Sweet Potatoes