This recipe for Chicken, Bacon, & Ranch Squash noodles was the very first sneak peek recipe of my new cookbook that I shared on Instagram almost a year ago. Everyone expressed so much enthusiasm over it that I decided this recipe had to be shared on the blog as well! It's just one of the many convenient sheet pan recipes from my newest cookbook, Healthy in a Hurry. It's a delightful mix of spaghetti squash, chicken, and crispy bacon, all brought together with my dairy-free Herb Ranch Dressing.
Everything for this recipe can be made on the same sheet pan, giving you fewer dishes to clean, which is always a huge win for me. You can also easily make this a quick and easy fifteen-minute meal if you roast your spaghetti squash in advance and use leftover cooked bacon and chicken. The dairy-free Herb Ranch Dressing can be made up to a week prior and can be used for a variety of recipes. You will definitely want to double or triple the dressing because it goes quickly!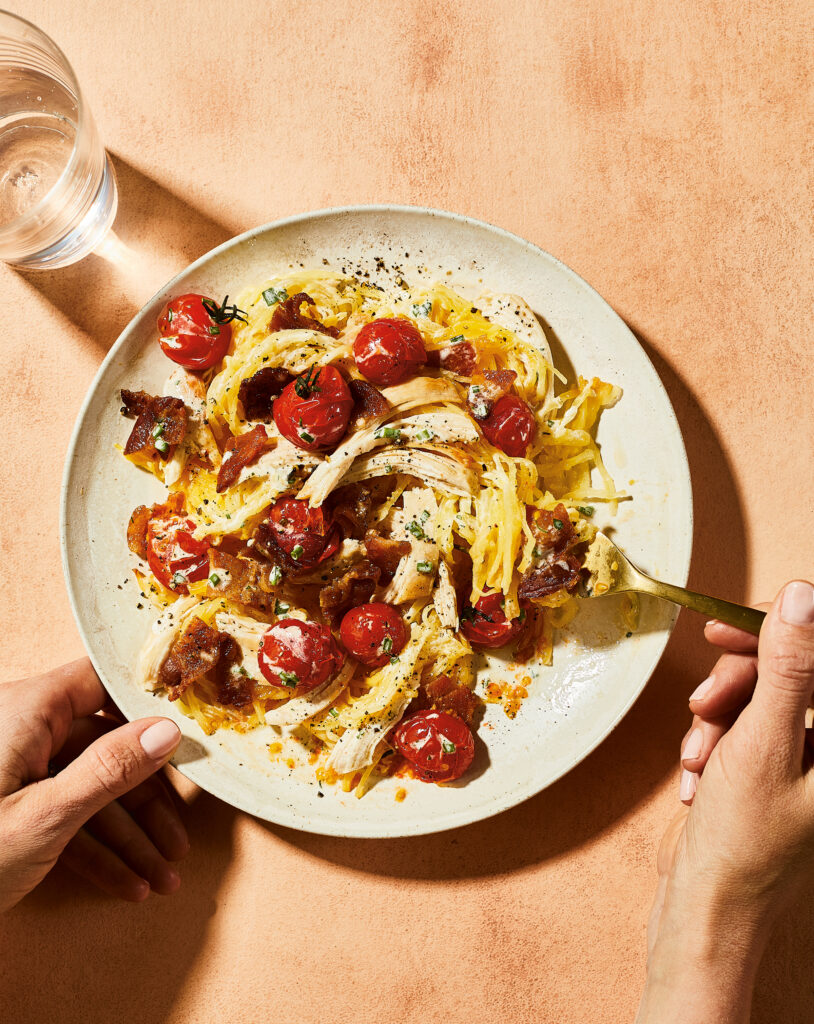 The Spaghetti Squash:
If you are not a seasoned chef, you might have some hesitation about cutting spaghetti squash. I have been cooking for years and I still get a little nervous every time I cut one. Luckily, I have found a nice little hack for you all! I found that if you heat the whole squash in the oven while it pre-heats (about 10 minutes depending on your oven) it softens enough that it cuts through significantly easier. You can also utilize the microwave for this – just place it in there for about 4-5 minutes. 
Typically squash is cut lengthwise and then you scoop out all the seeds, but I like to cut the squash into 2-inch round disks. This makes it easier to cut and doesn't cut the strands in half, resulting in big long noodles that better represent traditional spaghetti noodles. It also helps the squash to cook in nearly half the time and prevents it from getting soggy. Cutting the squash in half lengthwise will typically take 50 mins to bake in the oven, which would overcook the rest of the ingredients in this recipe.
View this post on Instagram
Make it Ahead: 
I am all about convenience and maximizing your time spent in the kitchen, which is why I knew that I had to dedicate my newest cookbook to do precisely that! This Chicken, Bacon, & Ranch Squash Noodles can be made in advance and tossed all together when you are ready. I like to meal prep by keeping the cooked noodles mixed together with the bacon, chicken and tomatoes in a container to store in the fridge. This can keep refrigerated in an airtight container for up to 5 days. To heat it up, I recommend spreading the mixed pasta on a sheet pan and reheating it in a 400-degree oven for about 10 minutes. Stir in the ranch and enjoy! 
I hope you love this recipe for Chicken, Bacon, & Ranch Squash Noodles! If you are looking for more simple weeknight recipes, these are some of my favorites: 
Paleo Beef Bulgogi Lettuce Cups
California Roll Stuffed Avocados
Looking for more Whole30-compliant recipes to keep you on track for a full 30 days?
Watch me make this recipe on Good Morning America!
Shop this Recipe!
Print
Chicken, Bacon, & Ranch Noodles
Author:
Prep Time:

15 mins

Cook Time:

22 mins

Total Time:

37 minutes

Yield:

4

-

6

servings

1

x
Category:

Dinner

Cuisine:

American
1

medium spaghetti squash (about

3

pounds)

8 ounces

thick-cut bacon slices

1

1⁄2 pounds boneless, skinless chicken breasts

3 tablespoons

extra-virgin olive oil
Fine sea salt and freshly ground black pepper

1 pint

cherry tomatoes

1⁄2 teaspoon

garlic powder

1⁄2 cup

Herb Ranch Dressing
Herb Ranch Dressing:
1 cup

avocado oil mayonnaise

1⁄2 cup

full-fat coconut milk

1⁄4 cup

chopped fresh flat-leaf parsley

2

cloves garlic, minced

2 tablespoons

chopped fresh chives

2 tablespoons

chopped fresh dill

4 teaspoons

freshly squeezed lemon juice

1⁄2 teaspoon

onion powder

1⁄2 teaspoon

fine sea salt
Instructions
Position one rack in the top slot and one rack in the middle slot of the oven. Place the squash directly on the middle rack and turn on the heat to 400°F to soften the skin.
Meanwhile, line a large sheet pan with parchment paper. Arrange the bacon slices and chicken in a single layer on the prepared sheet pan. Drizzle the chicken with 1 tablespoon of the oil and sprinkle with 3⁄4 teaspoon salt and 1⁄4 teaspoon pepper.
Remove the warmed squash from the oven, slice off both ends, and cut crosswise into four or five rounds. Scoop out the seeds from the center of each round. Drizzle both sides of the rounds with 1 tablespoon of the oil, then arrange the rounds in a single layer on the prepared sheet pan.
Place the pan on the middle rack in the oven and bake for 10 minutes. Flip the bacon slices and bake for 10 to 15 minutes more, until the bacon is crisp, the chicken is cooked through, and the squash is fork-tender.
Remove the pan from the oven and transfer the bacon, chicken, and squash to a plate to rest, leaving the rendered bacon fat on the pan. Add the tomatoes to the pan, toss with the bacon fat, season with a pinch each of salt and pepper, and spread in a single layer.
Place on the top rack and turn the oven to broil. Broil for 2 to 3 minutes, until the tomatoes have burst.
Meanwhile, dice the chicken and bacon.
Use a fork to pull the flesh into noodle-like strands from the sides of the squash rounds. Discard the skins. Transfer the noodles to a serving bowl, add the remaining 2 tablespoons oil, the garlic powder, 1⁄2 teaspoon salt, 1⁄4 teaspoon pepper, and 1⁄4 cup of the ranch dressing, and toss to mix. Gently stir in the bacon, chicken, and tomatoes and drizzle the remaining ranch dressing over the top. Serve immediately.
For the Herb Ranch Dressing:
In a bowl, whisk together the mayonnaise, coconut milk, parsley, garlic, chives, dill, lemon juice, onion powder, and salt until well mixed.

Store in an airtight container in the refrigerator for up to 2 weeks.
Notes
Buy It: Although nothing compares to homemade Herb Ranch Dressing, Tessemae's is the closest!
Keywords: Danielle Walker, against all grain, paleo, easy, gluten-free, dairy-free, sheet pan meal
Chicken, Bacon, & Ranch Squash Noodles