"Mom worked outside of the home, so she didn't have time to cook everything from scratch. But her meals were still delicious, especially the velvety casseroles enriched with a couple of cans of cream of mushroom soup, a tub of sour cream, and a layer of cheese on top, as well as the French dip sandwiches with thinly sliced roast beef piled high on crusty rolls, blanketed in gooey cheese and mayo, with a bowl of brackish dipping juice on the side.
When my sister, Leisa, and I were old enough to help in the kitchen, those were the first treasured recipes she taught us to make. She also taught me some recipes from her mom, Grandma Bonnie. I still relish the taste of Grandma Bonnie's very Americanized version of a shepherd's pie, which we made frequently—ground beef layered with thin French green beans and a box of dried flaked mashed potatoes, all smothered in a creamy sauce of cream of mushroom soup and sour cream, and covered in cheese and fried onion strings.
Sundays were for tacos. As soon as the church service ended, my sister and I changed out of our Sunday dresses and headed into the kitchen to help Mom with the preparation."
Excerpt from my memoir Food Saved Me, page 5
Copyright © 2021 by Danielle Walker. All rights reserved. Shared with permission of publisher
This recipe for Gluten-Free Shepherd's Pie is nothing like a traditional Shepherd's Pie (or even a cottage pie), but it was the second recipe I ever learned to make and is my ultimate comfort food. Growing up my Grandma Bonnie used to make this for us using a box of mashed potato flakes, a can of cream of mushroom soup, a tub of sour cream, and a can of green beans, so you can see why it was easy for 8 and 12-year-old girls to make! I honestly didn't think I would publish this as an official recipe, but so many of you asked for it that I decided to add it to the blog. This healthier version of my Grandma's Shepherd's pie is gluten-free, lactose-free, and can be made completely dairy-free by substituting with a dairy-free cheese.
This Shepherd's Pie is simple to make and will certainly satisfy any comfort food cravings. It has a base of ground beef with a special mixture of green beans, Dairy-Free Cream of Mushroom Soup, gluten-free fried onions, potato mash, and goat cheese or a dairy-free alternative cheese. It is not your traditional Shepherd's Pie, but it might just become your new favorite!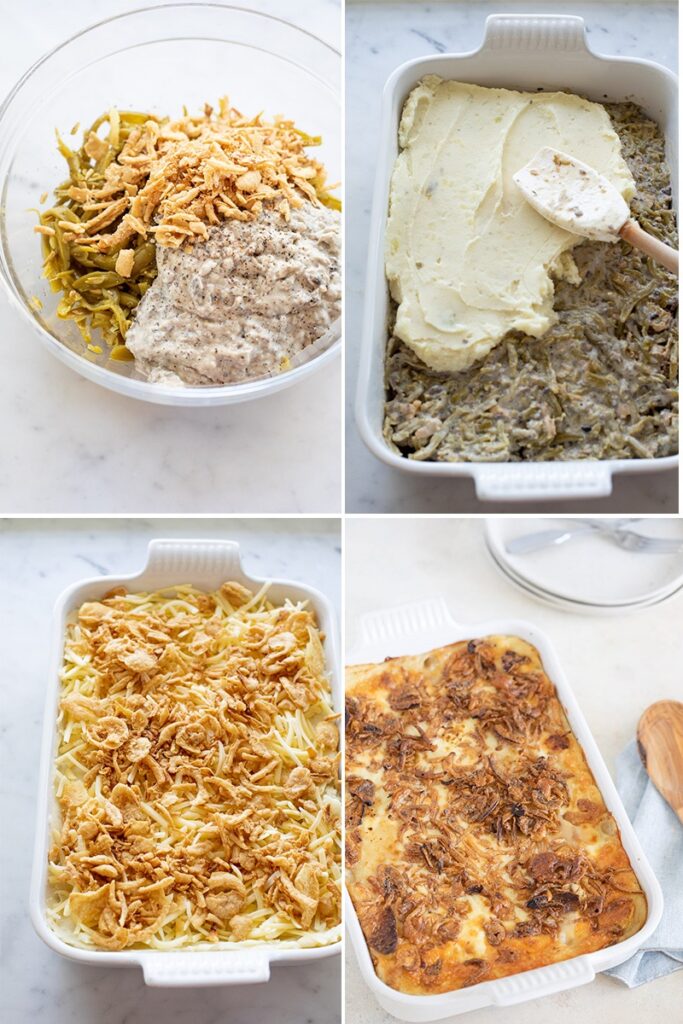 Casseroles:
If you are anything like me, you grew up having casserole dinners on the regular. Whenever my sister and I were on dinner duty to help our mom out while she worked, this "Shepherd's Pie" was our go-to meal! It's one reason why casseroles are incredibly nostalgic for me and always give me comfort. I have several recipes for them throughout my cookbooks! My cookbook Eat What You Love has a casserole recipe for Poppy Seed Chicken on page 247, Chicken Divan on page 256 and my cookbook Meals Made Simple has a recipe for Chicken and Rice Casserole on page 140. I have been loving using my recipe for Cream of Mushroom soup as the base of these recipes. It gives them that thick and creamy texture and is completely dairy-free!
The Potatoes & Cheese:
For my grandma's recipe, she used a box of mashed potato flakes, but since I don't tolerate white potatoes very well, I used a combo of white sweet potatoes with parsnips. You can follow my recipe for Instant Pot Mashed Potatoes here! If you tolerate white potatoes you can certainly use them in place here for a more traditional flavor.
I used to be unable to tolerate dairy in any form, but as I have healed I started to incorporate some sheep and goat's milk into my diet. The protein structure is different than cow's milk, and some people who are not able to tolerate cow cheese do perfectly well with goat and sheep cheeses. I used a mixture of these two cheeses, but any dairy-free shredded cheese will work here as well. You can also use a raw cheddar cheese if that works for you!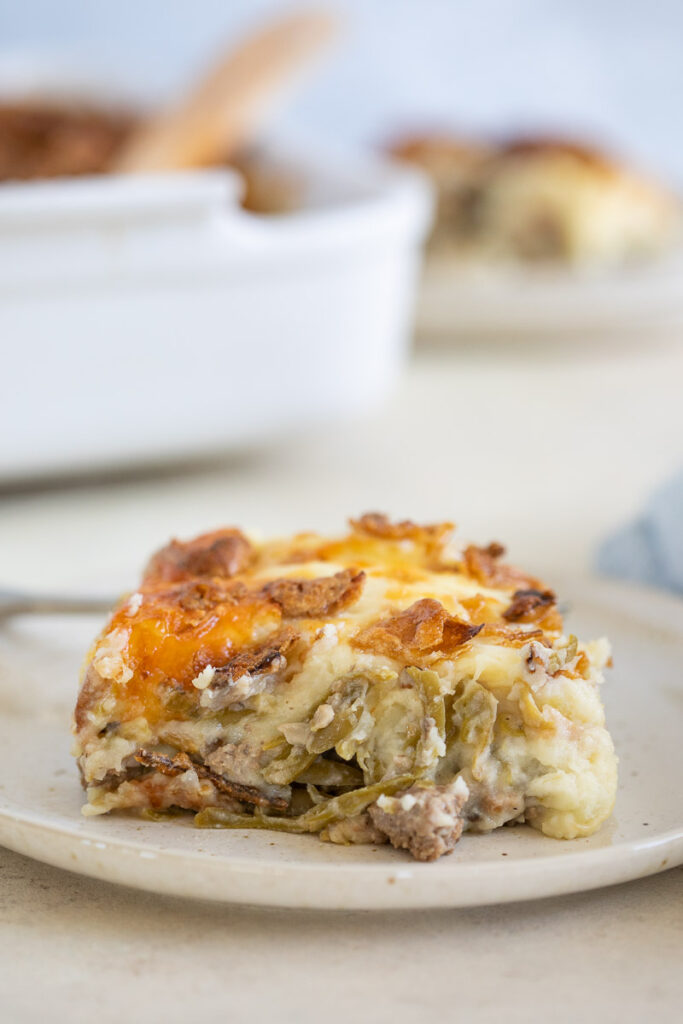 More Recipes:
I hope you enjoy this recipe for Gluten-Free Shepherd's Pie! Be sure to let me know if you grew up eating something similar to this or if this reminds you of one of your favorite comfort foods!
If you are looking for a classic Shepherd's Pie, I have a grain-free version on page 250 in Eat What You Love. I also have a grain-free and dairy-free recipe for Chicken Pot Pie on page 253. Enjoy!
View this post on Instagram
Shop this Recipe:
Print
Gluten-Free Shepherd's Pie
Author:
Prep Time:

15 mins

Cook Time:

35 mins

Total Time:

50 minutes

Yield:

6

-

8

servings

1

x
Category:

Dinner

Cuisine:

American
2

pounds ground beef, browned and drained

2

cans french cut green beans

2 ½ cups

creamy mashed root veggies (or mashed potatoes)

1 cup

shredded cheese (I used a combo of goats and sheep milk hard cheeses – manchego and Lamb chopper are

two

of my favorites!)
Instructions
Preheat oven to 400F.

Season the ground beef with salt and pepper and spread it across the bottom of a 9×11 baking dish.
In a bowl, mix together the green beans and cream of mushroom soup. Season to taste with salt and pepper. Stir in ¼ cup of the fried onions. Spread the green bean mixture over the beef.
Spread the mashed potatoes evenly over the green bean mixture.
Sprinkle the cheese and remaining fried onions over top.
Bake, covered, for 20 minutes. Remove the cover and bake an additional 15 minutes, until the edges are bubbling and the cheese is golden.
To make this ahead, assemble the casserole and cover tightly. Bake from frozen at 350F for 45 minutes before removing the cover and baking the additional 15 minutes.
Keywords: gluten free, grain free, Danielle Walker, against all grain, dinner, casserole
Gluten-Free Shepherd's Pie