As many of you know,  in addition to my memoir Food Saved Me, I recently submitted my fifth cookbook. I have to pinch myself every time I say that I have a fifth cookbook in the works. I definitely didn't think I'd have two cookbooks, let alone five! With every cookbook I submit I tend to turn in more recipes than the book is allotted, and this time around, I ended up with about 40 extra recipes – like this recipe for Hawaiian Ceviche. If you don't know this about me by now, I'm an overachiever. I also have a  hard time containing my creativity and excitement when I write books, and my editors always have to hold me back! 
While I'm sure they love me for turning in so many extra pages they have to trim down, this means that I get to share the cut recipes with you all here on the blog! I decided the first recipe I am going to share is this fresh and summery Hawaiian Ceviche! The theme of my next cookbook is quick and simple recipes; for busy people. Nearly  80% of the recipes are 30-minute meals,  can either be made in one pot, on a sheet pan, in an Instant Pot, slow cooker or prepared as freezer meals for batch cooking. There's also a chapter of no-cook recipes, and this Hawaiin Ceviche recipe is one of my favorite quick, no-cook refreshing meals. The only reason it was cut from the book was the marinating time. It's really easy and super tasty.
Similar to Peruvian or Mexican ceviche, the fish in this dish becomes "cooked" after marinating in citrus juice; but unlike a traditional ceviche, the Hawaiian version has creamy coconut milk, tart pineapple juice, and pieces of toasted dried coconut strewn throughout. For an easy, no-cook meal, I love to use plantain or taro chips to scoop up the tender fish and fruits! Using very fresh fish is important here since it will not be cooked overheat.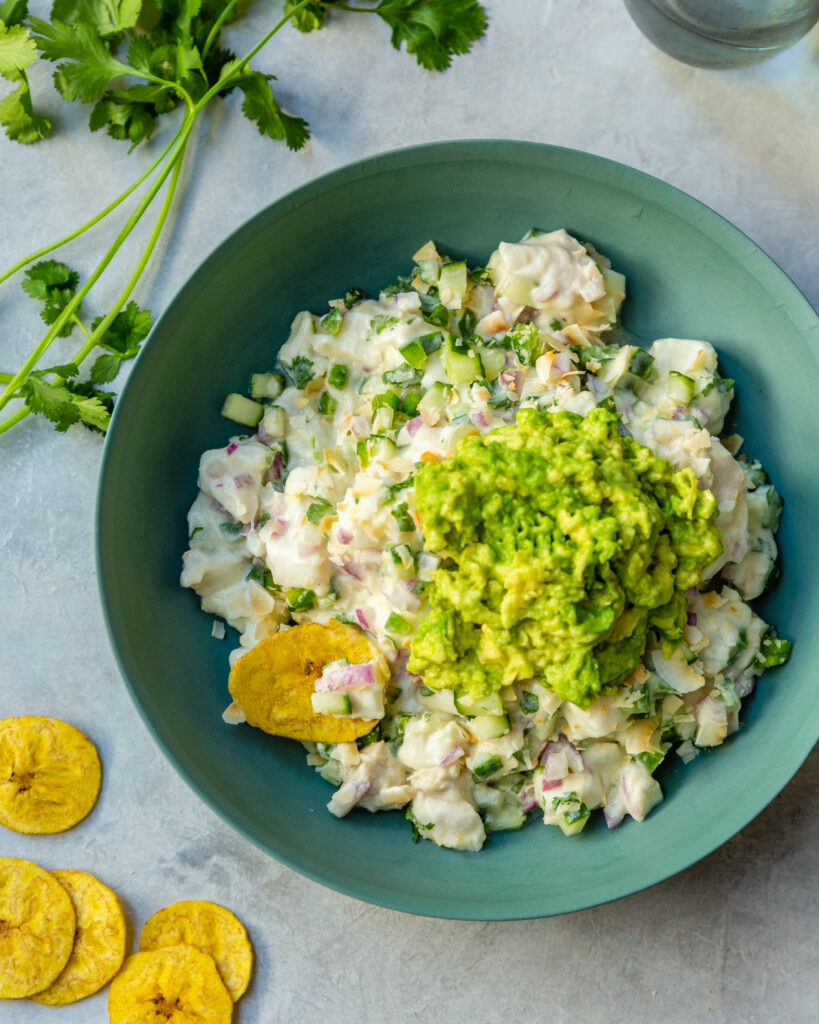 Ceviche
If you have never made ceviche before, it can be a bit intimidating, but I promise you it is incredibly simple to make. Ceviche is when you submerge uncooked fish in citrus fruit such as lemon or lime. The acidity in the citrus denatures the proteins in the fish, giving it that firm "cooked" texture. So although you never add heat to the dish, the proteins break down the same way as if you actually cooked the fish. Some of you may be nervous to eat fish that can be considered raw, but rest assured that ceviche is actually considered cooked after marinating in the citrus for a certain amount of time. 
Quality of fish
In general, it is best to buy fresh wild-caught fish if available to you, but even more so when you plan to make ceviche. The quality and freshness of the fish is super important when it comes to ceviche. Since the fish isn't cooked with heat, you will want to make sure you buy fish that is super fresh to avoid unwanted bacteria. It is best to use a firm or semi-firm fish such as halibut, sea bass or mahi-mahi. This will ensure that the fish won't fall apart when marinated in the citrus.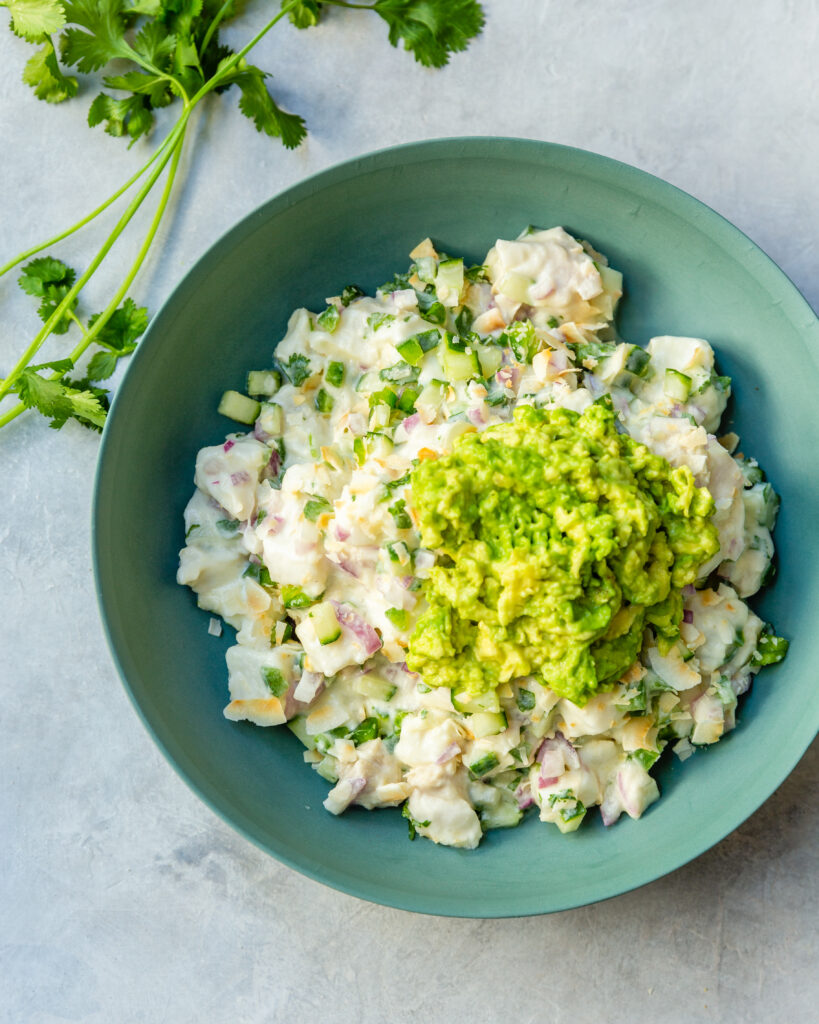 Non-Reactive Bowl
When making ceviche, it is important to use a non-reactive bowl.  Stainless steel, glass or ceramic are all good options. Bowls such as copper or aluminum can react with the citric acid and can cause a potent metallic taste. 
Hawaii in a bowl
If you didn't know,  Ryan and I lived in Hawaii for a bit when Asher was a toddler! I always miss the vibrant and tropical foods we had there. I am always striving to recreate Hawaiian-inspired flavors like my Poke Bowl recipe and this Hawaiian Ceviche. To give this recipe that tropical flavor, I added coconut milk and pineapple after the ceviche has been marinated. This gives it a creamy and tart flavor, perfect for a warm summer dinner. I also added some toasted dried coconut to give a slightly crunchy texture and more of those tropical flavors. My favorite way to serve this dish is on some paleo-friendly plantain chips, but feel free to scoop some of this refreshing ceviche on your favorite gluten-free chips or wraps. You can also enjoy this recipe on a salad with avocado for a delightful and refreshing meal!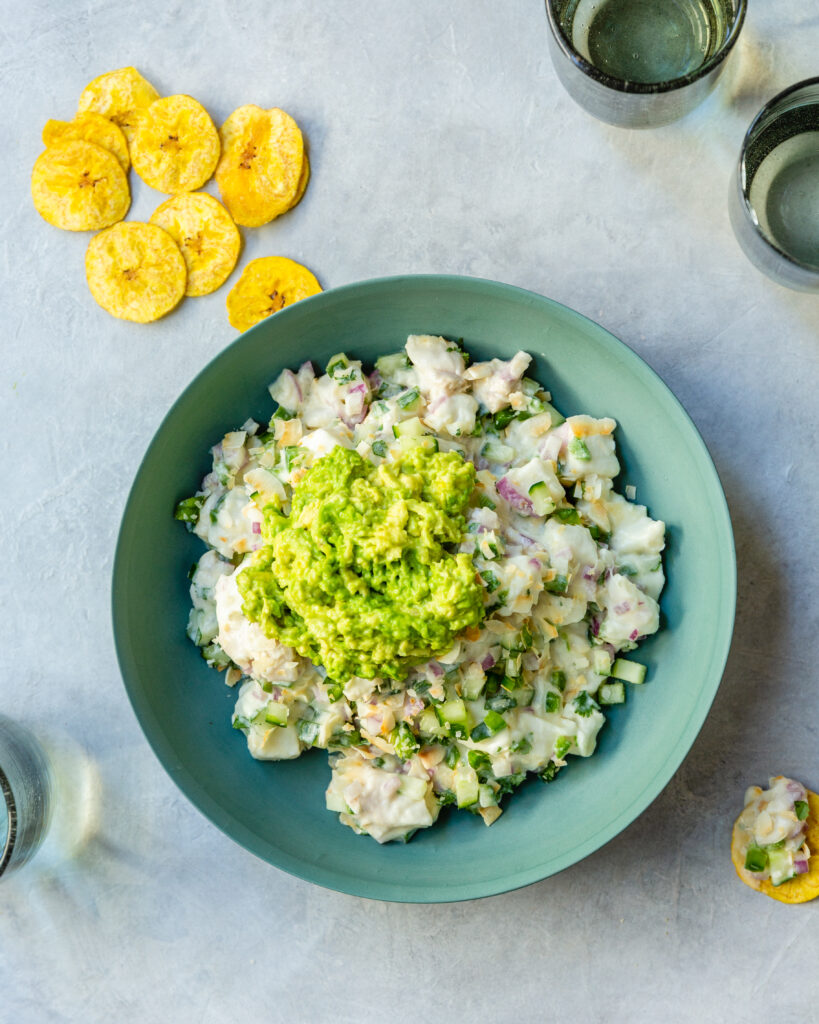 Stay tuned for more simple one-pot and simple recipes! 
Shop this recipe! 
photos by Ashley Lima
Print
Hawaiian Ceviche
Author:
Prep Time:

15 mins + 4 hours for marinating

Total Time:

27 minute

Yield:

4

servings

1

x
Category:

Dinner

Cuisine:

Hawaiian
1

pound fresh boned, skinned halibut, sea bass, or mahi mahi

1/2 cup

minced red onion

2

cloves garlic, minced

1/2 cup

lime juice

1/2 cup

fresh pineapple juice

1/2 cup

full-fat coconut milk

2

Persian cucumbers, seeded and minced (or

1/2

English)

1

jalapeno, seeded and minced

1/4 cup

toasted coconut flakes

1/4 cup

chopped fresh cilantro

1/2 teaspoon

sea salt

2

avocados, pitted and mashed
Taro or plantain chips, for serving
Instructions
Rinse fish and pat dry; cut lengthwise into 1/2-inch-thick strips, then stack two or three at a time and cut into 1/2-inch chunks. Place in a non reactive bowl with onion and garlic. Pour lime juice and pineapple juice over fish and gently mix to coat. Cover and refrigerate for about 4 hours, until a cube of fish no longer looks raw when broken open. Drain in a colander and return to the bowl.
Stir in the coconut milk, cucumbers, jalapeno, coconut flakes, and cilantro. Season to taste with sea salt. Top dish with the mashed avocado and serve chilled with taro or plantain chips.
Notes
Make-ahead:  The fish can be marinated a day in advance. After the initial marinating time, about 4 hours, drain the juices so it doesn't get overly citrusy. For the freshest flavor, add all of the other ingredients just before serving.
Keywords: Danielle Walker, against all grain, paleo, gluten free, tropical, paleo lifestyle, seafood, ceviche, Hawaiian, island, healthy recipe, easy recipe
Hawaiian Ceviche