If you have never heard of Bulgogi,  also known as Korean BBQ beef, it is made of thin marinated slices of beef or pork grilled on a barbecue or stir-fried. This flavorful recipe for Paleo Beef Bulgogi Lettuce Cups uses pineapple juice to tenderize the meat, rather than the traditional Asian pear or apple. The enzymes in pineapple juice go to work right away, breaking down the proteins and muscle structure. This recipe is lightly sweetened with dates and mixed with a marinade of coconut aminos, scallions, garlic, ginger and sesame oil. It is a delicious combination of savory and sweet that the whole family will enjoy! 
To keep this dish 100% paleo, I use lettuce cups to serve with the beef. If you are able to tolerate grains, you can also serve it alongside steamed Korean rice. Aside from letting the meat marinade, this meal takes less than 20 minutes to cook and get on the table, so it is a great recipe to make for those busy weeknights when you are craving something flavorful. This dish comes together with a gut supporting kimchi to add some crunch and zest. This recipe for Paleo Beef Bulgogi is a light and appetizing meal to serve all year round, but especially in these warmer BBQ season months!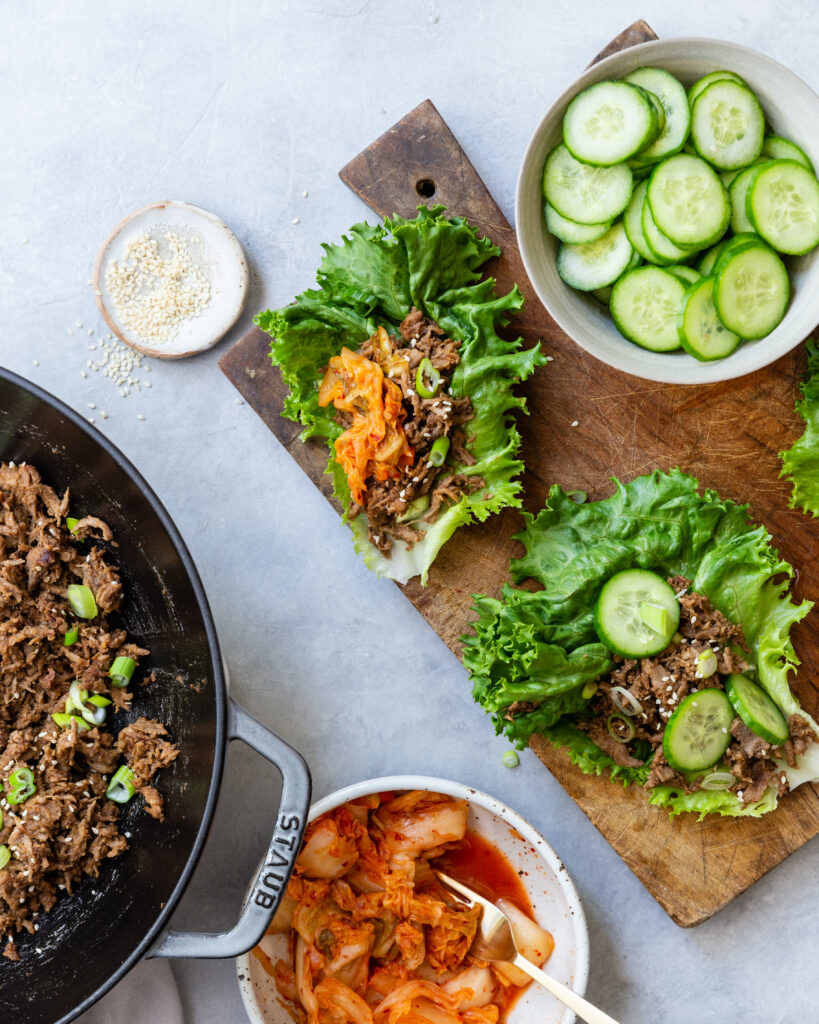 The steak: 
You can either use boneless ribeye, or sirloin steak here. You will want to ensure that your steak is very thinly shaved and tenderized. I like to wrap the steaks tightly and freeze for 1 to 2 hours, until firm, for easier slicing. You will want to shave the meat against the grain into 1/8-inch slices with a very sharp knife. Making sure the steak is thinly sliced is the key to this Korean delicacy!
The Pineapple Juice (warning)
To make this Paleo Beef Bulgogi come together quickly, I used pineapple juice in the marinate, rather than traditional Asian pear or apple. Just beware that when marinating meat with pineapple juice, it breaks down the proteins rather quickly. When we lived in Hawaii back in 2012, I used pineapple in burgers once and accidentally left the ground meat marinating for a full day. Let's just say, don't do that here. Your meat will turn a very unappetizing color and texture! Think canned cat food. This recipe only needs to marinate for about 30 minutes to obtain the flavor. 
If you want to marinate the beef in advance for meal prep, substitute the pineapple for a pear or apple and marinate in the refrigerator for up to 2 days. 
I hope you love this recipe! If you are looking for more lettuce cup inspired recipes, below are some of my favorites from my blog and books: 
Slow Cooker Chicken Tacos- page 138 in Against all Grain
Club Sandwich Wraps page 144 in Against all Grain 
Beef Tacos page 146 in Meals Made Simple
Fish Tacos page 192 in Meals Made Simple
Summer Shrimp Rolls page 196 in Meals Made Simple
Photo Credit: Ashley Lima
Shop this Recipe!
Print
Paleo Beef Bulgogi Lettuce Cups
Author:
Prep Time:

1 hour 45 mins

Cook Time:

3 mins

Total Time:

1 hour 48 minutes

Yield:

4

-

6

servings

1

x
Category:

Dinner

Cuisine:

Korean
2

pounds boneless rib-eye or top sirloin steak

1/2 cup

fresh pineapple chunks

1/3 cup

coconut aminos

6

pitted large dates

4

green onions, white and tender green parts, sliced, with white and green separated

3

cloves garlic

1/4

-inch piece fresh ginger, peeled

2 tablespoons

toasted sesame oil

1 teaspoon

fine sea salt

1/4 teaspoon

freshly ground black pepper

1/4 teaspoon

red pepper flakes

12

large green leaf lettuce pieces

3

Persian or

1

English cucumbers, thinly sliced

1/2 cup

kimchi
Sriracha Aioli, for serving

1 teaspoon

lightly toasted sesame seeds
Sriracha Aioli:
1⁄2 cup

mayonnaise

2 tablespoons

Sriracha sauce* (omit for Whole

30

and sub with a sugar-free hot sauce, or omit Sriracha altogether)

4 teaspoons

freshly squeezed lime juice

1 teaspoon

fine sea salt

1 teaspoon

garlic powder

3⁄4 teaspoon

cayenne pepper

1⁄2 teaspoon

red pepper flakes
Instructions
Place the steak in the freezer to chill for 1 to 2 hours to make it easier to slice.
Meanwhile, make the marinade. In a blender or food processor, combine the pineapple, coconut aminos, dates, white parts of the green onions, the garlic, ginger, sesame oil, salt, black pepper, and pepper flakes and process until smooth.
Using a very sharp knife, slice the steak against the grain into 1/8-inch-thick strips. Transfer the strips to a large bowl and pour the marinade over the top. Use your hands to rub the marinade into the meat. Cover and marinate at room temperature for 30 minutes.
Meanwhile, place the lettuce leaves and cucumber slices on a large cutting board. Put the kimchi and any additional toppings in small serving bowls.
Heat a large skillet over high heat until hot. Working in two batches to avoid crowding, remove the meat from the bowl, scraping any excess marinade back into the bowl, add the strips to the pan in a single layer, and fry, undisturbed, for 1 minute, until browned on the underside. Using tongs, flip the steak and cook, undisturbed, for 1 minute more, until browned on the second side. Using the tongs, transfer the steak to a plate and repeat with the remaining strips. Then return all of the browned meat to the pan and cook, stirring, for 1 to 2 minutes, until most of the liquid has evaporated.
Sprinkle the steak with the sesame seeds and green parts of the green onions. Serve immediately from the skillet (to keep the meat hot) with lettuce, cucumbers, kimchi, and other toppings.
Sriacha Aioli:
To make the aioli, in a small bowl, stir together the mayonnaise, Sriracha, lime juice, salt, garlic powder, cayenne, and pepper flakes. Cover and refrigerate until ready to serve or for up to 1 month.
Keywords: Danielle Walker, against all grain, Korean cuisine, dinner, whole30, paleo
Paleo Beef Bulgogi Lettuce Cups