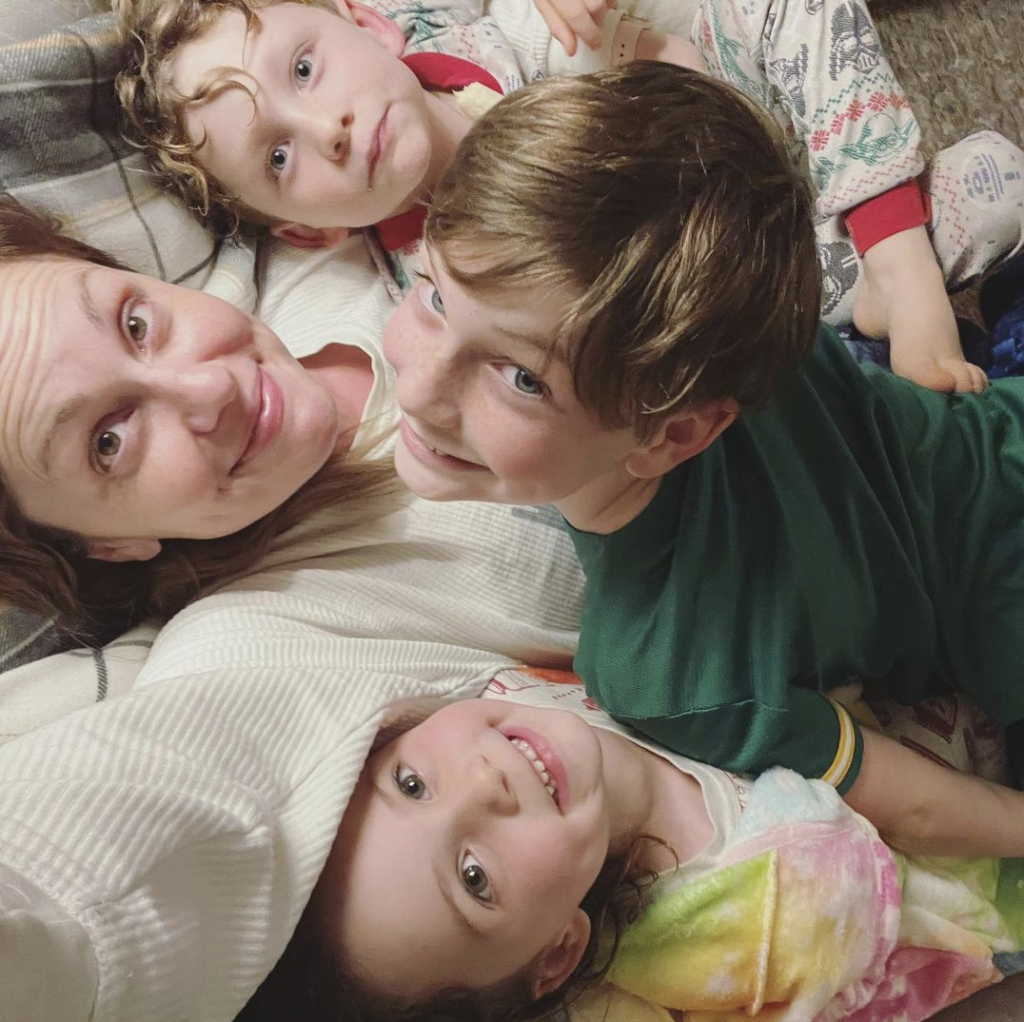 m o m p i l e
🤍 🤍 🤍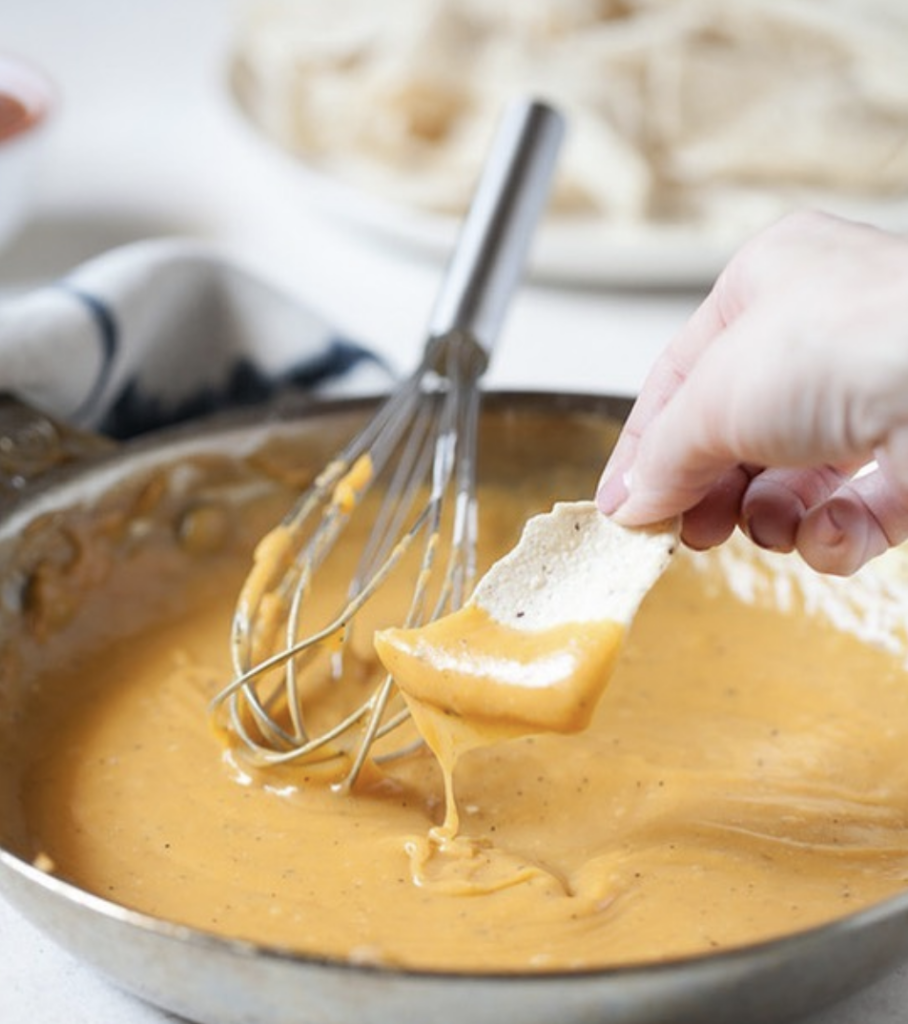 Have you made this Paleo & DairyFree Skillet Queso yet?
When I first tested this recipe I couldn't believe how similar it tasted to the real thing! But fun fact – it was supposed to be in my Eat What You Love book and I cut it last minute because I was afraid people wouldn't like it!
It's now the top viewed recipe on my blog! Whoops!🤣
You can make it for some fun paleo nachos, or mix it with my taco seasoning from Meals Made Simple and ground beef for a cheesy skillet, or drizzle it over broccoli for a cheesy broccoli side dish! I've even heard of some of you using it in Cheeseburger Soup and Cheesy Broccoli Soup!
Ingredients:
6 ounces peeled and cubed Hannah sweet potato, or other white-fleshed sweet potato (about 1 cup)*
3 ounces peeled and diced carrots (about 1/2 cup)
1 1/4 cup chicken bone broth
3 tablespoons melted ghee
1 tablespoon nutritional yeast
2 1/2 teaspoons sea salt
2 cloves garlic, peeled
1/4 cup fresh store-bought roasted tomatillo salsa**
3 teaspoons arrowroot powder (or 2 teaspoons tapioca starch)
For Serving: Chips of choice**, guacamole, red onions, cilantro, sliced black olives
*White potatoes will also work if you tolerate them. Orange fleshed sweet potatoes will also work but will make this a little more sweet.
– To make this vegan – substitute veggie stock and use a dairy-free butter alternative of your choice in place of the ghee
– Tapioca starch will make this sauce more "stretchy" like real cheese, but we tolerate arrowroot better.
Click here to grab the full recipe and hashtag #DanielleWalker and/or tag me so I can see when you make it! ❤️
View this post on Instagram
sunrise sleepy chats with my 3 year old
We do "highs and lows" every day and everyday her "bad high" (her low) is that she misses someone. Usually it's a grandparent. But this morning's was a little heart wrenching. And a little sweet 🤣 3 year olds brains are so proximate.
You guys know what we do as a family to keep Aila's memory alive. But I'd so love to hear things you who have lost love ones do with your families.
Kezia feels a little differently and more deeply than the boys. And because she wasn't alive like Asher was when Aila passed away, it's a little different to help her understand why she can't be with her sister. I do love that she loves her so much though and misses her.
This went on for a good 5 minutes, and at the end said – can she paint my nails and can I wear her dresses?!
😭😭😭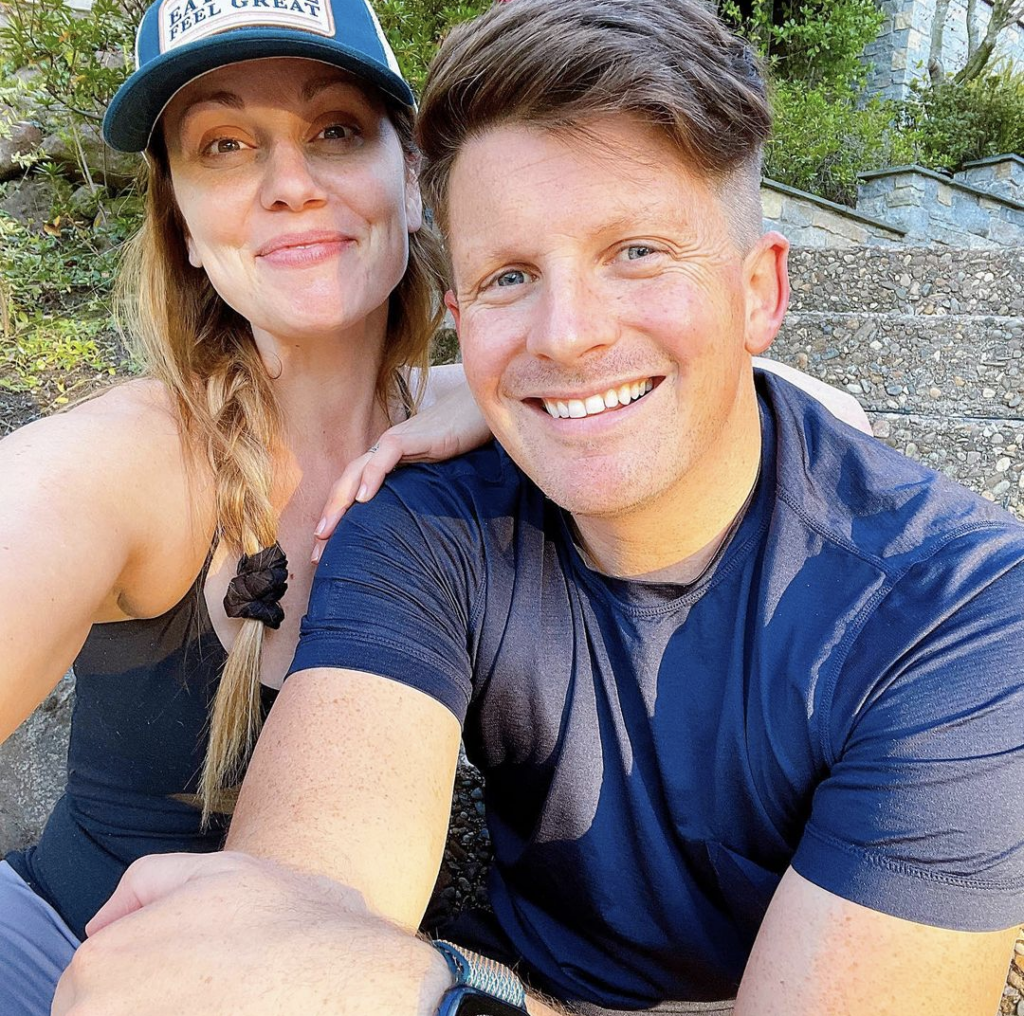 Hey babe. Remember when we used to get dressed up for dates?
So 2019.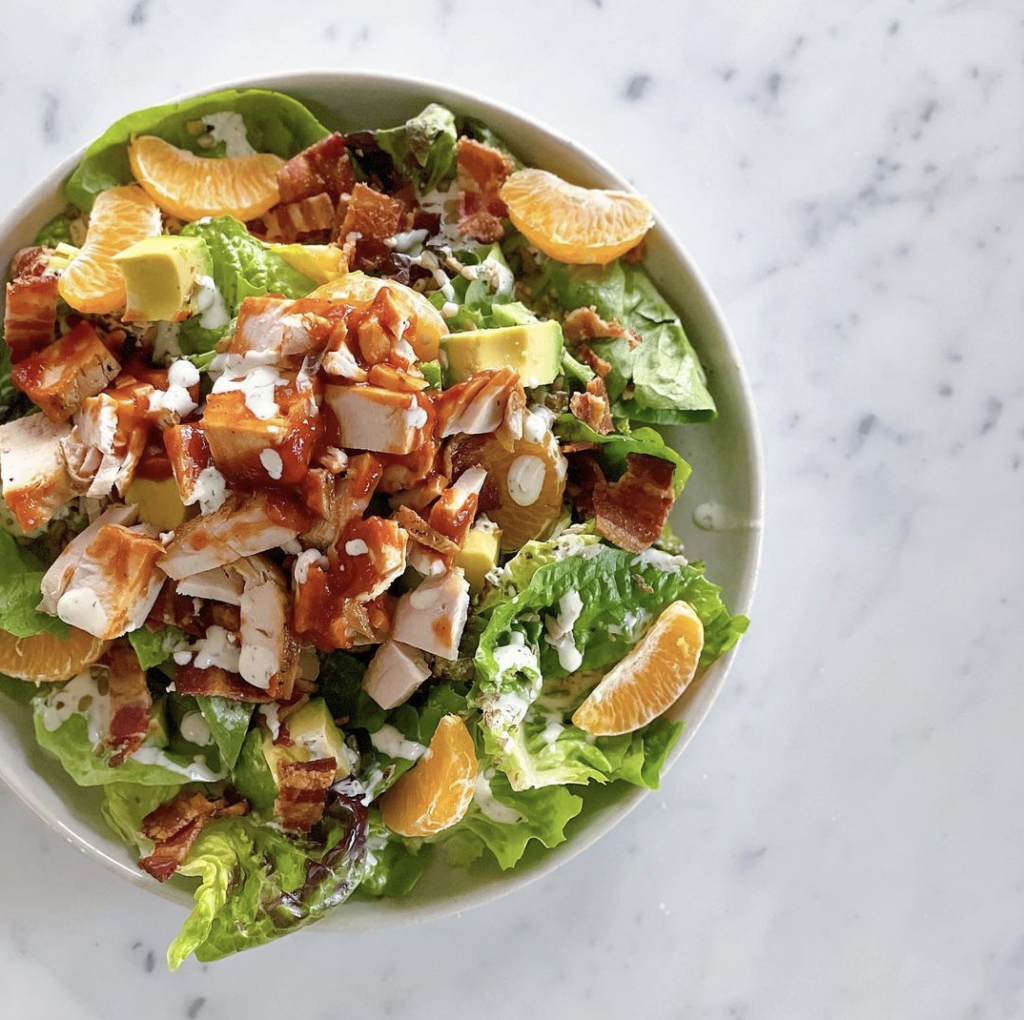 my whole30 lunch today
Grilled chicken tossed in Whole30 bbq sauce, little gems and butter lettuce from my garden, my dairy-free ranch, GoRaw sunflower seeds, clementines, 🥑 , and 🥓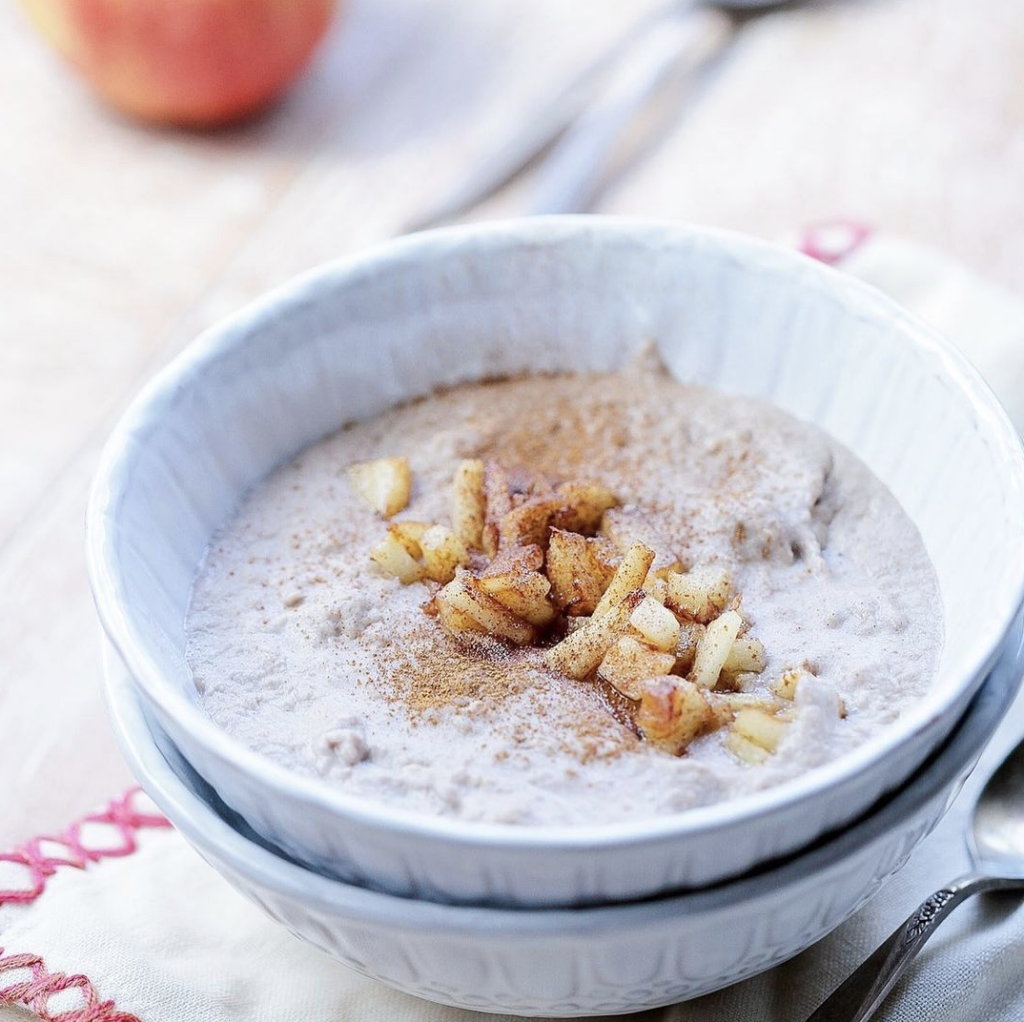 Do you have a go-to egg-free breakfast? 🚫🍳🚫
One of my favorite breakfasts in the past was a warm bowl of steel-cut oatmeal. Rich with nutrients and warm flavors, but unfortunately not so kind to my digestion. This recipe for Banana Nut Porridge has the same flavor and texture as warm oatmeal, but completely grain-free! This recipe uses raw nuts mixed with banana, coconut, and cinnamon for a rich and fulfilling egg-free breakfast option! I love to top it with apples sautéed in ghee and cinnamon.
Click here to grab the full recipe and hashtag #DanielleWalker and/or tag me so I can see when you make it! ❤️
Ingredients:
½ cup raw cashews
½ cup raw almonds
½ cup raw pecans
1 very ripe banana (makes it easier to digest plus adds a little more sweetness)
2 cup coconut milk
2 teaspoons cinnamon
dash of sea salt for soaking water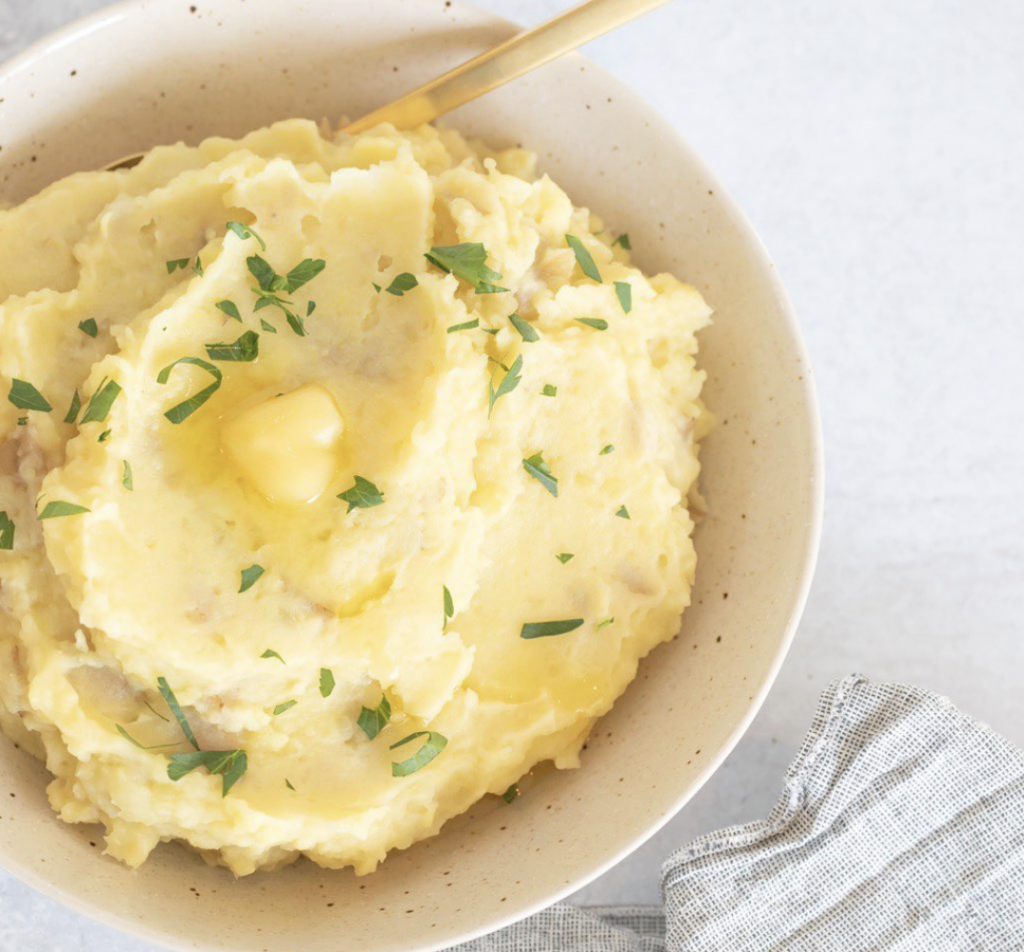 New Recipe!!
For those of you who are doing a January Whole30 –  how are you doing!?
Ryan and I are just past the halfway mark! Ryan says he always feels hungry during the first 25 days. He's a meat and potatoes type of guy (with a huge side salad), so these Instant Pot Mashed Potatoes are what I make weekly for him to have with his meals.
I wanted to find a way to cook them more quickly and evenly, without having to wait for water to boil or babysit the oven – so this is a great option if you need something quick and satisfying.
No that's not a melty pat of butter on top – it's CLA and Omega-3 rich GHEE ! I love using ghee as a butter substitute in pretty much everything, but especially mashed potatoes. It's free of casein and lactose, so it doesn't upset my stomach. The potatoes in this are also cooked in and mashed with bone broth, so they're really like a health food. 🙂
Have you ever made mashed potatoes in your InstantPot? What's your favorite method?
Click here for the full recipe!
Ingredients
5 pounds Yukon gold potatoes, peeled or skins left on and scrubbed clean (halved if they're large)
2 teaspoons sea salt
1 cup unsalted chicken bone broth
1/2 cup unsweetened cashew milk
1/3 cup full-fat coconut milk
½ cup @organicvalley ghee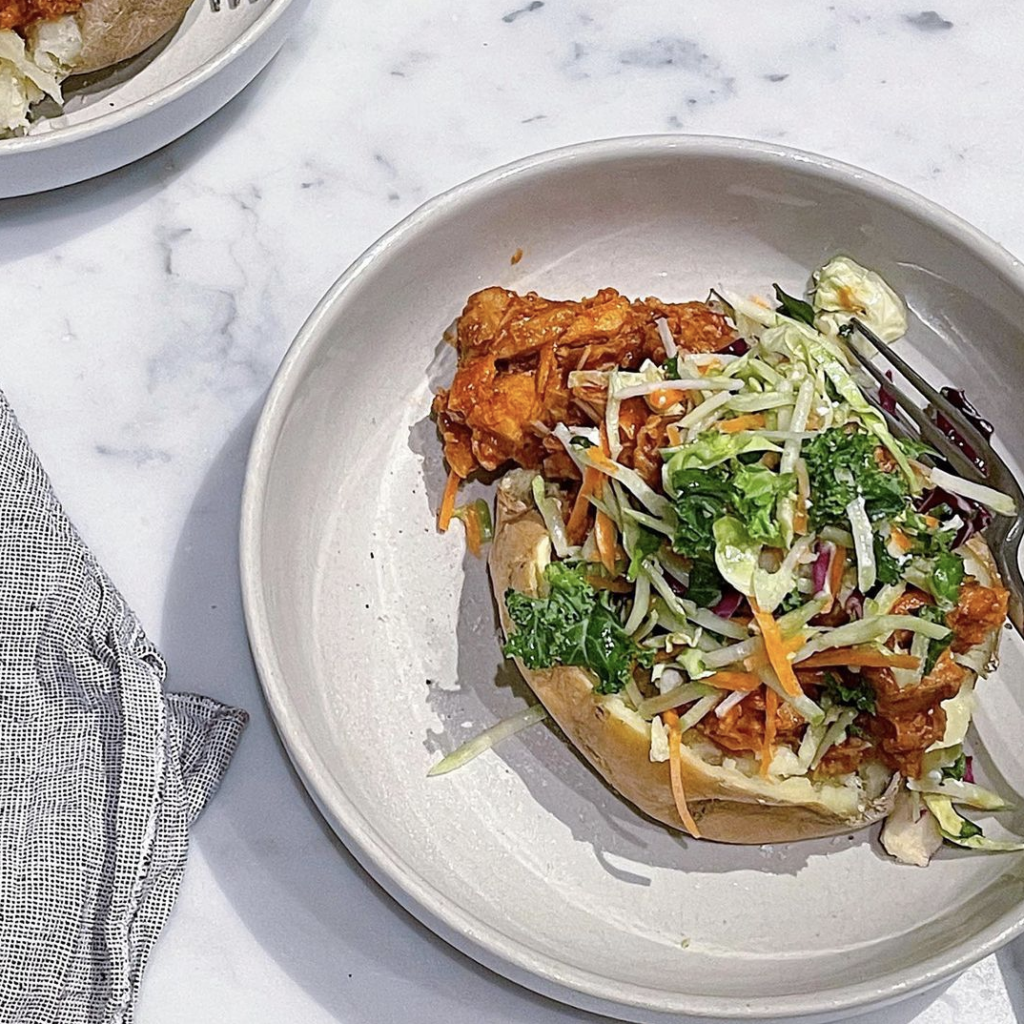 Favorite thing to stuff inside a sweet potato? Go!👇
🍠🍠🍠
Have you ever made my Granny Sarella's meat sauce? There's bone-in pork chops that simmer in the sauce, and while Ryan loves to eat one straight out of the sauce at the end, I usually throw them in a freezer bag until I have enough for another meal.
I remove the bone and chop them up and add Whole30 compliant bbq sauce and a little bone broth and simmer for 10 minutes. I love a white-fleshed Hannah sweet potato baked and then fluffed up with a heaping tablespoon of ghee and salt and pepper. I always keep a few pre-cooked in the fridge so all I have to do is quickly reheat it in the oven while the meat simmers on the stove. Add some slaw and you're dinner is done in 10 minutes!
My other favorite thing to stuff inside a sweet potato is Buffalo chicken. There's a recipe in Eat What You Love!
So proud of her tower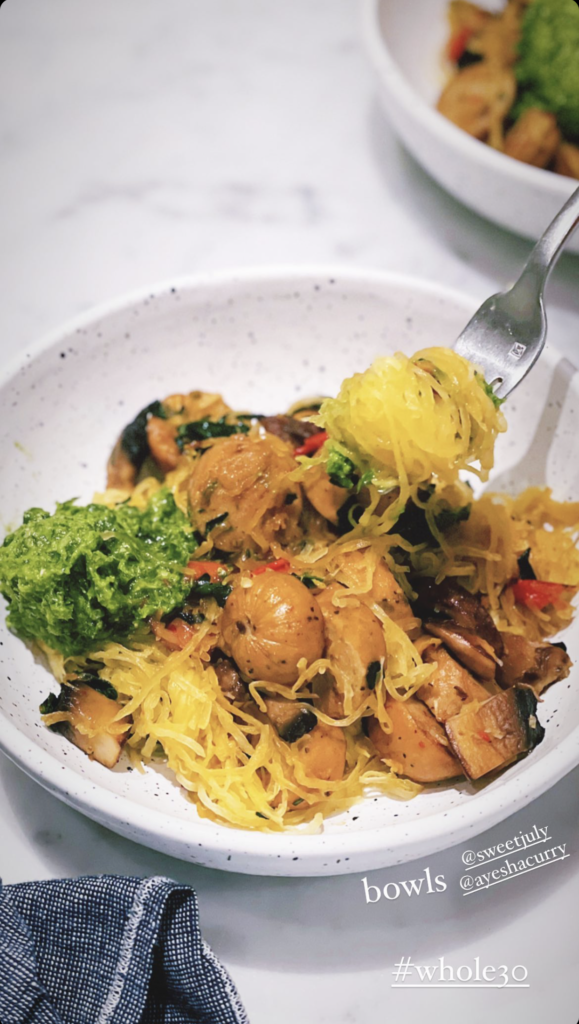 Another Whole30 dinner! Spaghetti squash with sauteed mushrooms, sausage, and homemade dairy-free pesto!
Danielle's Digest: Week of January 25th