I made this recipe for Gorgonzola Fig Flatbread with Prosciutto on a whim for Christmas dinner as an appetizer with our fresh crab, and it was a huge success with our family. I am so excited to share the recipe with you all today so you can make it for special occasions; like a stay-at-home date night, or for Valentine's day in a few weeks! 
This recipe uses a grain-free pizza crust that is slathered in a tart and lightly sweet fig jam, then topped with the most delicious caramelized onions and fresh prosciutto. It's sprinkled with gorgonzola or dairy-free ricotta, and a dusting of sheep's milk pecorino, making a fantastic combo of a sweet and savory appetizer.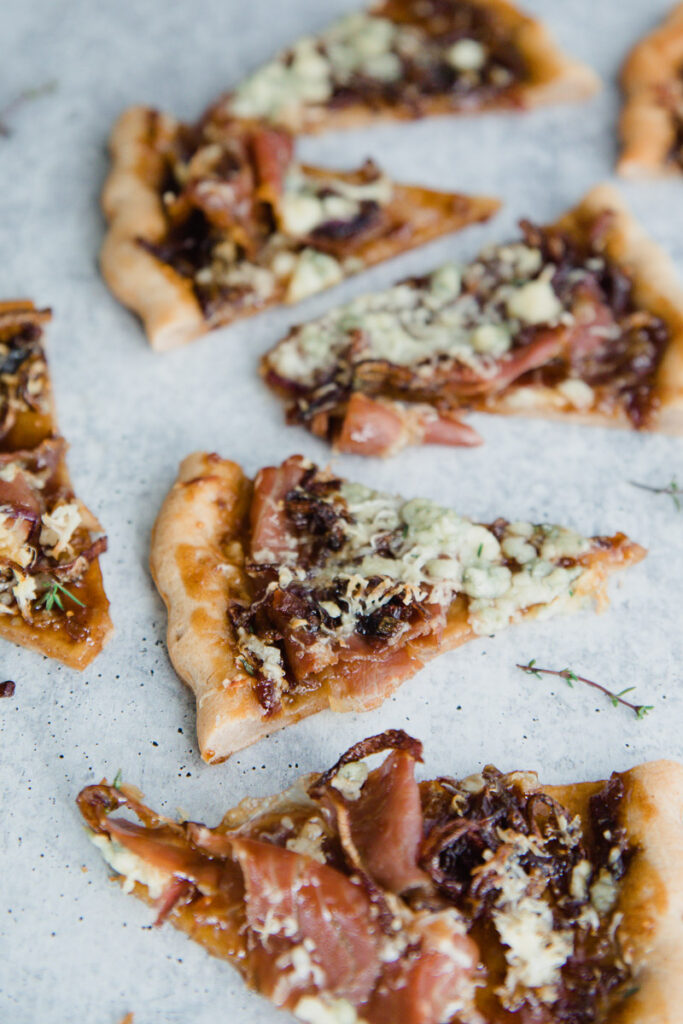 The Flatbread 
For this recipe, I used Capello's Naked Pizza Crusts to save some time in the kitchen. I love how convenient they are, plus their ingredients are very clean! You can find their pizza crusts in the freezer section in Whole Foods or you can also order directly on their website. If you can't find Capello's or prefer to make your own, any of my pizza crusts from my books or blog would be great. I would highly recommend my pizza crust from page 265 in my cookbook Eat What You Love. It's the one I keep in the freezer most frequently for easy pizza nights. I always triple the recipe and freeze individual size crusts so my kids can make their own combinations.
If you do make it homemade, be sure to spread really thin. You will want to make sure it has the texture of a thin flatbread crust. If you don't have a copy of Eat What You Love, you can try this Gluten-Free Pizza Crust from my blog! 
The Jam
I chose to use fig jam for this Gorgonzola Fig Flatbread recipe because it is naturally sweet with a slight tart flavor that pairs really well with almost all dairy cheeses and nut-based cheeses. And especially well with prosciutto. I have a homemade recipe for unsweetened Fig Jam on page 324 in Against all Grain! You can make it in advance and use it in this recipe. If you don't have time to make it homemade, I like to use St. Dalfours Unsweetened Fig Jam. All of their jams are sweetened with only fruit juice and fruit pectin and lemon juice, so no artificial sweeteners or pectin derived from corn!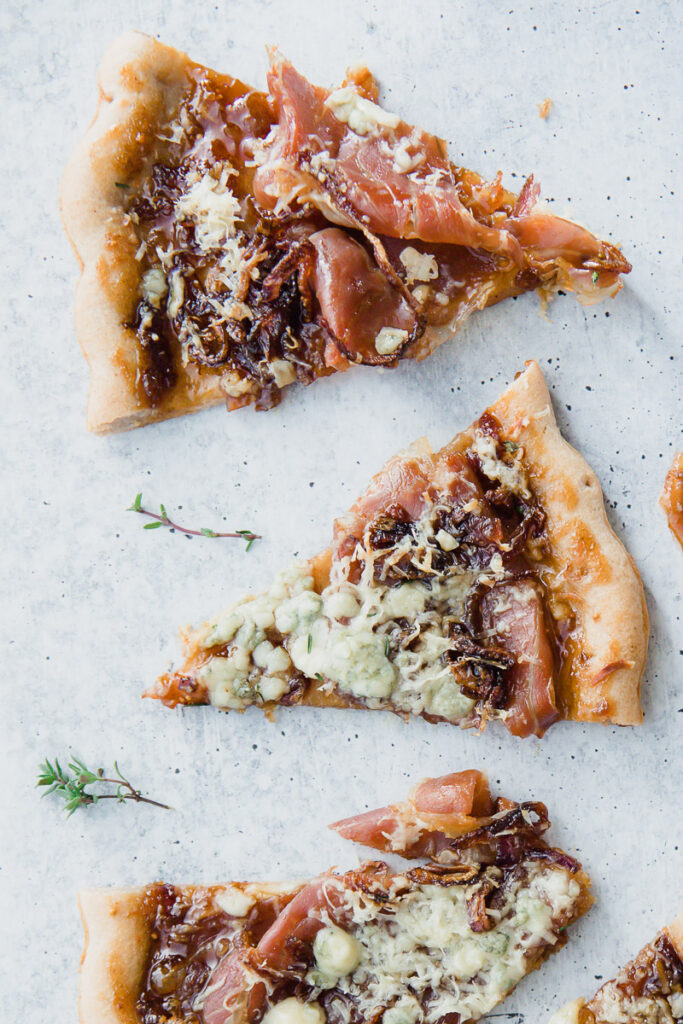 The Cheese
I am predominantly dairy-free, but I do occasionally eat some grass-fed and sheep's milk cheese. Sheep and goat's milk cheeses have a different protein structure than cow's, and also are less likely to be given soy or corn feed, so I find them easier to tolerate.
If you don't tolerate dairy, I recommend using a combination of Kite Hill Almond Ricotta Cheese with Miyoko's Mozzarella Cheese. Using more than one dairy-free cheese adds a delicious variety and complexity of flavor and texture to the recipe. 
Caramelizing onions 
Caramelized onions add a significant depth of flavor to any dish, especially to this Gorgonzola Fig Flatbread recipe. Caramelizing onions always take a bit of patience though – it is definitely not something you can rush. The trick to perfecting caramelized onions is cooking them slow and on low, stirring frequently. The caramelized onions in this recipe are infused with fresh thyme and a splash of balsamic vinegar, so they are packed with a sweet and savory flavor that pairs perfectly with the crispy flatbread, cheese, and sweet figs!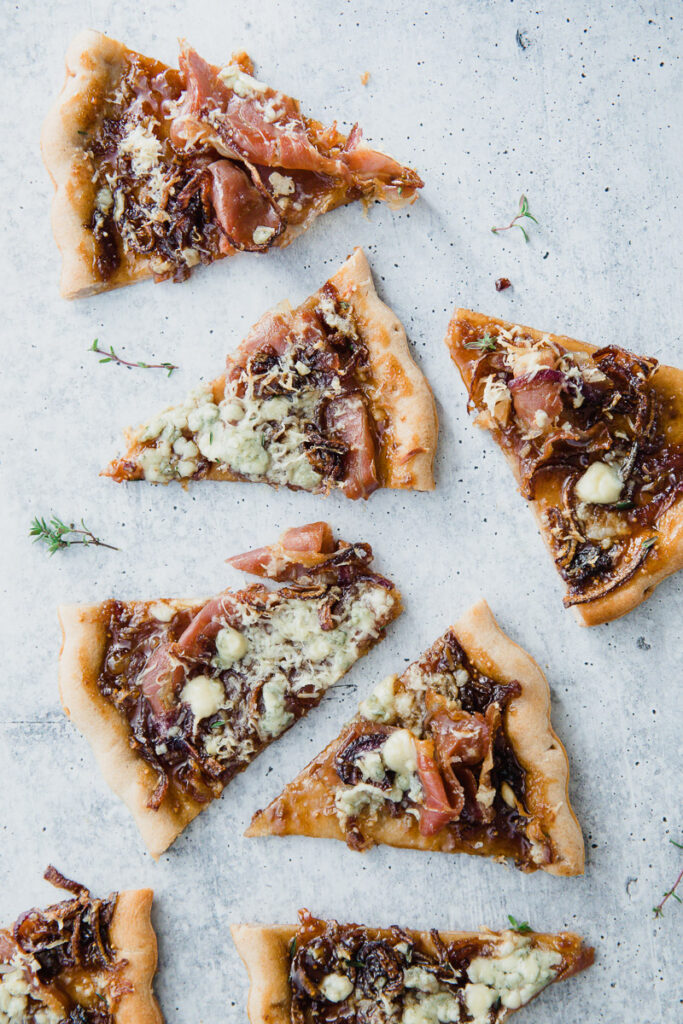 Print
Gorgonzola Fig Flatbread with Prosciutto
Author:
Prep Time:

5 mins

Cook Time:

20-30 mins

Total Time:

50 minute

Yield:

4

-

6

servings

1

x
Category:

Appetizer

Cuisine:

American
Instructions
Heat the olive oil in a skillet over medium-low heat. Add the onions, salt, and thyme and stir to coat. Cook the onions for 2 to 3 minutes, until they've begun to soften, then reduce the heat to low and continue cooking, stirring occasionally, for 10 to 12 minutes, or until softened and caramelized. Stir in the balsamic vinegar and remove from the heat.
Preheat oven to 500F and place the rack second to the top.
Spread the jam on the pre-baked pizza crust. Spread the onions all over and top with the prosciutto slices. Sprinkle the pecorino and gorgonzola on top. Place the flatbread in the oven and bake for 2 to 3 minutes, until the crust is golden and the cheese is bubbly.
Cut into slices and serve hot.
Notes
*Capellos crusts come parbaked. If using one a homemade grain-free crusts, parbake the crust before adding toppings for 10 minutes, according to the crust instructions.
Keywords: gluten free, grain free, appetizer, game day, against all grain, valentine's day, danielle walker, clean eating, flatbread
Gorgonzola Fig Flatbread with Prosciutto