If you haven't noticed, the theme of my blog posts this month has been dedicated to Whole30. Ryan and I decided to take the plunge and start this new year with a little reset. I eat this way most of the time, but I definitely indulged in my fair share of paleo treats over the holidays! It feels good to get back on track and I feel like I have so much more energy. Ryan, on the other hand, says he always feels hungry during the first 25 days! He's a meat and potatoes type of guy (with a huge side salad), so these Instant Pot Mashed Potatoes is what I make weekly for him to have with his meals! 
This recipe for Instant Pot Mashed Potatoes takes about a third of the time to make compared to boiling them, plus you don't have to babysit the stove. It is a great option to make if you need something quick and satisfying. I wanted to find a way to cook them more quickly and evenly, without having to wait for water to boil. Sometimes, to make things even more effortless, I don't even peel the potatoes. He doesn't mind the rustic-style mash with the skins and it sure shaves off a ton of time! Yukon gold tend to work best in this recipe because they're naturally creamy inside. Russets will work, but they do produce just a bit of grittiness once mashed.
I like to serve this to Ryan alongside a variety of protein and some veggies. He basically couldn't get through a Whole30 without mashed potatoes. They're his favorite. We always make fun of him at Thanksgiving for how loaded his plate is with them. It's like ½ mashed potatoes, ¼ turkey, and ¼ stuffing. He doesn't even bother with the other sides.
The 411 on White Potatoes
Readers often ask me if I eat white potatoes or not. I will begin by saying that if you are able to tolerate them, then I think they are perfectly fine to eat. While I was doing SCD (and once while trying to add them into my Whole30) I learned that I personally do not tolerate white potatoes very well. Therefore, I avoid them and substitute them with hannah sweet potatoes, which are similar in color and texture. White potatoes fall within the Whole30 guidelines, but they're technically not considered to be paleo. 
Although I do not tolerate white potatoes, everyone else in my family can enjoy them, so I definitely like to make mashed potatoes, homemade french fries or roasted potatoes every now and then for them.
There's a lot of debate on whether sweet potatoes or white potatoes are healthier for you. I'm guessing I don't tolerate white potatoes as well because they're in the nightshade family, while sweet potatoes are not. While sweet potatoes slightly edge out potatoes for their nutritional value (mainly the antioxidant properties of the high levels of Vitamin A and C),  in my book, regular potatoes still have a pretty good resume of benefits. They're higher in potassium and magnesium, to name a couple. As always, my advice is to do what works best for your body.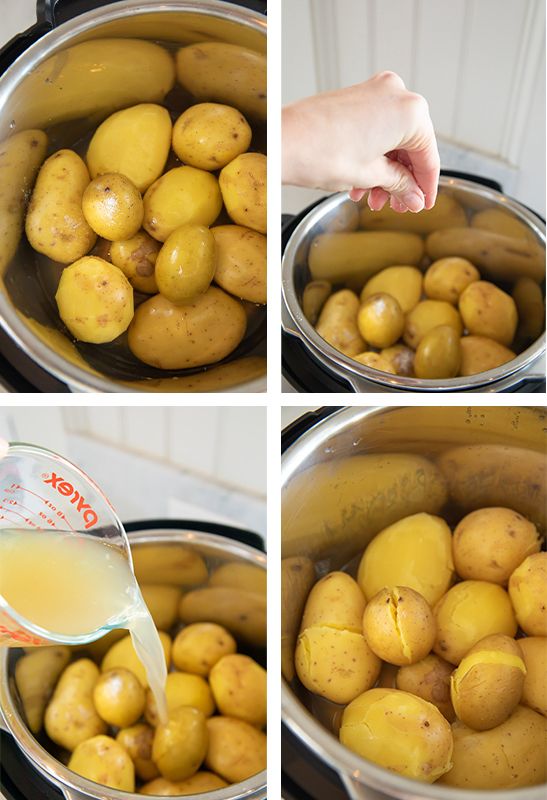 Shortcut 
For this recipe, I used a little bit of cashew milk mixed with coconut milk to give them that creaminess that traditional mashed potatoes have. If you can tolerate guar gum, then I think a great alternative would be using a cup of dairy-free Nutpod creamer brand for a faster and more convenient option. I personally don't tolerate the gums in them, so I stick to my homemade creamer and sometimes even use it in this recipe but omit the sweetener and vanilla!
Extra Flavor and Nutrients
To add additional rich flavor and nutritional value to this recipe, I steam and mash the potatoes in chicken bone broth instead of just water. The bone broth adds depth of flavor along with several gut-healing properties. If you don't have bone broth on hand, water will work just fine.
I also add a hefty dose of ghee, or clarified butter, to these. Don't get me wrong, buttered potatoes are absolutely divine, but the ghee also serves a purpose in the absorption of nutrients. When you have starchy foods that are higher on the glycemic index, you can add a healthy fat such as grass-fed butter or ghee, which can assist in lowering the rise in blood sugar. Grass-fed ghee is high in anti-inflammatory and heart-healthy omega-3s and gut-healing butyrate, plus it's free of casein and lactose, so I find that we all tolerate it better.
I hope you like this recipe! If you are looking for more Whole30 resources you can check out my free Whole30 Compliant Guide, 8 weeks of Whole30 Meal Plans, Whole30 Compliant Condiments and Sauces, and my Guide to Breastfeeding on Whole30! 
Looking for more recipes and inspiration to keep you on track through Whole30?
Print
Instant Pot Mashed Potatoes
Author:
Prep Time:

10 mins

Cook Time:

10 mins

Total Time:

20 minutes

Yield:

4

-

6

servings

1

x
Category:

Sides

Method:

Instant Pot

Cuisine:

American
Instructions
Place the potatoes and 1 teaspoon of the salt in the pot of an electric pressure cooker. Add the bone broth and secure the lid and set the valve to seal. Set the machine to high pressure for 6 minutes. Do a manual, quick release of the pressure by canceling the machine and turning the valve to vent.
Mash the potatoes directly in the pot with a potato masher or handheld electric beaters. Set the machine to sauté on high. Stir in the cashew milk, coconut milk, and ghee and cook until heated through. Turn off the machine and season to taste with the remaining 1 teaspoon salt. Serve hot.
Notes
To reheat: Store the potatoes in an airtight container in the refrigerator for up to 7 days. Cover the container and set it in an oven set to 400℉ for 20 minutes, stirring occasionally. Alternatively, reheat in the pressure cooker on sauté mode for 5 minutes, stirring frequently.
Keywords: Whole30, danielle walker, against all grain, dinner, clean eating, healthy food, Instant Pot, pressure cooking
Instant Pot Mashed Potatoes