My dad didn't do a lot of the cooking growing up, but he did teach me a few recipes that remain nostalgic and among my favorites. You've read about his standing rib roast and his garlic mushrooms and spinach in Celebrations. But there was one I'd forgotten until recently — Chocolate Protein Overnight Oats! It all came rushing back to me when Ryan grabbed a container of chocolate Mush oats at the grocery store recently….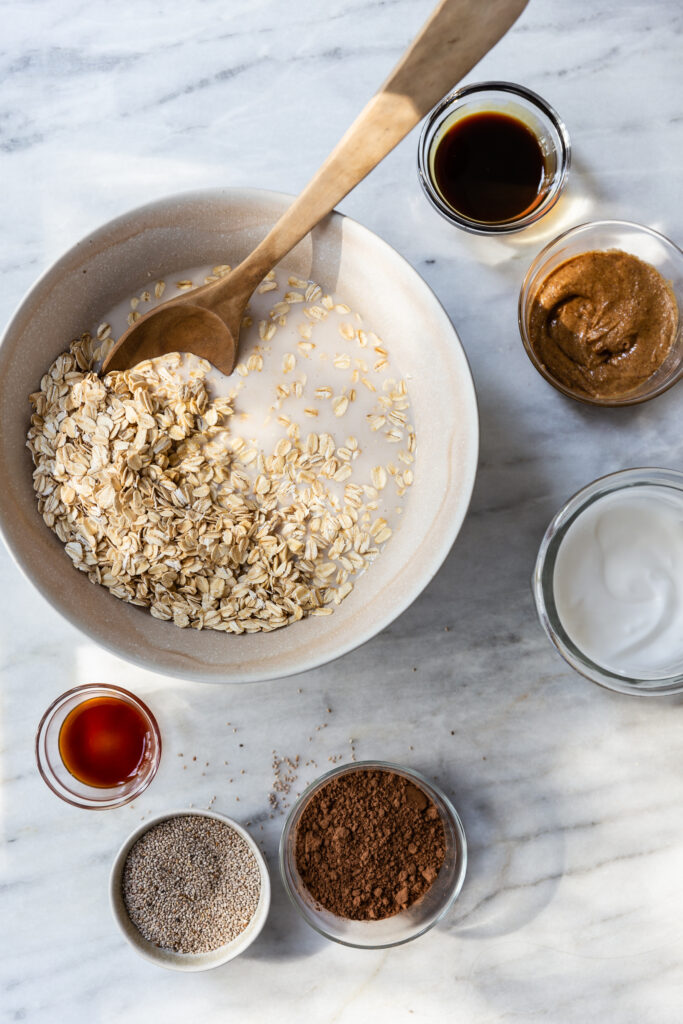 For a quick reminder as to why you may see a few grain-based recipes, have a peek at my welcome post when I started this new site HERE!
Dad's favorite breakfast that he taught me growing up was a little unconventional, and tasted like a dessert. And it was so simple.
A scoop of powdered Nesquik – you remember the one – the yellow container with blue fonts and the brown floppy eared bunny drinking out of an absurdly large cup with a straw

old fashion quick cooking oats

and a cup or so of milk
Protein overnight oats recipe 
It wasn't cooked, just stirred and eaten cold like cereal. I remember thinking it was the strangest concoction, but after the first bite I understood the hype. Looking back now though, uncooked, somewhat chalky oats do not sound appetizing. Not to mention the powdered cocoa mix had an array of ingredients my "now" body probably wouldn't appreciate – carrageenan, soy, fortified vitamins, and sugar to name a few. Which is why I came up with this Chocolate Protein Overnight Oats recipe! It's gluten-free, paleo, vegan, and can be nut-free, all while being a high protein, slow burn carbohydrate breakfast. And of course…it's chocolate! 
20 grams of protein 
As I mentioned Ryan has been very into overnight oats lately. They're convenient for him on a busy school drop off and work morning, and he loves adding various fruits and toppings to them. I sneak some extra nutrients in for him and the kids – including powdered probiotics from Seed, dairy-free yogurt, flax and chia seeds for fiber and omega-3 fatty acids, collagen, and sometimes a scoop of protein powder. The recipe as written here yields 4-6 servings. If you divide it into 4, each serving will have over 20 grams of protein, and if you divide it into 6, each will have over 15 grams of protein.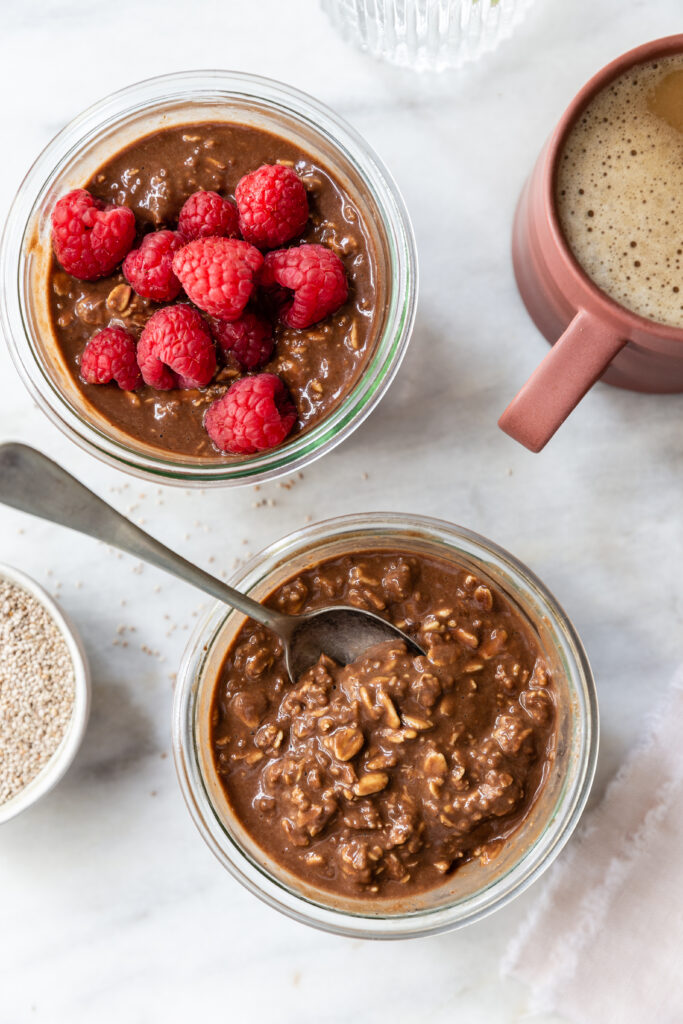 Are rolled oats gluten free?
As for the oats, I use organic AND certified gluten-free oats. Certified organic means they are free of pesticides and are not genetically modified. And the gluten-free certification is important because oats are often grown near wheat, or processed in facilities that have gluten so it's best to be safe.
Gluten free oatmeal brands 
For this recipe, I've been using Thrive Market's rolled oats or Bob's Red Mill.
What are sprouted oats 
I have actually been able to tolerate sprouted oats in moderation recently. The brand I've been using is One Degree Foods and I'm so happy! The sprouting process makes the oats easier to digest. They don't work well in overnight oats though from my experience, so I eat them warm.
Protein filled breakfast
Constructing this recipe couldn't be easier. You really just mix everything up and pop it in the fridge to set up overnight! You can also feel free to customize and do a little trial and error to see which toppings you enjoy most.
And if protein-filled breakfasts are your thing, here are a few more recipes for you to try!
Shop the recipe
Print
Chocolate Protein Overnight Oats
Author:
Prep Time:

3 min

Cook Time:

None

Total Time:

3 min + overnight

Yield:

4

-

6

servings

1

x
Category:

Breakfast

Method:

None

Cuisine:

American
Instructions
Mix all ingredients in a large bowl, then portion out into 4 to 6 small jars. Cover and refrigerate overnight before enjoying. Store in the fridge for 10 days.  
*22g protein for 4 servings, 15g protein for 6 servings 
Keywords: Danielle Walker, paleo, gluten-free, breakfast, meal prep
Chocolate Protein Overnight Oats