When I was developing recipes for Healthy in a Hurry, while also on a Whole30, I started sautéing sliced chicken apple sausage with blueberries until the berries burst and became deliciously syrupy. I'd then douse a purple sweet potato with ghee, add a little spinach, and the sausages, and viola, breakfast was served. While I still love that breakfast, I realized I needed something I could make ahead of time. So I came up with these two-bite Blueberry Breakfast Sausage Patties with all the same flavors. 
Purple Sweet Potatoes
I can't explain my love for these purple spuds, but alas I'm obsessed. They are more starchy and less sweet than an orange sweet potato and in this recipe, they mash up and combine beautifully with the ground pork. You could also substitute a white-fleshed sweet potato –  my favorite of that variety is called Hannah sweet potato. 
Stokes Sweet Potato
The particular type of purple potato that I like best is called a Stokes sweet potato. They're grown in central California but may be available where you live too. Okinawan sweet potatoes are also purple and work here.  
Prepping the potatoes in advance so you have them ready to go hugely cuts down time in this recipe. Cooked sweet potatoes are just something I always have prepped and on hand in my fridge. They're filling, full of nutrition, and the perfect base for lots of my recipes. 
To prep the potatoes ahead of time, preheat your oven to 400F. Rub the skins with melted ghee and pat them with sea salt. Prick them with a fork a few times and place on a rimmed baking sheet lined with parchment paper or foil. Bake until tender, about 40 minutes.
How to Make Sausages 
How to Make Sausage Patties 
Making your own sausage might sound a tiny bit intimidating, but it's actually quite easy! We aren't getting fancy here or making sausage links with the casing. Instead, we're just combining the pork and sweet potato to form patties. I find that using a potato masher can be helpful here. Here's a link to the one I like. 
Pork Sausage Patties
I like using organic, hormone and antibiotic-free pork for these patties, but you could really use any type of ground meat to make these Blueberry Breakfast Sausage Patties. If you're steering clear of pork, my recommendation would be dark meat turkey or chicken in its place.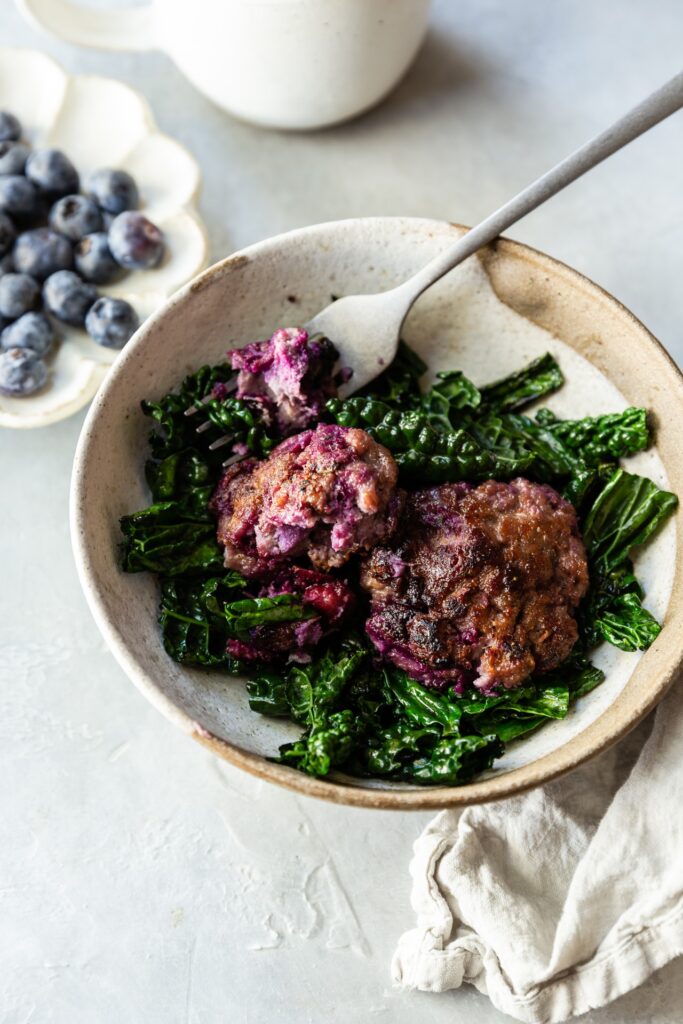 Best Sausage Seasoning Recipe  
The flavors in this recipe are so good — the sweet blueberries mix with the creamy potato and seared pork creating the perfect salty/sweet bite. The sausages get their rich flavor from freshly chopped sage as well as one of my favorite seasoning blends. 
Burnt Broccoli
My Burnt Broccoli seasoning is fantastic in these sausage patties! It adds spice, warmth, and depth of flavor. You can purchase a jar here or, if you're like me and love this seasoning on lots of things, there's the refill bag here. 
The finishing touches for this recipe involve sauteing kale or spinach in the pan with the sausage grease. The greens give you extra iron and fiber and the fat from the meat helps tenderize and add flavor. 
I hope you'll try these Blueberry Breakfast Sausage Patties. Enjoy! 
Tasty Breakfast Ideas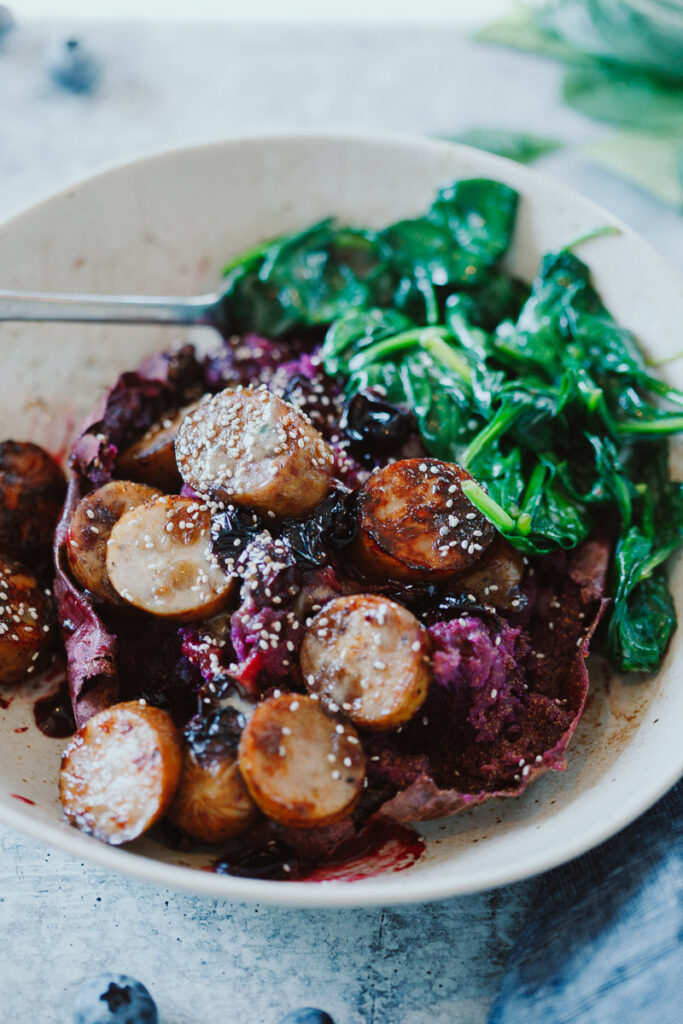 Shop the Recipe
Print
Blueberry Breakfast Sausage Patties
2

pounds ground pork (dark meat turkey or chicken work well here too) 

1 cup

mashed roasted purple sweet potatoes, skins discarded (I love Stokes sweet potatoes) 

2 teaspoons

Burnt Broccoli Seasoning 

2 tablespoons

fresh chopped sage
Freshly ground pepper to taste

1/2 cup

fresh blueberries 

3 cups

torn kale or baby spinach 

Fresh lemon juice 
Instructions
Preheat oven to 400F. Mash the ground pork and sweet potato together in a bowl using hands or a meat and potato masher. Mix in the seasoning, sage, and salt. Kneed in the blueberries. Portion the mixture into 16 2-inch sausage patties.

Heat a large skillet over medium high heat. Working in batches, brown the patties well on each side. Transfer them to a sheet pan and transfer to the preheated oven. Bake for 10 minutes, until cooked through and the blueberries have burst. Continue with remaining patties. 

Leaving the grease in the pan, add the greens and saute for 1 to 2 minutes, until wilted. Season to taste with salt and pepper and a squeeze of fresh lemon juice. 

Serve hot over a bed of wilted baby spinach (optional to add a fried egg too!)
Notes
Freezer Time: 3 months 
Fridge Time: 7 days
Keywords: Danielle Walker, breakfast, brunch, meal prep, easy, against all grain, paleo, healthy in a hurry
Blueberry Breakfast Sausage Patties