I adore blintzes. Before I went gluten-free, they would be the first item in a brunch buffet that I would beeline to. Especially if they included lemon, cheese, and blueberries. I've long adored my Lemon Ricotta Blueberry Pancakes from Eat What You Love and this new recipe for Dairy-free Cheese Blintz with Lemon Curd and Blueberry has the same bright flavors. To make these incredibly simple to throw together for a last-minute brunch crowd, I make use of a few things I have in my freezer. I keep my grain-free crepes (separated with parchment paper so they don't stick) stocked nearly all the time. They work for lasagna, enchiladas, or a single-serve crepe with ghee and jam. They're one of my most versatile freezer items!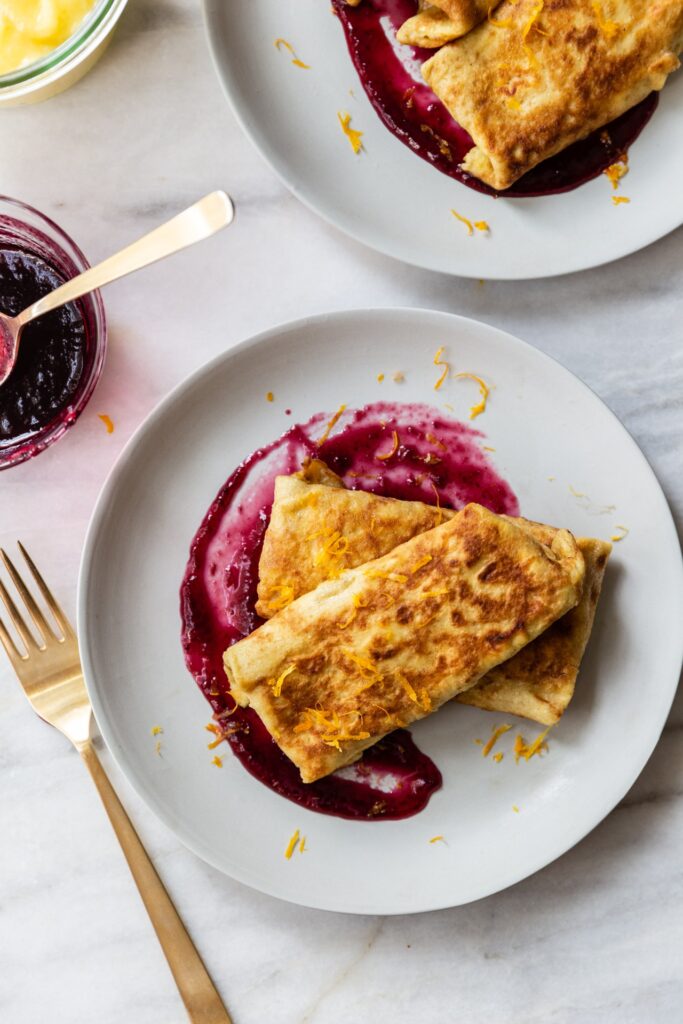 What is a blintz?
A blintz is a thin, rolled pancake traditionally made with flour. Similar in form to a crepe or blini, they're most often stuffed with a sweet filling (commonly a sweet cheese) and can be found topped with a sauce. When I went gluten-free, I started experimenting with crepe recipes, substituting the flour and egg for other combinations of flours I could tolerate. You can find my favorite recipe below. 
They require a slightly deft hand to make, but once you get the hang of it, you'll be making them easily and in no time. Be sure to use the back of a ladle to get them thin on the pan and keep an eye on the edges. When they start to roll towards the center, you know it's time to flip! See the recipe instructions and notes for more tips on making these Dairy-Free Cheese Blintz with Lemon Curd & Blueberry.
Arrowroot powder
My recipe calls for a mix of coconut flour and arrowroot. So what is arrowroot powder anyway? It is a gluten-free flour made from a tropical tuber plant and acts wonderfully as a thickening agent. I use it combined with other flours (most often almond flour and/or coconut flour), as it is not a direct replacement for flour. But it works well when combined to give gluten-free baked goods the proper texture. It is flavorless and absolutely an ingredient to keep on hand for gluten-free baking. A large bag of the brand I prefer can be found here. 
Substitute for arrowroot powder
If arrowroot isn't available to you, tapioca starch can act as a 1:1 replacement.
Can you freeze lemon curd?
Our Meyer Lemon tree gave us a giant harvest this winter, so I made and froze quite a few batches of my dairy-free and paleo Lemon Curd from my first cookbook Against all Grain. Yes! It freezes and defrosts just fine! I'm providing the recipe in this post for those that don't have the book or a magical frozen batch as I had. It's so easy to whip up, you can make it the night before and let it chill and thicken so it's ready in the morning to whip into the dairy-free ricotta.
Enjoy this Dairy-Free Cheese Blintz!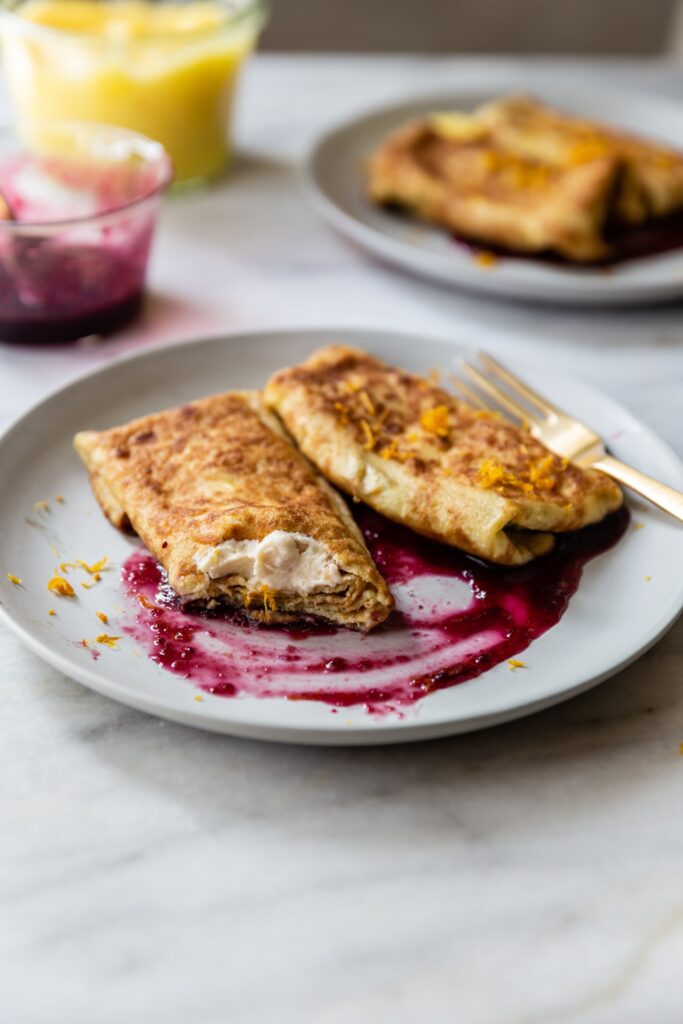 Gluten-free and dairy-free desserts

Shop the Recipe
Print
Dairy-free Cheese Blintz with Lemon Curd and Blueberry
Author:
Prep Time:

1 hour (setting time for lemon curd)

Cook Time:

20 minutes

Total Time:

1 hour 20 minutes

Yield:

6

servings

1

x
Category:

Breakfast

Method:

Stovetop

Cuisine:

French
Grain-free Crepes:
Lemon Curd:
Filling:
Blueberry Syrup:
Instructions
To make the lemon curd:
Place the honey, zest, lemon juice, egg yolks, and salt in a medium saucepan and whisk to combine. Place the saucepan over medium heat and bring to a simmer, whisking constantly, until the mixture has thickened, 4-5 minutes.
Strain through a fine sieve into a bowl. Whisk in the shortening and place in the refrigerator to chill for 15 minutes. Press a piece of plastic wrap directly onto the surface to prevent a skin from forming, and continue chilling until cold, at least one hour or up to overnight.
To make the blintz and filling:
Stir together all of the filling ingredients in a small bowl. Set aside.

Stir together all of the crepe batter ingredients and let sit for 10 minutes.

Set an 8-inch frying pan (I used a blue steel crepe pan) on medium heat. When the pan is hot, add just a touch of ghee (or butter). Pour in 2 to 3 tablespoons of the crepe batter, swirling the pan to create a thin pancake. Cook the crepe about 30 seconds, until the top looks dry and the edges start to curl. Use your fingers or an offset spatula to flip the crepe and cook the reverse side for 20 to 30 seconds. Set aside on a plate to cool. Then, make as many more as the batter will allow.

Stack 6 pancakes and place 3 tablespoons of filling across the center of the top crêpe in your stack. Fold the bottom part of the crepe up and over it; fold the sides in over the bottom and filling, then fold the crepe up to form an egg roll-like shape filled pancake and seal the ends.

Heat 2 teaspoons avocado oil and 2 tablespoons ghee in a large frying pan over medium heat. Cook the blintzes in batches until deep golden brown and warmed through, 2 to 3 minutes per side. 

While they pan fry, whisk together the blueberry jam, maple syrup, hot water, and lemon zest. 

Swipe 1 to 2 tablespoons blueberry syrup onto a plate and top with a blintz. Dust with powdered sugar or lemon zest if desired. Serve additional lemon curd on side.
Notes
You can use these blintzes right away, or refrigerate them for up to 3 days. You can also freeze them between layers of parchment paper for up to 2 months. Defrost in the fridge overnight, then heat a tablespoon of ghee over medium heat in a skillet. Fry blintz until browned on both sides. 
Notes: I found the crepes folded best and didn't crack when they were warm and as thin as I could get them in the pan. If  you use frozen ones like I did, allow them to defrost naturally on the countertop then warm them slightly in the oven or in a dry pan to make them more pliable. If they do crack a bit when you fold them, don't worry about it! They'll hold their shape once pan fried. And a little filling oozing out of the cracks is not a bad thing by any means.
Dairy-free Cheese Blintz with Lemon Curd and Blueberry