I hope you are all getting set for a beautiful and delicious Thanksgiving holiday with family or friends! While I'm not hosting this year (I know, wild!), I am hoping to repurpose some leftovers into some classic and easy recipes. So if you're wondering what to do with Thanksgiving leftovers, I've got you covered! 
I'm including three recipes for your leftover turkey — my Grain-Free Skillet Turkey Pot Pie, Leftover Roast Turkey Soup, and Turkey Salad. And for sides, if you have leftover mashed potatoes, I highly recommend my Shepherd's Pie. Have butternut squash? Try my Red Curry Butternut Squash Soup. And finally, leftover acorn squash can be repurposed into my Roasted Acorn Squash Salad for something nice and light. 
And just between you and me? There's no recipe here, but I highly recommend a tiny bit of leftover pie (whatever flavor) atop some dairy-free Cocojune yogurt for a sweet snack or dessert. Or breakfast…I won't tell 😉 
I hope this gives you some great ideas for your Thanksgiving leftovers and from my home and family to yours, I wish you a very Happy Thanksgiving!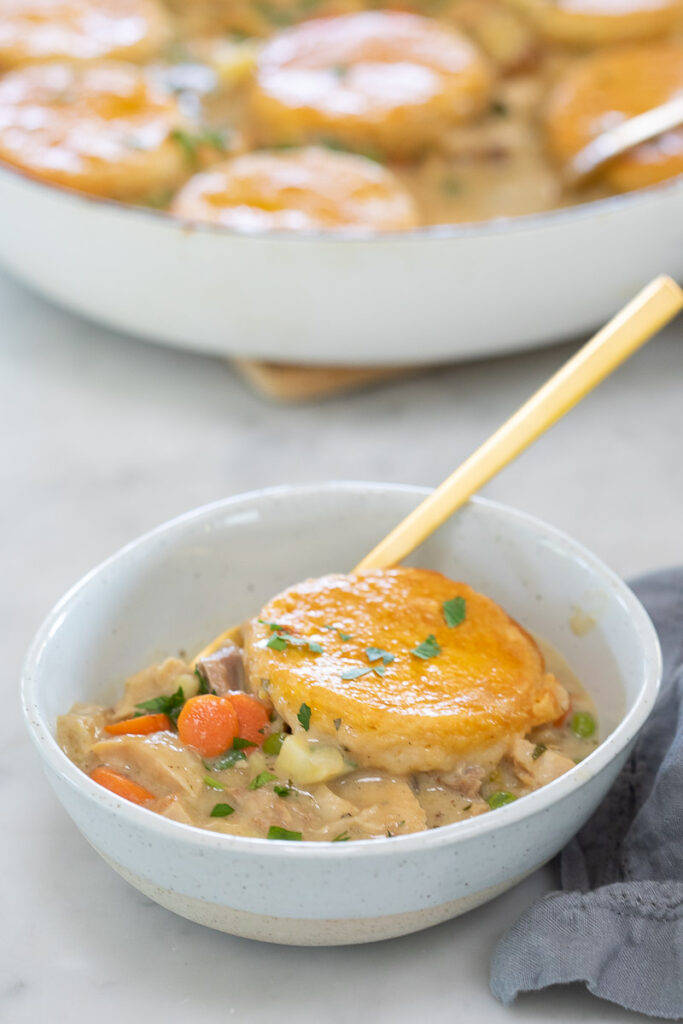 The most comforting, creamy recipe (thanks to secret ingredient cashew butter), my Grain-Free Skillet Turkey Pot Pie is fantastic year round, but especially when you have freshly roasted turkey at your fingertips. Make sure to save some pan drippings for this recipe if you can, as adding them really deeply enhances the flavor.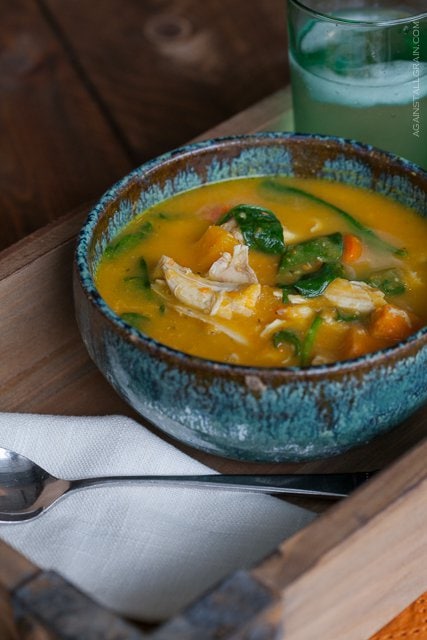 This classic recipe is SUPER fast to throw together with leftover Thanksgiving turkey. But feel free to use it as a guide more than a recipe. You may have different leftover veggies needing to be used up, so definitely sub in what you have on hand. If you're feeling turkey-ed out, no problem, this soup freezes beautifully so you can make it and sock it away for later on. 
I love using tart apple juice-sweetened dried cranberries in my leftover Turkey Salad. They contrast so nicely with the crisp celery and the nuts. This is so easy and stores well in the fridge for about five days. I love it with grain-free crackers for lunch.  
Whatever type of mashed potatoes you have on hand, whether regular, white sweet, or regular sweet, this Shepherd's Pie recipe works. I love the slightly stiff crust that forms on the top as it bakes and how warm, soft, and delicious the meaty filling turns out. 
Maybe you need a break from the classic Thanksgiving flavors by now. If so, this Thai-inspired, Red Curry Butternut Squash Soup is a nice departure! I love a blended soup in a mug for lunch and this one is so rich thanks to its coconut milk base. 
A simple salad — Roasted Acorn Squash Salad with Maple Vinaigrette — is the perfect accompaniment to lots of dinner dishes or makes an easy lunch. If you'd like more protein, you could easily add sliced roasted chicken (or turkey). Don't miss the pomegranate seeds! I love their tart, juicy, crunch in a salad. 
I hope you'll enjoy your Thanksgiving leftovers a little more this year by repurposing them thoughtfully in some of these easy recipes. 
Enjoy!
Still looking for a full Thanksgiving menu or holiday recipes?
I have a full lineup of your favorite Thanksgiving dishes, made grain-free and paleo in my Celebrations cookbook! In addition to Thanksgiving recipes, this cookbook (possibly my favorite one) has loads of recipes for other holidays as well — including for Christmas, Easter, birthdays, and more!
What To Do With Thanksgiving Leftovers