It's no secret I absolutely love fall baking. I also love making a big autumn-inspired salad for lunch or alongside a nourishing soup for dinner. This recipe for Autumn Roasted Acorn Squash Salad with Spiced Maple-Cider Vinaigrette is refreshing yet comforting. It highlights the classic flavors of fall in a delicious non-traditional way. The lightly maple-sweetened acorn squash is seasoned with cinnamon and mixed with fresh pears, pomegranate seeds, and chopped hazelnuts. The salad is then drizzled with a sweet and tangy spiced Maple-Cider Vinaigrette. It is a crisp, savory salad perfect for the fall and winter months!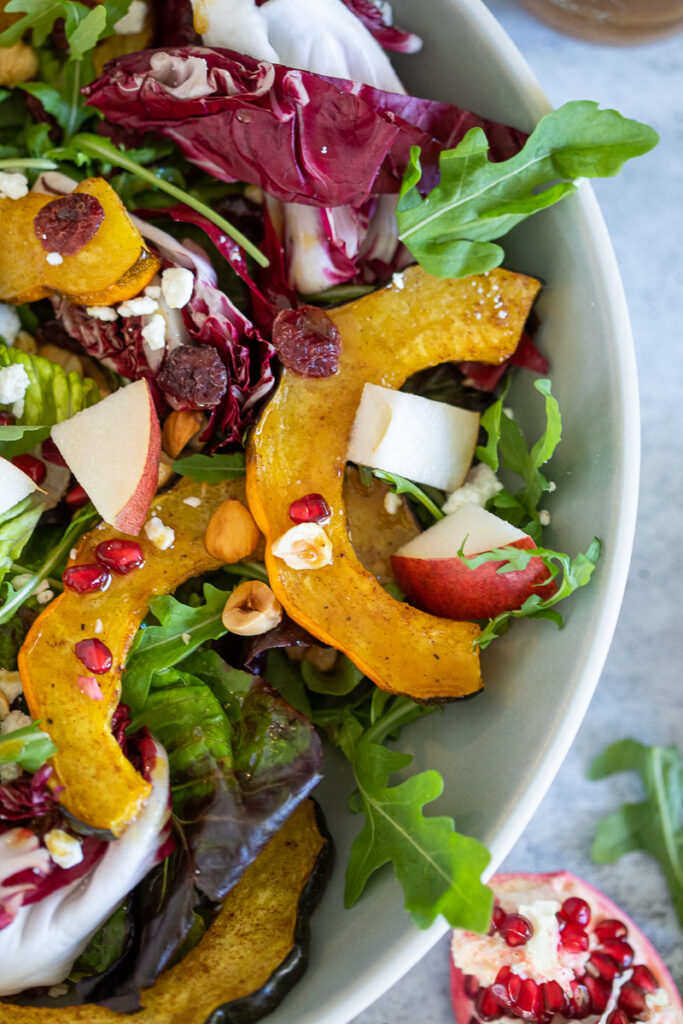 A Holiday Salad
This autumnal salad is an ideal option to make if you are on salad duty for the holidays this year. I guarantee it will surely impress your family and friends! You can pair it with my Curry Pumpkin Soup from page 220 in my Celebrations cookbook for a beautiful fall spread. You can also serve it as an appetizer along with my Herbed Drop Biscuits from page 234 in the Thanksgiving Chapter in Celebrations. This salad recipe makes for a satisfying and nourishing soup and salad combination with a warm biscuit on the side!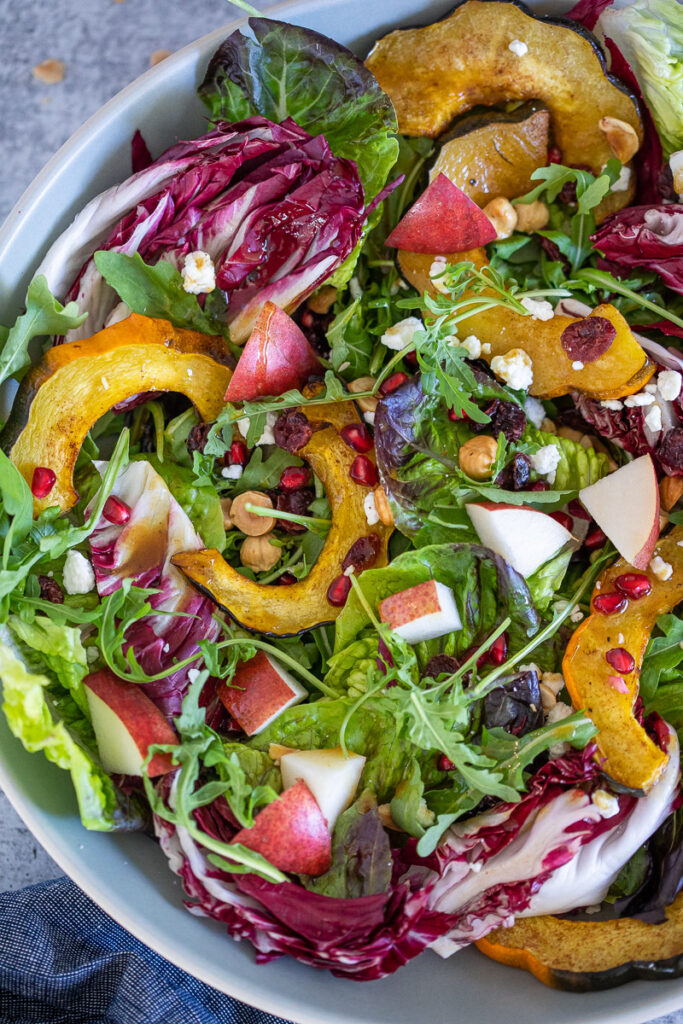 Not Just a Fall Salad
This recipe is fall-inspired, but I like to make this Roasted Acorn Squash salad year-round and just change out the fruits and nuts. I love using nectarines, fresh cherries, blackberries, and cashews during the summer months when stone fruits are in season! I also prefer to use honey in place of maple syrup during the summer for a slightly lighter taste. 
This salad recipe is vegetarian, but if you prefer your salads with protein, I would recommend chopped chicken. Grilled shrimp would work fantastic in the spring/summer months!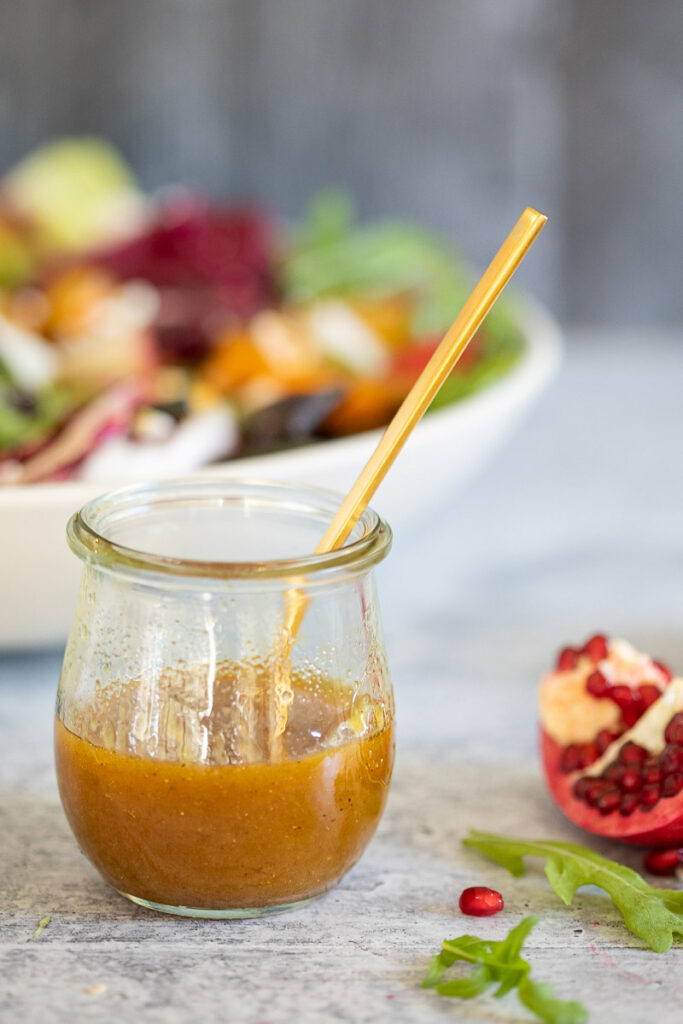 The Vinaigrette
You will definitely want to make a double batch of this vinaigrette recipe, it is so delicious! It's lightly sweetened with maple syrup that is mixed with the warm spices of coriander, cinnamon, cumin, turmeric, and honey dijon mustard. You can add this dressing to any salad to transform it into a delectable fall salad.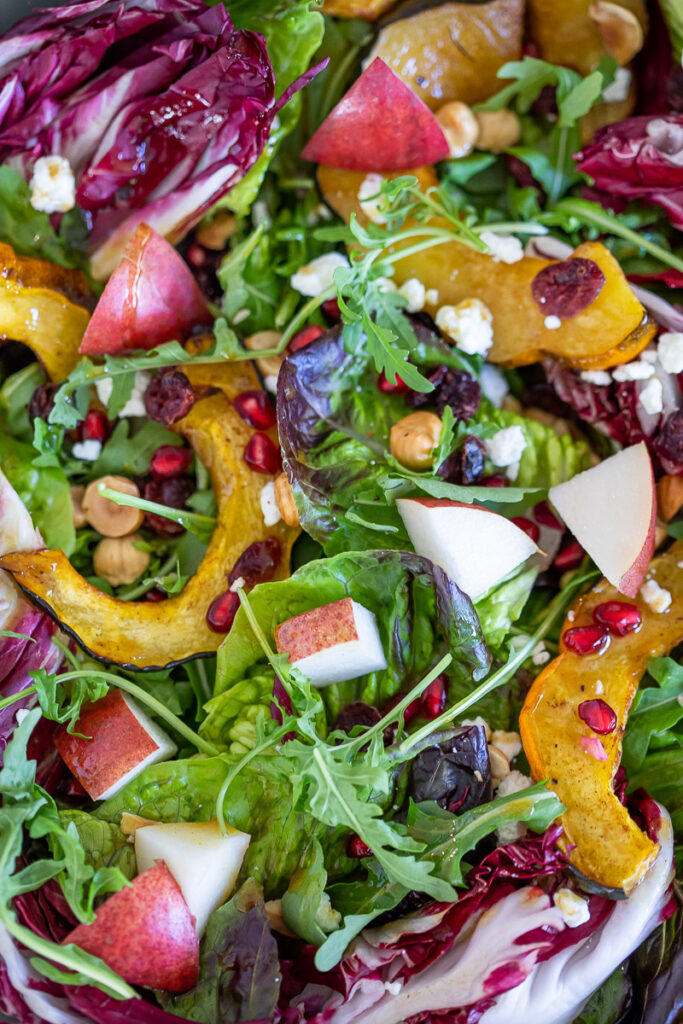 I hope you love this recipe as much as I do! If you're looking for more hearty, savory salad recipes check out my Thai Green Salad with Shrimp or my Curried Cauliflower Salad with Mango Tahini Dressing! 
Shop this Recipe!
Print
Roasted Acorn Squash Salad with Spiced Maple-Cider Vinaigrette
Author:
Category:

Side Dish

Cuisine:

Vegetarian
Maple Cider Vinaigrette 
Salad
1

small acorn squash

1 1/2 tablespoons

 avocado oil

1 tablespoon

 pure maple syrup

1/2 teaspoon

 ground cinnamon

1/4 teaspoon

 sea salt

1/3 cup

hazelnuts

1

small head radicchio

4 cups

little gem lettuces

2 cups

baby arugula

1/4 cup

 dried cranberries (apple juice sweetened)

2

red star crimson pears, cored and sliced

1/4 cup

soft chèvre goat cheese, crumbled

1/4 cup

pomegranate seeds
Instructions
Preheat oven to 425° F. Using a sharp knife, carefully slice the acorn squash in the center horizontally. Scoop out seeds and scrape clean. Slice the halves into ½  inch thick rounds. This will create the fluted edge. Arrange in an even layer on a parchment paper-lined rimmed baking sheet. Use two trays if pieces overlap.
Drizzle the avocado oil and maple syrup over top and toss to coat. Sprinkle the salt and cinnamon on top. Bake for 17 to 20 minutes, until the squash is golden and tender. Add the hazelnuts to one corn of the pan and roast for 3 minutes longer, until the nuts are toasted. Remove from the oven and let cool.
While Squash is baking, make the dressing. In a medium bowl, whisk together the maple syrup, vinegar, Dijon, lemon juice, coriander, cinnamon, cumin, turmeric, salt, and black pepper. Slowly drizzle in the oil while whisking vigorously.
To assemble the salad, fill a bowl with the lettuces. Sprinkle the cranberries, pears, goat cheese, and pomegranate seeds over top.
Peel the skins off the hazelnuts and roughly chop them. Scatter the nuts and the cooled, roasted squash on top of the lettuces. Drizzle the salad with 1/4 cup of the dressing and serve the remaining dressing on the side.
*tidbits: dressing will keep, tightly covered in the fridge, for up to 3 weeks.
Keywords: paleo, gluten free, danielle walker, against all grain, healthy lifestyle, clean eating
Roasted Acorn Squash Salad with Spiced Maple-Cider Vinaigrette