After 11 years of being strictly paleo, I can now occasionally tolerate some rice and gluten-free oats. Very rarely, but here and there and only if the grains are soaked for 24 hours. My kids and Ryan can eat soaked grains all the time, and I certainly missed being able to have a warm bowl of oatmeal in the morning, so I am thrilled to share this nourishing Baked Steel Cut Oatmeal with Berries recipe with you on my new website! It is a delicious and comforting breakfast made in a casserole dish, so you can have a quick and easy breakfast ready to go all week long. 
I first created this recipe a couple of summers ago when my dad had a heart attack and I needed to come up with some easy breakfast recipes that were heart healthy. I made him a few meals from Meals Made Simple to reheat through the week, and then this Baked Oatmeal so he and my mom could eat it for breakfast all week without having to make anything new. 
It was all really confusing to try to figure out the best things for him to eat; there are so many conflicting recommendations. It's very similar to when I was diagnosed with Ulcerative Colitis. The ones that made the most sense logically when we researched and read were GAPS and The Plant Paradox. While he did end up eating mostly grain-free and lots of healthy fats, I read that oats are known for being rich in antioxidants and soluble fibers. And that they can also help lower cholesterol and stabilize blood sugar, which are all beneficial for someone with heart disease. I was so excited to taste test this recipe and tolerate it as well as I did!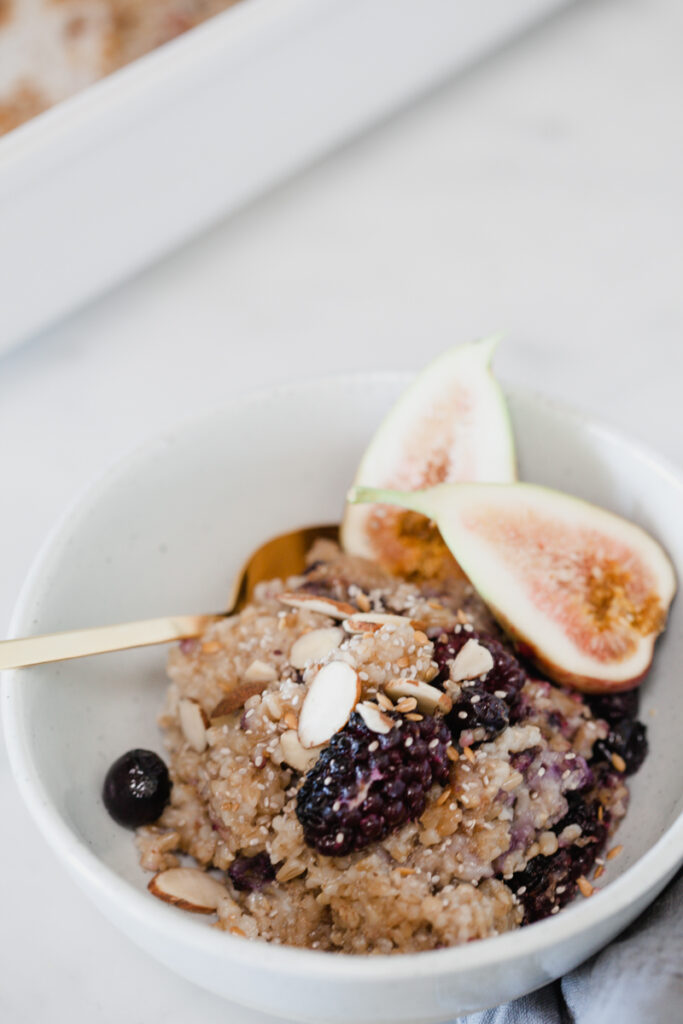 Prepping the Oatmeal
One of the reasons I can tolerate some oats in moderation now is because I soak them prior to cooking them. This makes them more digestible. I also use steel-cut oats instead of rolled oats because they have the least amount of processing. They contain more of the great health benefits that oats have to offer. Just be sure to find certified gluten-free oats and oats free from glyphosate. Some brands can have small traces of gluten from growing or being processed near wheat. Try One Degree Brand – they're organic, certified gluten-free, and sprouted!
Oats can be harsh on your digestive system if you have a gut imbalance or some form of chronic inflammation. Soaking them helps release the enzymes that assist in breaking down phytic acid. This allows your body to better absorb the nutrients found in the oats. Phytic acid is an antinutrient found in most nuts, beans, and grains. It blocks the ability of certain enzymes that we need in order to digest our food and break down starches. It also blocks our bodies from absorbing certain vitamins and minerals essential to our health. So you definitely don't want to skip this step, especially if you have a sensitive gut! If possible, it is best to soak for 24 hours. If short on time, 12 hours is sufficient enough to break down the phytic acid.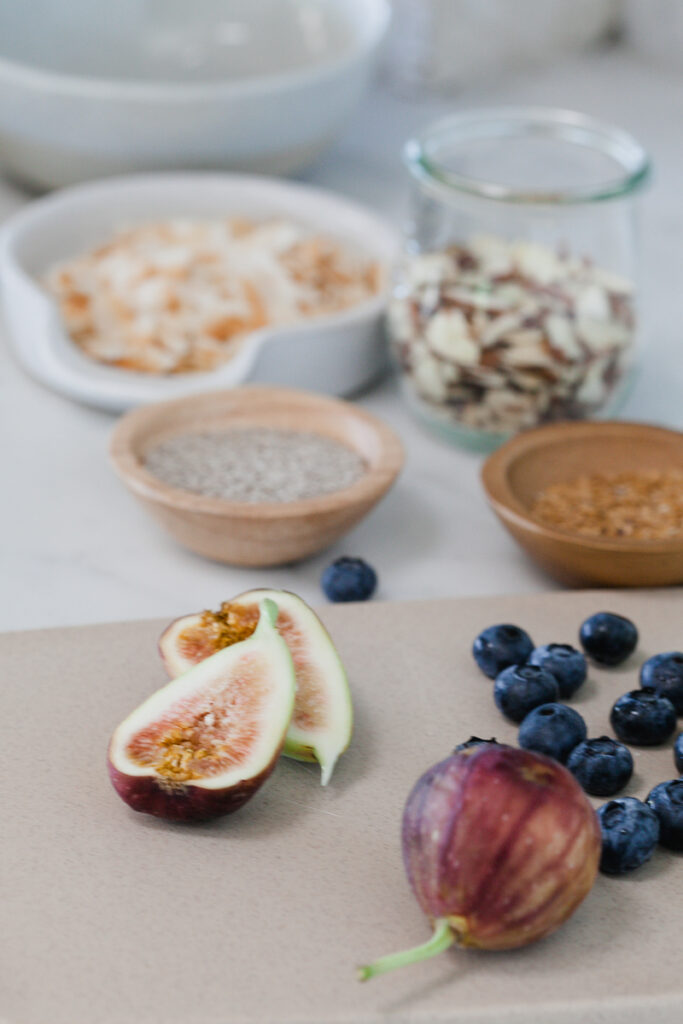 The toppings
One of my favorite things about oatmeal is the variety of toppings you can use to mix things up. It gives your mornings some excitement! I like to use fresh blueberries and blackberries because that is what I usually have in my fridge. But you can use whichever assortment of berries you'd like. I also had fresh figs on hand and sliced them up for some added sweetness and texture. If figs aren't in season, you can always use dried figs too and rehydrate them in hot water! If you are not a fan of figs, sliced bananas taste really great as well. 
I love a good crunch in my oatmeal, so I added some sliced almonds. Feel free to add whatever nuts you have on hand or omit them to keep it nut-free. I told my dad to sprinkle some flaxseed and walnuts on top for healthy fiber and omega-3 fatty acids. These he to lower inflammation. Studies have also shown that walnuts lower LDL. Chia seeds, and coconut flakes are also great toppings to use here. You can really add whatever toppings you wish – the options are limitless!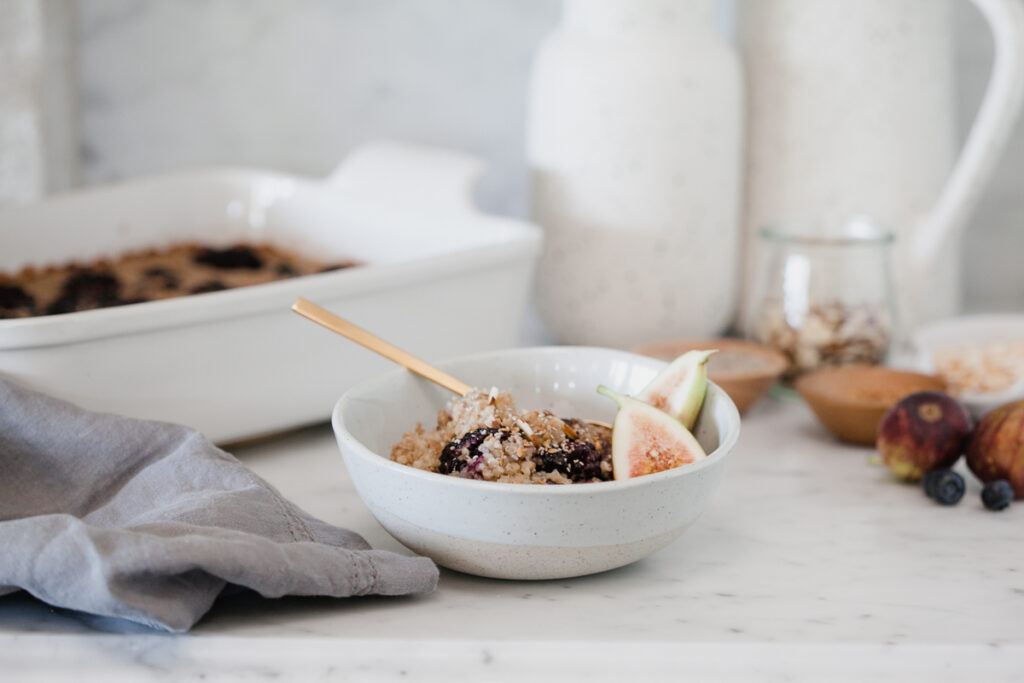 The milk 
For this Baked Steel Cut Oatmeal recipe, I used homemade walnut milk and mixed with egg to help bind it. Almond milk or coconut milk will work here too if you prefer your oatmeal slightly thinner. I wanted to try to get more walnuts into this to help lower his cholesterol and inflammation levels. The addition gave it a really lovely taste! I made it in my Almond Cow, but you can just soak walnuts overnight, drain them, and blend them with fresh filtered water. Then, strain out the pulp that is left. You can follow my Almond Milk recipe for this and just swap in walnuts.
The sugar
I created this recipe to help support my dad's heart health. For that reason, I used 100% pure stevia powder and a little unsweetened apple sauce. He needed to avoid all sugar at the time so I didn't want to add any other natural paleo-approved sweeteners. If you prefer to not use stevia you can add a little bit of honey, maple syrup or coconut sugar. This will give it some extra flavor and sweetness. You can also omit completely if you don't like your breakfast to be sweet! 
I really hope you enjoy this Baked Steel Cut Oatmeal and get excited because a bunch of new recipes are coming your way! 
Shop this Recipe
Print
Baked Steel Cut Oatmeal with Berries
Author:
Cook Time:

40

Total Time:

40 minutes

Yield:

8

1

x
Category:

Breakfast

Cuisine:

American
Optional toppings: walnuts, chia seeds, freshly ground flaxseeds, toasted coconut, honey, maple syrup, fruits
Instructions
Pour the oats and a pinch of sea salt into a bowl and cover with filtered water. Soak overnight.
Preheat oven to  375F. Lightly grease a 9×13 pan with ghee or coconut oil.
Drain and rinse the oats well. Rinse the soaking bowl out and add the milk, egg, applesauce, collagen peptides (if using), vanilla extract, nutmeg, cinnamon, salt, and stevia powder. Whisk to combine.
Add the soaked oats and stir to combine. Pour the mixture into the prepared baking dish. Spread the berries out overtop.
Cover tightly and bake for 35 minutes, until the liquid has evaporated. Uncover and bake 20 minutes longer, until the oats are golden and the berries have popped.
Serve hot, with desired toppings.
To store and reheat – cover tightly and refrigerate for up to 7 days. Reheat desired portions in a covered small oven-safe dish at 400F for 10 minutes, or in a small saucepan set over medium-low heat with an additional 1 tablespoon of milk of choice per 1 cup of the pre-baked oatmeal.
Keywords: breakfast, danielle walker, clean eating, healthy lifestyle, meal prep
Baked Steel Cut Oatmeal with Berries