I always say that being paleo is more of a lifestyle than a fad diet. For me, it is so much more than just omitting grains and refined sugars. Yes, the food aspect is one of the most important parts, but if you are eating organic whole foods yet not utilizing non-toxic cookware free of Teflon or clean makeup and skin products, it becomes a bit counterintuitive. 
When I went paleo back in 2011, there were a lot less resources when it came to non-toxic household products like cleaning supplies, makeup, and which pots and pans were safe to use daily. Changing the ingredients and the quality of food I was eating was enough to fully occupy my mind at the time, so the changes elsewhere came slowly and in phases as I could wrap my head around them. It can feel quite overwhelming if you are just starting out, so my hope is that this blog post helps lay out the do's and don'ts when it comes to the cookware you are using daily. 
It is no secret that if you are committing to a paleo, whole foods diet, you will be in the kitchen a lot. Eating real, fresh food requires a little more effort than fast food and take-out, which means you will be putting your kitchen supplies to work. In my opinion, quality non-toxic cookware are well worth the investment. Most of the pots and pans I use will last me a lifetime. I know they are made from quality ingredients that won't leach chemicals into my food and cause a variety of inflammatory issues. I also know spending $200+ on a pot isn't always an option, so I am also sharing budget-friendly (but still high-quality) materials that I trust.
Things to avoid in your cookware:
Teflon:
Unfortunately, most cookware is not regulated by the FDA, so companies can add chemicals to their manufacturing process, which can seep into your food when heated. One of the most popular of these chemicals is called teflon. Teflon is a synthetic chemical that is used to coat a variety of products because it is naturally waterproof, lacks friction, and creates a non-stick surface. Which is where the ever so popular non-stick pans come into play. Studies have shown that it isn't the teflon itself that causes several health issues, yet it is the perfluorooctanoic acid (PFOA) which is a human-made chemical used in the manufacturing process of Teflon. PFOA's can stay in the environment and in your body for a long time. Studies have shown that high exposures to PFOA can result in high levels of certain polyfluoroalkyl substances (PFAS) which can lead to a higher risk of certain cancers, brain damage and hormone disruption. Cooking on teflon pans can cause the chemicals to break down and release toxic fumes into the air into your kitchens. If you've ever used a non-stick pan, you know over time it can get scratched and start to peel, which means you are more than likely directly ingesting the PFAS chemicals. I think swapping out PFOA teflon based non-stick pans should be on the top of your list! 
Avoid: Anything labeled non-stick and teflon coated. 
Aluminum:
Aluminum is known to be reliable because it is a great heat conductor, plus it is cheap to make, so many companies will use them instead of stainless steel. I try to avoid direct contact with aluminum because it is considered a heavy metal and when heated can also seep into your food. It is especially harmful to use aluminum pots and pans when cooking acidic foods such as tomatoes, vinegar and citrus. The acidity reacts with the aluminum and causes the metal to seep into your food almost instantly. Aluminum is nearly impossible to avoid in the world we live in today as it is part of our air and soil, but it is still best to avoid to prevent high levels of aluminum build up in our bodies, which can cause a variety of health issues. 
Avoid: Aluminum coated, lead or cadmium that can be found in earthen pots, some clay and older glass. 
What to look for when buying non-toxic cookware: 
Cast Iron: 
Cast iron is the most reliable non-toxic cookware there is. Cast iron has amazing heat retention and is the most durable cookware you'll ever find. You can cook just about anything in them, plus you can even stick them in the oven. There is very minimal transfer of iron into your food, and even so iron is necessary in our diet so it is actually beneficial in small amounts when cooking on cast iron. Try and avoid anything labeled as "non-stick" enameled cast iron. They may be made with PFAs.
Care and cleaning
: 
There are two separate types of cast iron pans, enameled and regular cast iron. 
Enameled Cast iron: Enameled cast iron pans have a built in coating, so they technically don't require as much TLC as a regular cast iron pan. The enamel is a durable material that does not leach iron, has a naturally non-stick surface, and does not rust. Plus you can cook tomato sauces in them. However, I do think occasionally seasoning the black matte type enameled coating (such as Staub) and avoiding over washing them with soap is better in the long run. 
Regular Cast Iron: Regular cast iron pans are great and likely the safest, they will just require you to season after each use and highly acidic foods should not be cooked in them for long periods of time (anything more than 15-20 minutes) or you risk rust and a slightly metallic taste in your food.
If you're not familiar with seasoning, it is simply adding a dash of oil and gently wiping the pan with a towel to evenly distribute the oil. This helps prevent the pan from rusting. I like to use coconut oil or avocado oil. If your pan needs deeper seasoning, generously apply the oil all over the interior surface and wipe off as much as you can. Bake it at 500F for 1 hour then turn off the oven and leave it in there to cool. Then gently wipe away any excess oil.
Take a look at this video from Tasty to see how to season!
After cooking, I generally do not use soap when I wash my skillets. To wash them just run under warm water and clean with a soapless dish towel. Dry them well to avoid rust. If food partials persist, sprinkle some coarse salt over the surface and scrub the pan to release any tough areas. Then brush with oil and heat the pan on low for a few minutes to allow the oil to absorb. Re-season the pan after this process.
Overall
– 
Pro's: 
You can cook just about anything in them

Non-toxic 

Retains heat well

Durable and long-lasting

Good for high heat cooking 
Con's 
Takes extra time to care for
Although not inexpensive, my favorite non-toxic cookware such as pots and pans are made by Le Creuset and Staub. I don't favor one over the other, I think they are both extremely high quality and safe. I also keep one true cast iron skillet from Lodge on hand.
Cast Iron Products I like: 
3-quart stainless-steel saucepan with lid:
What I use: Le Creuset
Budget-friendly option: Cuisinart
10-inch or 12-inch Skillet (cast-iron or cast iron with enamel coating)
Budget-friendly option: AmazonBasics, Lodge, Ayesha Curry
5 to 6-quart Dutch oven (cast iron with enamel or ceramic coating)
What I use: Le Creuset Enameled Cast Iron Round Dutch Oven
Budget-friendly option: Lodge, Ayesha Curry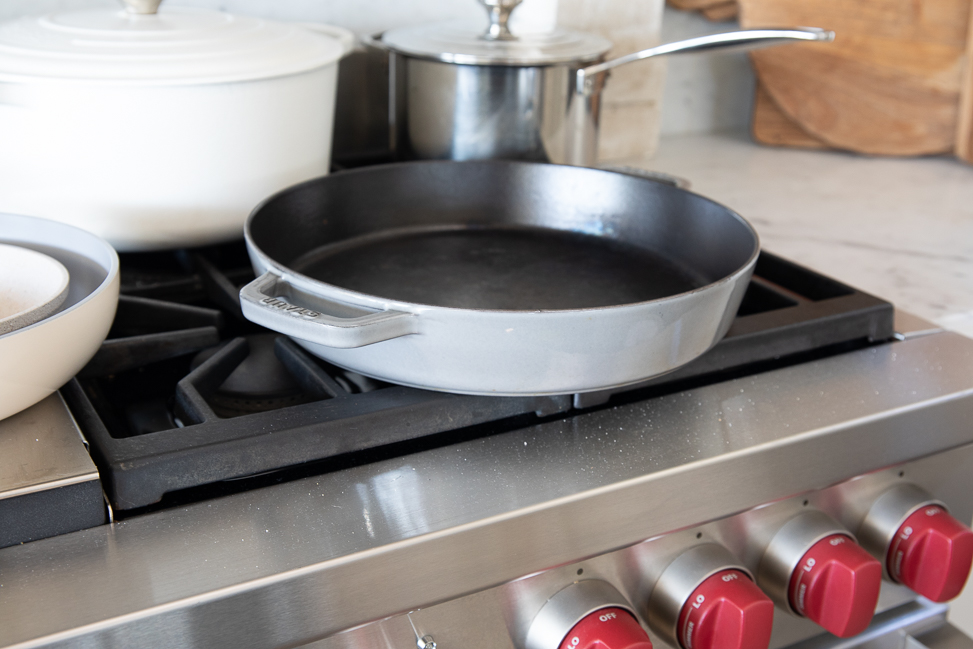 Stainless-steel
Stainless steel pots and pans are also wonderful, and you can usually find whole sets discounted at stores like Costco or HomeGoods. Stainless steel is a classic when it comes to non-toxic cookware. It is super durable and incredibly safe to use. When buying stainless steel cookware, you will want to look for the number 18/0 printed on the packaging. This will ensure that you are getting quality stainless steel that is nickel-free. In cheaper stainless steel products, nickel can leach into your food especially if you are cooking acidic things. Stainless steel works great for pan roasting, stir frys, and sauteing. 
Care and cleaning: Stainless steel is very easy to care for. I will note that although most stainless steel is dishwasher safe, I almost always hand wash them. I find that putting them in the dishwasher tends to wear them out slightly and discolors them.
If you have a particularly difficult mess in your pan, simply add water to it with just a dash of soap and let it simmer on your stove for 3 to 5 minutes. It will wipe right off. I also love Bon Ami cleaner for really tough stains and it is how I keep the bottoms of my stainless pots clean.
Overall: 
Pros: 
Affordable 

Non-toxic

Durable and long-lasting

Variety of uses

Even heating

Good for high heat cooking
Cons: 
Food can stick to them if they're not hot enough, especially eggs or omelets
Stainless Steel Products I like: 
Stainless-steel Pots and Pans: 
What I use: Sauce pan: LeCreuset 
Fry pan: LeCreuset
Budget-Friendly: Cuisinart
For baking sheets
: 
You can follow the same non-toxic cookware rules when it comes to your baking sheets. I try to stick to stainless steel vs. aluminum. If your oven is big enough, I most often use the largest size sheet-pan, a half sheet pan, which is 18-by-13 inches and typically has sides that are about one inch high. It's perfect for sheet-pan suppers where everything is cooked on one tray, and also is the best for roasting vegetables so they're not crowded and get crispy instead of steamed and soggy. Of course, you can always divide between 2 smaller sheet pans and rotate halfway through! For cookies, light-colored metal baking sheets without a rim work best for even baking of items containing nut flours. Airbake, or insulated, sheets are less likely to overheat or burn. I just line those with parchment paper to avoid the aluminum touching the food. 
If you are unable to use stainless steel baking sheets, you can put down a piece of parchment paper on your aluminum-based baking sheets to help avoid the heavy metals from leaching in your food. You can also use this silicone pad. 
Stainless Steel Baking Sheets I like: 
Silicone muffin molds
: 
If you are unable to get silicone muffin molds, you can use the aluminum muffin tins, just use these parchment paper molds to avoid the aluminum to leach into your food. 
Ceramic Pans:
Ceramic-coated pans have recently gained popularity. They are considered a healthy alternative to traditional teflon nonstick pans. The majority of the ones on the market don't use any PFOAs. They have a 100% ceramic coating. I find it is helpful to have one in the kitchen for when you want to make eggs, omelets, and single pancakes. I will note that it is preferred to cook on low and be very gentle when it comes to cleaning and using tools like a spatula. You will want to make sure you don't scratch the ceramic coating to avoid any consumption. 
Care and cleaning: You must use soft spoons and spatulas to be careful not to scratch them. For cleaning, use the soft side of a sponge and use a mild soap. I would recommend hand washing to avoid breakdown and potential scratches in the dishwasher.
Overall: 
Pro's:
Minimal cleanup

Very useful when making eggs 

Mostly non-toxic 
Con's: 
Can't cook on high heat 

Have to be extra gentle 

Most can't be 

used in oven 

Not as durable as stainless steel and cast iron 
Ceramic Products I like:
What I use: Caraway 
Why I like it:
I chose the Caraway because it could go in the oven and had the best reviews over other ceramic pans. Caraway is nonstick cookware that is made of heavy gauge aluminum with a stainless steel base and stainless steel handles and a 3ply ceramic coating overtop to keep the heavy metals out of your food. Aluminum is one of the best heat conductors so this pan heats quickly and retains heat. The pans feel sturdy and solid compared to other ceramic pans I've tried, and with the 3ply ceramic coating, I'm anticipating it lasting a long time compared to the Green Pan (which I wear through in 6-10 months).
I liked that I could just choose to get the skillet, instead of a whole set. I've enjoyed using it for high-stick items like eggs and omelets. Or on nights where I want to stir-fry or sauté meat quickly and not have to worry about clean up. It doesn't give as nice of a crust or browned edges as stainless or cast iron does, but the clean-up is a breeze so it's worth it on busy nights.
It uses something called Greblon ceramic, which is 100% PTFE, PFOA and APEO free. They do not contain any heavy metals or chemicals. They have a honeycomb textured cooking surface which helps with heat distribution. Their ceramic coating is scratch-resistant. This ceramic pan also allows you to use in the oven, which most ceramic-coated pans can't do. 
My friends at Caraway are offering my followers 10% off their full purchase from now until 6/25!
Click here to shop!
Budget-Friendly: Ozeri
I purchased a small, 8-inch Ozeri skillet for my kids to use. Easton has been really into making quesadillas and scrambled eggs lately (with adult supervision), and I didn't want him scraping up the Caraway. This little pan is really affordable and we've loved having it on hand for him!
Waffle Iron
:
What I use: Oster
Budget-Friendly: Oster
Further Reading:
In addition to this article, I want to give you a few sites to do some further reading on, as I do not consider myself an expert in this space and can only recommend what I have found efficient and the least non-toxic cookware to utilize. I'm sure some of what I use still isn't perfect, so take a look at these articles and choose what is best for you! I also suggest rotating the usage of your different pots and pans so that the exposure to potential metals and chemicals is lower and not as frequent.
Mamavation Non-toxic Safe Cookware 
Always Pan Tests Positive for 14 Metals
Non-Toxic Cookware for Paleo Lifestyle