I have been using Seed's DS-01™ Daily Synbiotic for almost a year now. It has played an integral role in getting my gut health back on track from heavy doses of antibiotics during my 2019 hospital stay. I am thrilled to be partnering with Seed to help spread the word of their highly researched and scientifically proven DS-01™. Their one-of-a-kind probiotic and prebiotic is formulated with strains that help support digestive health, gut barrier integrity, immune function, cardiovascular health, dermatological health, and micronutrient synthesis. You can learn more about why a healthy microbiome matters and what separates Seed from store-bought products here. 
A few months ago I posted a microbiome-friendly recipe for Oatmeal over on my social media. I heard from so many of you who tried the recipe, so I decided to share the full recipe, including a grain-free version here on the blog! My friends at Seed helped me develop this recipe by sending me a Periodic Table of Microbiome Foods. Before seeing the periodic table, I knew a lot of foods were considered to be prebiotics, but I was fascinated by how many were on there that I wasn't aware of! I also totally geeked out on the fact that the periodic table included dirt!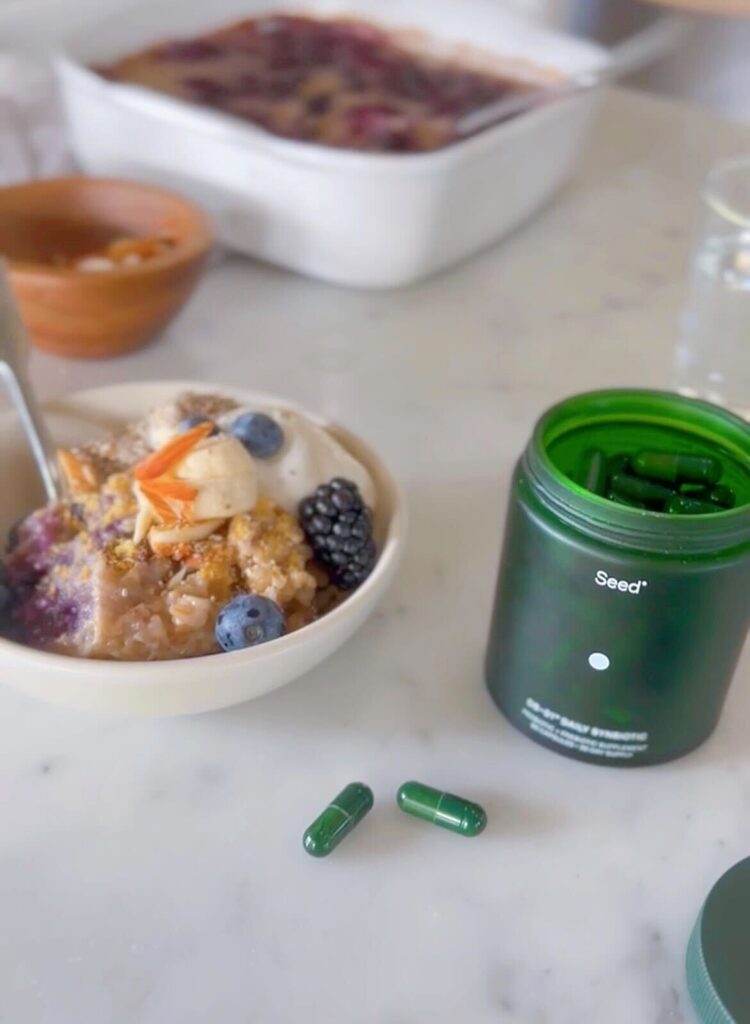 I have always been a big advocate for fermented foods such as kombucha, kimchi, yogurt, and sauerkraut. While they definitely contain gut-supporting bacteria and have an important role in maintaining the health of your gut and immune system, they do not offer the same benefits as a probiotic. 
With the environment we live in today, nearly everyone's gut, myself included, needs a little help in the absorption of pre and probiotics. I have discovered that by taking Seed's DS-01™ every morning with a glass of water before my morning coffee and breakfast has completely helped me optimize my digestion. I also make sure I include microbiome-rich foods on a daily basis to add even more gut-supporting bacteria to enhance the productivity of Seed's DS-01™. I finally feel like my gut health is back to normal with a stronger gut barrier, overall regularity, and ease of bloating. If you're ready to try it for yourself, use code WALKER for 15% off your first month's supply of Seed's DS-01™.
Microbiome-friendly recipes: 
Grilled Artichokes with Gluten-Free Remoulade Sauce
Whipped Feta with Roasted Beet Salad
Burnt Broccoli is the Best Broccoli 
Lemon Roasted Asparagus with Brussels Sprouts- page 224 in Meals Made Simple
My Heart Beets for you Smoothie- page 67 in Celebrations
Roasted Squash and Beets in Tahini Sauce- page 216 Meals Made Simple
Roasted Basil Eggplant- page 232 in Meals Made Simple
Coconut Milk Yogurt- page 46 in Against all Grain
Classic Pickles, Two Ways- page 128 in Eat What You Love
Get 15% off your first month's supply of Seed's DS-01™ Daily Synbiotic by using code WALKER at checkout!
Print
Microbiome Friendly Oatmeal
Author:
Prep Time:

10 mins

Cook Time:

55 mins

Total Time:

1 hour 5 minutes

Yield:

4

-

6

servings

1

x
Category:

Breakfast

Cuisine:

American
1 ½ cups

steel-cut oats

2 1/4 cups

full fat coconut milk

1

flax-egg (1 tablespoon hot water whisked 2 tablespoons ground flaxseed)

⅓ cup

unsweetened applesauce

1/4 cup

unflavored collagen peptides

1 teaspoon

vanilla extract

1/4 teaspoon

ground nutmeg

¼ teaspoon

ground cinnamon

¼ teaspoon

sea salt

1/16

–

1/8

teaspoon 100% stevia powder

2 cups

blueberries and blackberries
Optional toppings (all microbiome friendly foods!) – chia seeds, bananas, freshly ground flaxseeds, toasted coconut, coconut milk yogurt, more berries
Grain-Free Version:
6 oz

whole almonds (about

1 1/2 cups

)

1 1/2 cups

unsweetened coconut flakes

3

flax "eggs"

1 1/4 cups

coconut milk

⅓ cup

unsweetened applesauce

1/4 cup

unflavored collagen peptides

1 teaspoon

vanilla extract

1/4 teaspoon

ground nutmeg

¼ teaspoon

ground cinnamon

¼ teaspoon

sea salt

1/16

–

1/8

teaspoon 100% stevia powder

1 cup

berries
Instructions
1. Pour oats and a pinch of sea salt into a bowl and cover with filtered water. Soak overnight. This helps digestion!
3. Preheat the oven to 375F. Lightly grease a 9×9 baking dish with coconut oil.
4. Drain and rinse oats well. Rinse the soaking bowl out and add the milk, egg, applesauce, collagen peptides , vanilla extract, nutmeg, cinnamon, salt, and stevia powder. Whisk to combine.
5. Add the soaked oats and stir to combine. Pour the mixture into the prepared baking dish. Spread the berries out over the top.
6. Cover tightly and bake for 35 minutes, until the liquid has evaporated. Uncover and bake 20 minutes longer, until the oats are golden and the berries have popped.
7. Serve hot, with desired toppings.
8. To store and reheat – cover tightly and refrigerate for up to 7 days. Reheat desired portions in a covered small oven-safe dish at 400F for 10 minutes, or in a small saucepan set over medium-low heat with an additional 1 tablespoon of milk of choice per 1 cup of the pre-baked oatmeal. OR – eat cold for resistant starch!
Grain-Free Version
Soak the almonds in filtered water overnight. Drain and rinse then add to a food processor with the coconut. Pulse until a crumb forms.
Mix with the coconut milk, applesauce, flax eggs, collagen, vanilla, nutmeg, cinnamon, salt, stevia, and berries.
Bake, covered, at 350F for 30 minutes, then uncover and bake until the liquid has mostly evaporated.
Keywords: Danielle Walker, microbiome, breakfast, gluten free, dairy free, against all grain
Microbiome Friendly Oatmeal