I am in full summertime mode and have been busy in the kitchen making some of my favorite recipes. It has reminded me of some of my go-tos from my earlier cookbooks, so I want to share this exclusive recipe for my Gluten-Free Strawberry Shortcake from my cookbook Meals Made Simple. This recipe is 100% paleo so you won't find any grains, gluten, dairy or refined sugar. It features a lightly sweetened gluten-free biscuit that is filled with fluffy coconut whipped cream and delectable strawberries. 
This recipe is beautiful and festive for any summer celebration! You can serve it individually or for a large group at your next BBQ gathering. If you want to make this for a themed 4th of July celebration, just add some blueberries to the mix to make it red, white, and blue!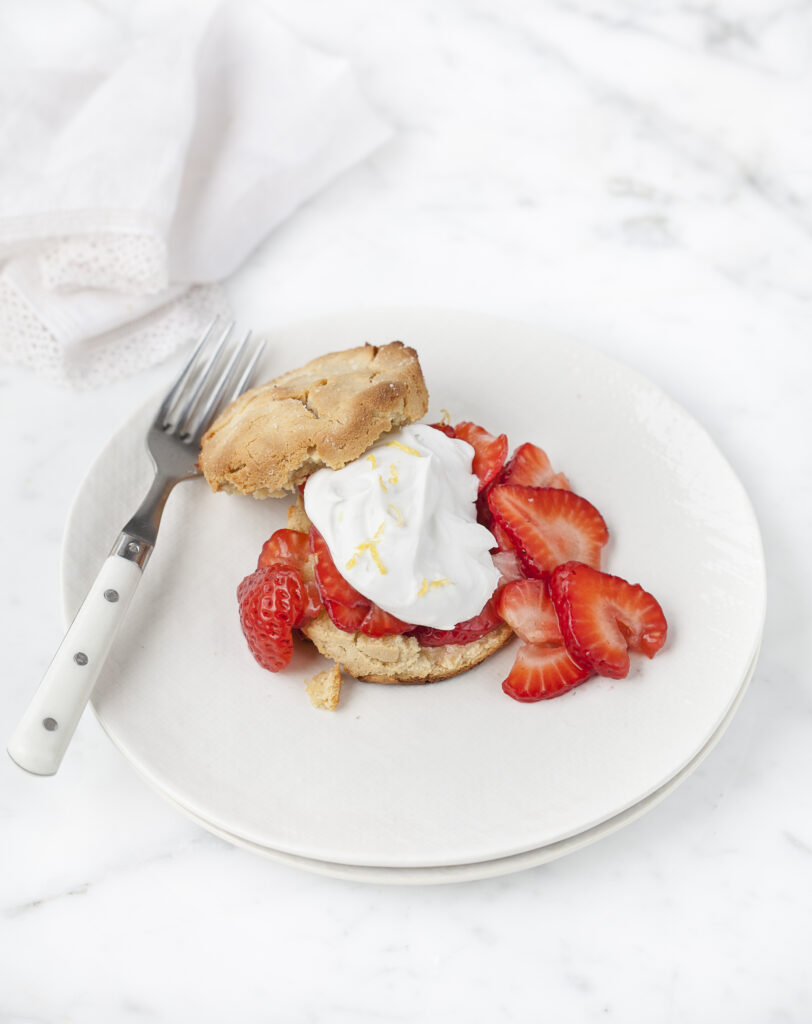 Prepping ahead: 
If you plan to make this recipe for a larger group, I highly recommend making the biscuits ahead of time. The biscuits can be made up to 3 days in advance and stored in the refrigerator. You can also store them in the freezer for up to 3 months – just be sure to bring them to room temperature before serving. If you want to make the whipped coconut cream in advance, you can keep it in the refrigerator in an airtight container for up to 2 days. Once you're ready to serve just whip it again as needed.
The Whipped Cream: 
Making a dairy-free whipped cream can have its challenges, especially if it is your first time. You can use a can of full-fat coconut milk or a can of coconut cream here. I recommend putting the can in the refrigerator overnight regardless of what you use. If you choose to use coconut milk, carefully remove the coconut milk from the fridge so as not to disturb the separation of the cream from the water that has taken place. Scoop off the cream that has risen to the top and save the thinner coconut water for shakes or other uses. 
You will definitely need an electric mixer for this recipe to help you achieve that whipped texture. Don't give up! Sometimes the whipping process can take a bit, so don't get discouraged if it is not whipping right away. 
Alternatively, you can use one of my favorite kitchen appliances, the professional cream whipper. This appliance makes incredible, foolproof, creamy whipped cream. You simply add the coconut fat to the can, let it sit in the refrigerator and use as needed. 
If you are looking for more festive July 4th recipes, below are some of my favorites: 
Zabaglione with berries p. 198 in Celebrations
Strawberry Cake with Lemon Cream Filling p. 252 in Against all Grain
Shop this Recipe:
Print
Gluten-Free Strawberry Shortcake
Author:
Prep Time:

35 mins

Cook Time:

20 mins

Total Time:

55 minutes

Yield:

8

1

x
Category:

Dessert

Cuisine:

American
1

batch Biscuits

1

1⁄2 pounds strawberries, stemmed and sliced

2 tablespoons

coconut crystals or honey

2 teaspoons

finely grated lemon zest
Whipped Cream
• 2 (13.5 oz) cans full-fat coconut milk, refrigerated for at least 24 hours
• 2 teaspoons honey (optional)
Biscuits:
• 3 1⁄2 cups blanched almond flour, sifted
• 1⁄3 cup coconut flour, sifted, plus more for rolling out the dough
• 2 large eggs
• 1⁄4 cup honey
• 1⁄4 cup Almond Milk
• 2 teaspoons apple cider vinegar
• 1 teaspoon baking soda
• 1⁄2 teaspoon sea salt
• 1⁄3 cup palm shortening or 5 tablespoons ghee
Instructions
1. Make the biscuits, following the recipe below. Allow to cool completely on a wire rack.
2. While the biscuits are baking, gently toss the strawberries, coconut crystals, and lemon zest together in a bowl. Refrigerate for 30 minutes to allow the juices to develop.
3. Slice the biscuits in half and serve them with the strawberries and juices. Top with the Whipped Coconut Cream.
Biscuits:
1. Preheat the oven to 350°F. Line a baking sheet with parchment paper.
2. Place the flours, eggs, honey, Almond Milk, vinegar, baking soda, and salt in the bowl of a stand mixer and mix on medium until a loose dough forms.
3. Switch to a dough hook or use a pastry cutter to blend in the palm shortening, leaving pea-sized bits of the shortening visible in the dough.
4. Lightly sprinkle coconut flour on a sheet of parchment paper. Turn the dough out onto the floured surface. Gather it into a ball and form it into a 1-inch-thick circle, using your palms to flatten the top.
5. Use a round cutter to make biscuits, gathering the remaining dough into a ball and repeating the process until all of it has been used up. Alternatively, hand-shape 8 biscuits from the dough.
6. Place the biscuits on the prepared baking sheet.
7. Bake for 18 to 20 minutes, turning the sheet once midway through. Allow to cool slightly on a wire rack before serving.
1. Place a glass or metal bowl and beaters in the freezer to chill for 30 minutes.
2. Carefully remove the coconut milk from the fridge so as not to disturb the separation of the cream from the water that has taken place. Scoop off the cream that has risen to the top and place in the chilled bowl. Save the thinner coconut water for shakes or other uses.
3. Beat the cream on high until peaks form. If desired, drizzle in honey with the beaters running and mix until incorporated.
Keywords: dessert, summer, Danielle Walker, Against All Grain, paleo, gluten free, grain free, dairy free, snack
Gluten-Free Strawberry Shortcake