Hi, my name is Danielle and I'm addicted to crunchy salads. I'm a firm believer in enjoying what you eat, so boring or lackluster salads are just not on the menu for me. Once spring and summer roll around, I'm often craving a crisp, bright salad, especially for lunch. The only thing is…I never have time to chop all the ingredients at the moment I want to eat. This is why I'm such a HUGE fan of make-ahead salads! This salad is the perfect example — it's got the crunch to satisfy me, can be made in advance, and is ready in 2 seconds when I'm ready to eat. Hope you find this Kale Crunch Salad as delicious as I do!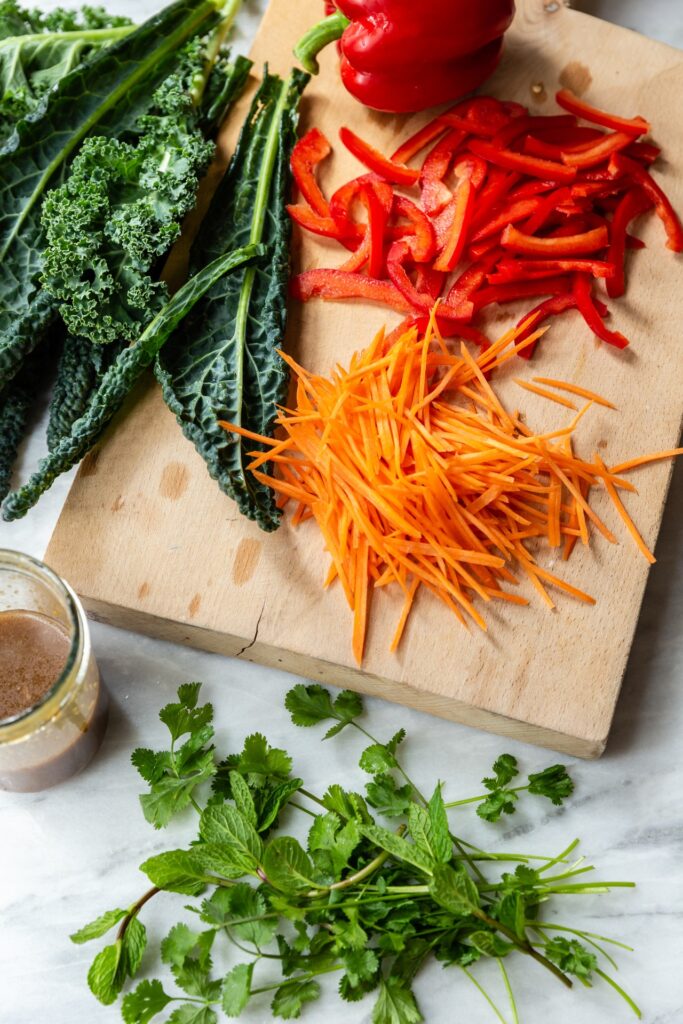 Make ahead salads  
Mason jar salads are ultra-convenient. And when I say mason jar, that's just one type of container I like to use. You could truly use whatever kind of container you prefer and have on hand. The idea is that you combine salad ingredients that can sit for a few days together, get them into containers, and they can then sit in your fridge until you're ready to eat. There are a few specific ingredients you don't want to add ahead of time though, which I'll talk more about in a moment.
Salad meal prep
My preferred greens base for a prep-ahead salad is definitely kale. It's hearty and hefty, takes dressing beautifully, and doesn't age when stored this way. And other veggies to add? Think crisp and crunchy. I use carrots, bell peppers, and mung bean sprouts here. Celery is also great in a make-ahead salad, and so is cabbage. To make life even easier, I use my food processor to chop the carrots, herbs and de-stemmed kale leaves for this salad.
Things you don't want to add in advance? Your toppers like seeds or nuts. These items might absorb too much water from the other ingredients. So keep them separate and then add them when you want to eat. If you include chicken or steak, the salad portions will keep for 5 days in the fridge and shrimp will keep for 3. So you can easily prep lunch for an entire week using this recipe.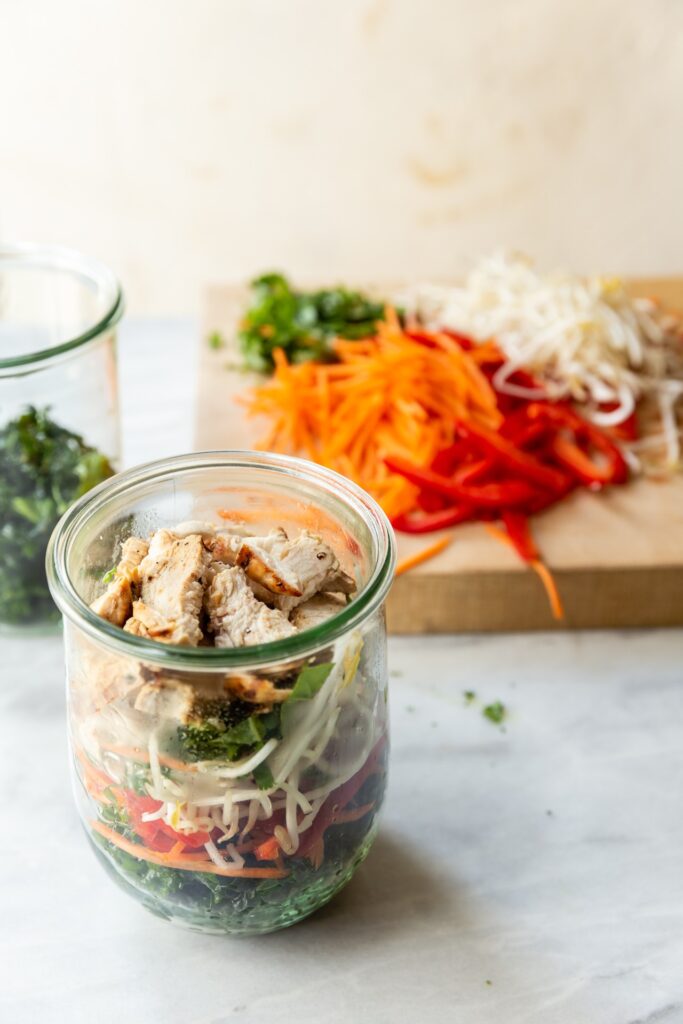 Dressing for kale salad
Remember how I said kale is hearty and hefty? Well, that means you need a great dressing to go with it, something that will break it down a little and help make it nice and tender. This dressing is a delicious sesame ginger one made with easy ingredients. It has coconut aminos, sesame oil, rice vinegar, honey, ginger, and a touch of cayenne. It not only works beautifully to tenderize the kale, but it does double duty as the marinade for the chicken too!
Sesame ginger chicken 
I love this sesame ginger chicken. Chicken is one of those proteins that greatly benefits from a marinade. If you can, marinate it for 6 hours or even better, overnight. This will allow the meat to really absorb the flavors before it even hits the grill pan. Other proteins also work with this dressing and salad, including shrimp and salmon. If using salmon, only marinate for 30 minutes and if using shrimp, they only need about 15 minutes before cooking.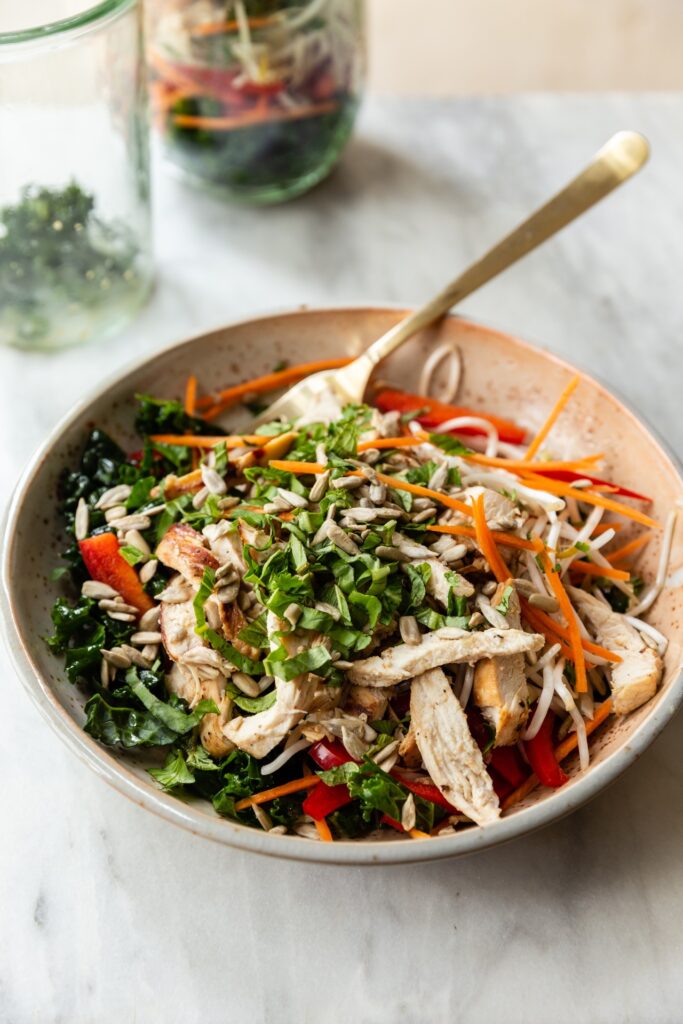 Crunchy salad
Once you've got your salad prepped and your chicken cooked, it's time to either pop your containers into the fridge, or if you're eating right away, to assemble. In this recipe, I tell you to choose 1 cup of your preferred crunch as a topper so there are tons of possibilities here. One of my personal favorites are grain-free French fried onions. I stock some in my shop or you can find these at Whole Foods, Aldi, and Sprouts. They are made with buckwheat, so they are gluten and grain-free, but not Paleo. Other crunches I love are sprouted sunflower seeds, sprouted seed mixes, and cashews.
I hope you enjoy this recipe and the idea behind make ahead salads! Here are some of my other crunchy salad favorites for you to try…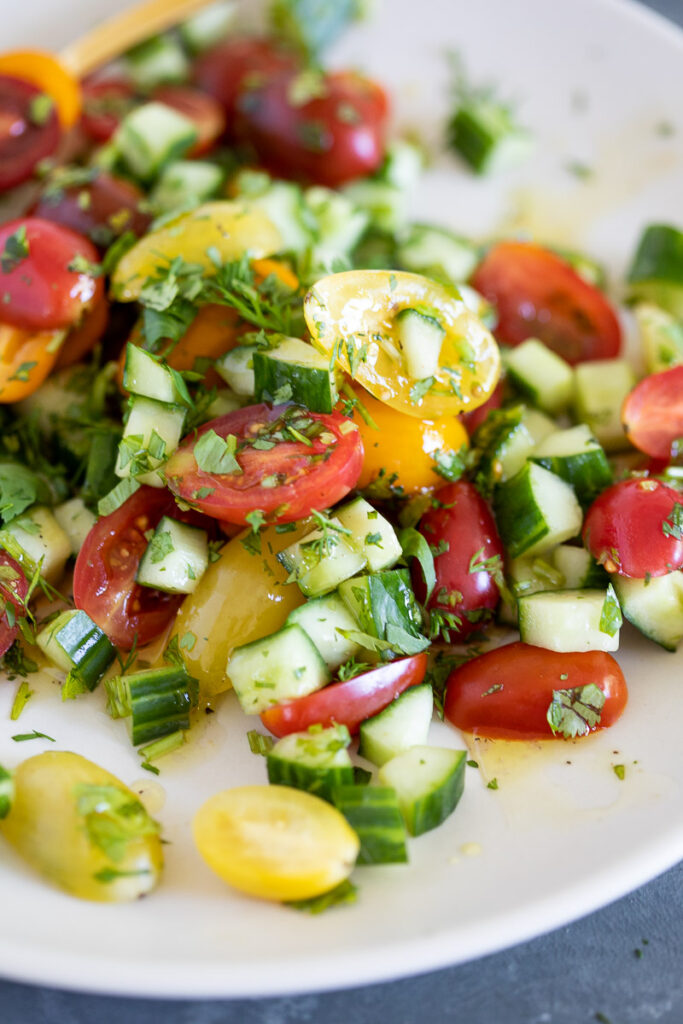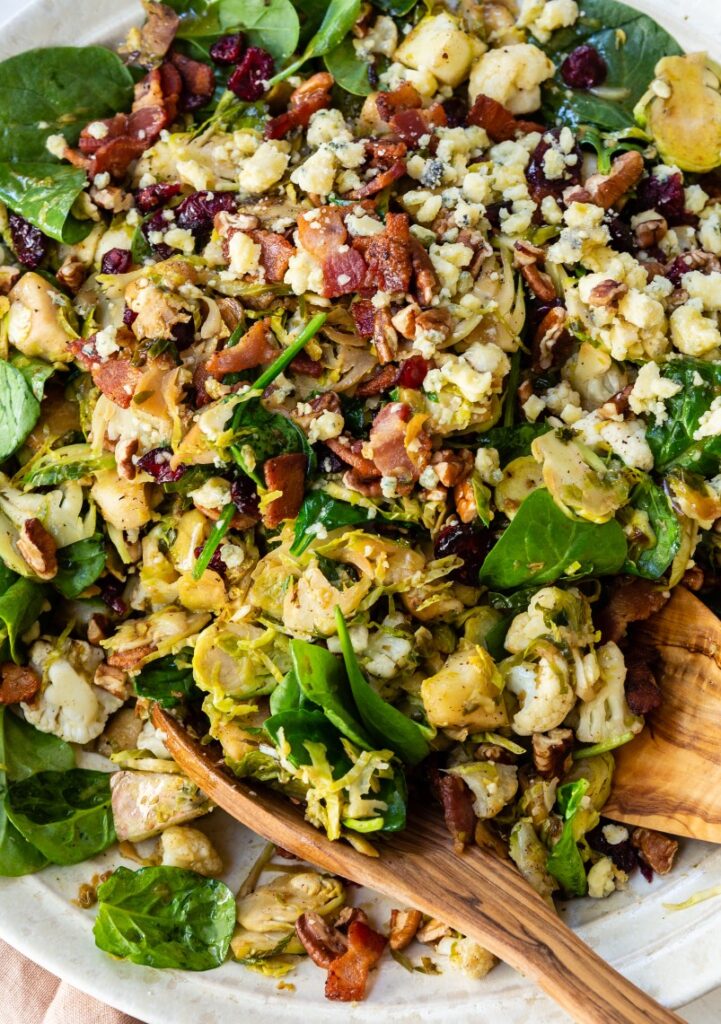 Shop the recipe
Print
Kale Crunch Salad
Author:
Prep Time:

10 minutes + 6 hours to marinate

Cook Time:

10 minutes

Total Time:

20 minutes + 6 hours to marinate

Yield:

6

servings

1

x
Category:

Lunch

Method:

Stovetop

Cuisine:

American
3

boneless skinless chicken breasts, about

1 ½

pounds 

8 cups

shredded kale 

2 cups

shredded carrots 

2

red bell peppers, seeded and thinly sliced 

1

9 ounce bag mung bean sprouts 

1/2 cup

packed chopped cilantro leaves and tender stems

1/2 cup

chopped mint leaves

1/2 cup

chopped basil 

1 cup

of something crunchy and salty (grain-free French fried onions, roasted cashews, sunflower seeds, mixed seeds or similar) 

1 cup

Sesame Ginger dressing (Use my recipe or use Side Dish or Primal Kitchen Brand)
Sesame Ginger Dressing
1/4 cup

toasted sesame oil 

1/4 cup

coconut aminos 

1/4 cup

unseasoned rice vinegar 

2 tablespoons

honey 

4

cloves garlic, grated 

2 tablespoons

grated fresh ginger 

1/8 teaspoon

cayenne 

3/4 cup

avocado oil
Instructions
In a jar with a tight fitting lid, combine the sesame oil, coconut aminos, vinegar, honey, garlic, ginger, and cayenne. Secure the lid and shake vigorously. Add 1/2 cups of the avocado oil and shake again until well combined.

Place the chicken in a resealable bag and add 1/3 cup of the dressing and the remaining 1/4 cup avocado oil over top. Seal and refrigerate for 6 hours, or better yet – overnight.

Drizzle 1/2 cup of the dressing over the kale and toss with hands to massage the dressing into the greens. Divide the kale into 6 glass tupperware containers or mason jars and top with carrots, bell peppers, sprouts, and herbs. 

Heat a grill pan or grill to medium heat. Remove the chicken from the marinade and scrape off any excess. Season with salt and pepper and grill for 5 to 6 minutes per side, until the chicken reads 165F on a thermometer inserted into the center. Chop the chicken and let cool. Divide between the containers and secure the lids. Refrigerate for 5 to 7 days. When ready to eat, add 2 tablespoons of something crunchy and toss to combine. 

Alternatively, build the salad in one large bowl if serving immediately.
Notes
Prep Ahead 
Chop the kale, herbs, and bell peppers 3 days in advance. 
Make Ahead 
Refrigerate dressing for 2 months.

Refrigerate salads, without the crunchy topping, for 7 days. 
Notes and Shortcuts 
Put your food processor to work to chop the herbs, shred the carrots, and even shred the kale once center ribs are removed. 

Whole Foods, Aldi, and Sprouts carry grain-free French fried onions and I carry a version in my shop. They contain buckwheat which is not paleo but is gluten-free and grain-free. They're delicious on this salad. 

Sprouted sunflower seeds or dry roasted cashews are also great. 

Save the remaining dressing to use in future meal plans. 

Substitute shrimp or salmon for chicken. Eat within 3 days.
Keywords: salad, Danielle Walker, against all grain, vegetarian, paleo, gluten free
Kale Crunch Salad