As I was developing the recipes for my latest cookbook, Healthy in a Hurry, I came to realize just how much I rely on seasoning blends to create vibrant, exciting meals from really simple ingredients. I started wishing I could package those bold flavors in a jar for anyone to use on those days when they're just too busy, too tired or too time-crunched to measure everything from scratch. That wish became my mission.
Today, I'm excited to share that my most popular seasoning recipes are now available as Healthy in a Hurry Seasoning Blends! 
I'm especially excited because a lot of care and attention went into the development of each of these blends. I wanted them to taste exactly as they do in my own kitchen using clean, organic ingredients. But the flavors of herbs and spices can differ quite a bit when pulled from different sources. Everything from the granular size to the heat of a chili can completely alter the finished product. After a lot of resourcing and testing, I feel we've accomplished a perfect match and I can't wait for you to get to experience the flavors in your kitchen, exactly the way I do in my own kitchen.
The fully stocked line will not be available until September. But we have gathered a small quantity in my shop as part of a Healthy in a Hurry Cookbook Bundle. You can purchase a variation of the seasonings with a signed, pre-order copy of the cookbook.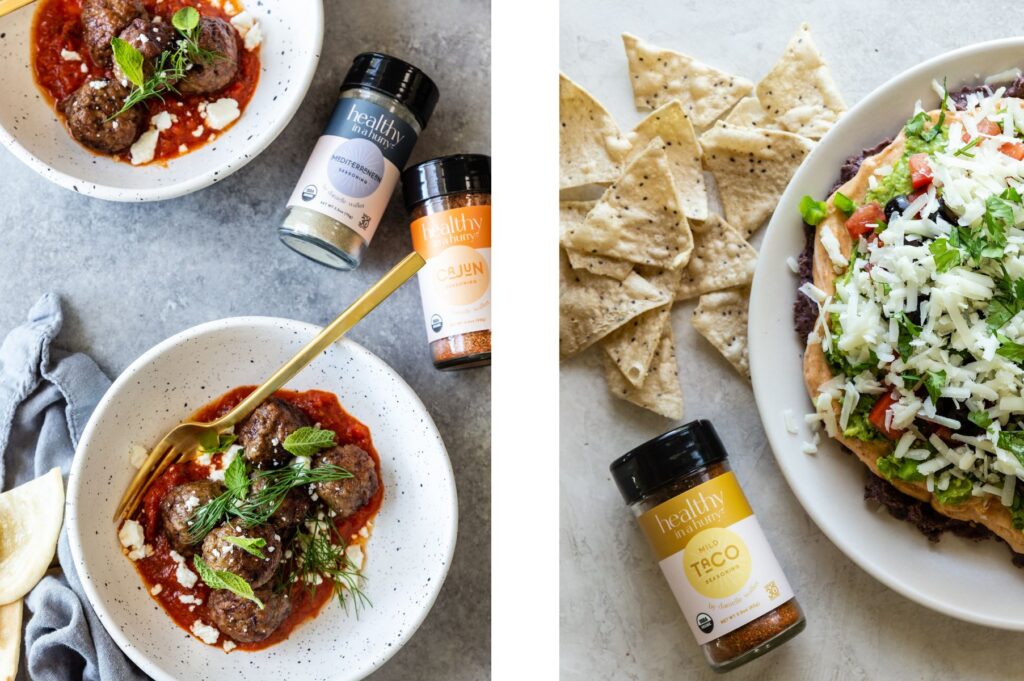 Healthy in a Hurry Seasonings are:
Made with real, high-quality ingredients you can trust

Fully Organic, Whole30 Approved, and Gluten-Free Certified

Tested and used for years by me and my followers

A great way to save time while adding real, bold flavors
As an added bonus, you will also get six free recipes at checkout with your Cookbook + Seasoning Bundle purchase!
The seasoning blends are only available on my shop here. There are 9 unique, flavorful seasoning blends specifically for my recipes in my books and everyday cooking needs. Every unique seasoning is interwoven throughout my 5th cookbook, Healthy in a Hurry. If you want to cut out one step in the cooking process or you just enjoy the ease of pre-made ingredients, these spices will be your guide as you cook your way through my new cookbook. Whether you are making my famous Skillet Queso or trying my new Cajun Chicken Pasta, you will find these spices to elevate your kitchen!
Want more Whole30-compliant recipes and inspiration? Download my FREE Whole30 meal plan & shopping list for recipes to keep you on track for the full 30 days.
Healthy in a Hurry Seasoning Blends