I know it's after Labor Day, but if there's one thing that keeps me hanging on to the last bits of summer, it's the produce. I am literally the heart-eyed emoji for summer produce — the tomatoes, the zucchini, the cucumbers, and the peaches and nectarines! I love to eat them all on their own, but I happen to think using fruit as an accompaniment to savory meat dishes is very underrated. I created this dish, Grilled BBQ Chicken Thighs with Stone Fruit Salsa, to hit the perfect balance between savory and sweet. It offers crisp-skinned, juicy, BBQ-seasoned chicken and the sweet punch of peach, nectarine, and pineapple. Plus, it offers a little jalapeno kick and brightness from the cilantro. So if you haven't yet ventured into fruit salsa, now is the moment!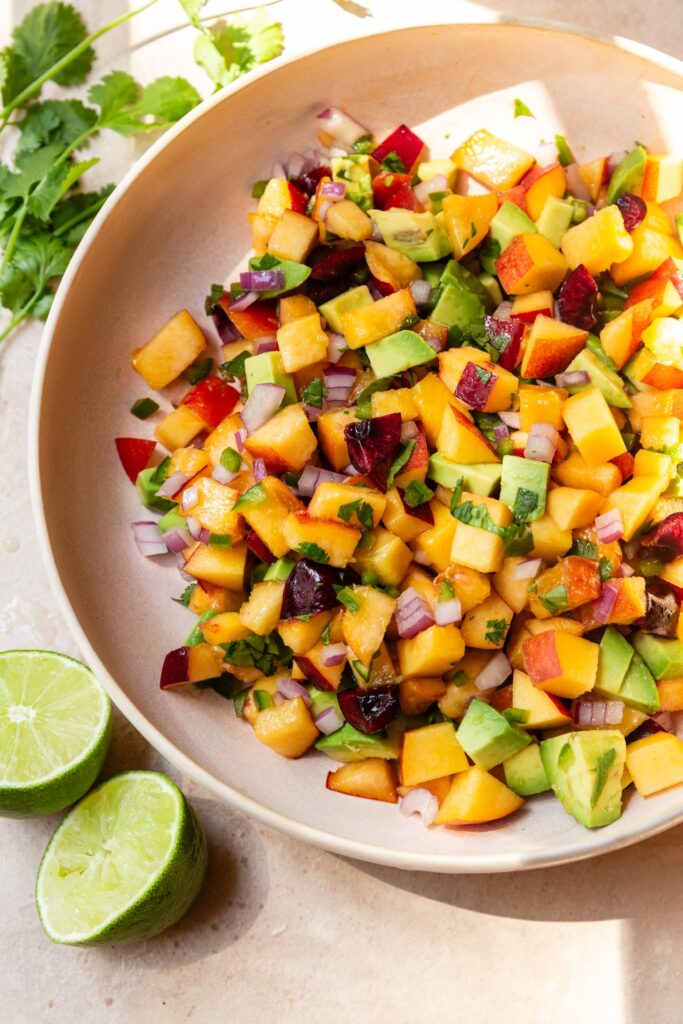 Chicken thighs vs breast 
Since I know some people are diehard chicken breast lovers, I'll say right off the bat that yes, you can use chicken breasts instead of thighs here. You can really use any of the following: chicken breasts (skin on/off, bone in/boneless) or chicken thighs (skin on/off, bone in/boneless). Personally, I love chicken thighs on the grill especially. The minimal fat on them renders away in the high heat and the skin gets deliciously crispy. And because they're dark meat, I find they are more flavorful than white meat.
How long to bbq chicken thighs
Whatever cut of chicken you choose here, the important thing is to grill over a medium heat until the internal temperature of the thickest part of the chicken registers at 165 degrees F with a meat thermometer. Cooking times will vary depending on whether you use breasts (longer) vs thighs (shorter) or bone-in (longer) vs boneless (shorter).
What is a stone fruit 
Stone fruits are fruits with a pit (or stone) in their center surrounded by sweet flesh and then skin on the outside. So the stone fruit family includes: peaches, plums, nectarines, apricots, pluots, mangoes, and cherries. These fruits hold up nicely in a salad, or cut, like we do here, into a salsa. I call it a salsa, but really it's just pieces of the fruit chopped up and mixed with jalapeno, lime juice, herbs, and salt. Incredibly easy, right?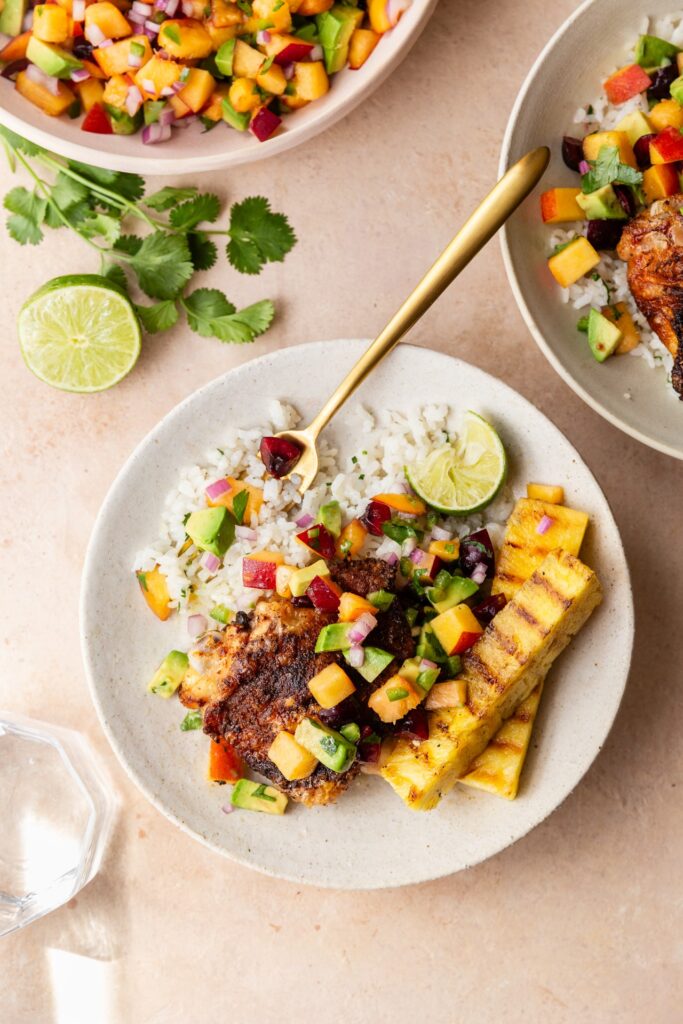 Fruit salsa recipe 
To me, the key to a great fruit salsa is ripe fruit, and a counterbalance to all the sweetness. Here, I use minced jalapeno to add a little heat and mellow the sweetness from the peach and nectarine. But if peppers are a no for you, the minced red onion and cilantro will still offer plenty of balance to the stone fruit.
Pineapple spears 
And let's not forget the grilled pineapple! Some people like to grill rings of pineapple, but I find the easiest way is to cut a whole pineapple into spears. They are less likely to tear or cook too fast when they're in a bigger piece. The heat from the grill starts to caramelize the natural sugars and oh my, I just love the flavor.
Grilling pineapple 
Even when cut into spears, it's important to remember that the pineapple will cook very quickly on a hot grill. You really only need 1-2 minutes on each side. So don't walk away from the grill while they're cooking! And be sure to brush the pineapple before grilling it with a little bit of avocado oil to avoid any sticking.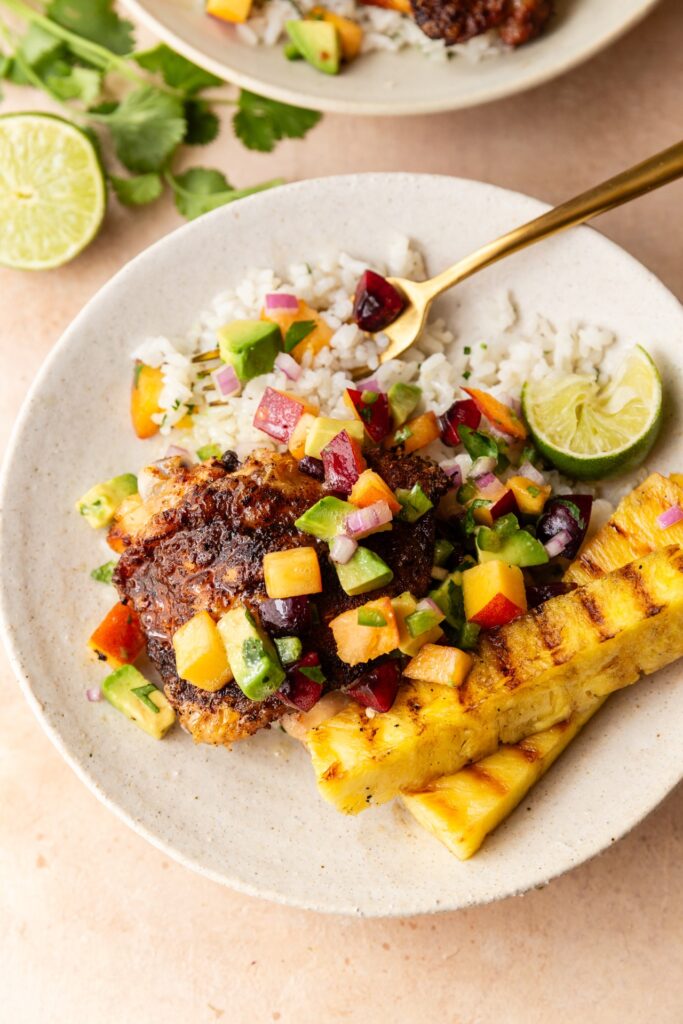 Simple side dishes
For a side dish with your Grilled BBQ Chicken Thighs and Stone Fruit Salsa, I recommend a coconut rice (Google Instant Pot coconut rice for easy recipes) or a cauliflower "rice." Whichever you choose, I recommend adding a squeeze of lime and a sprinkle of chopped cilantro over top. Enjoy!
Easy summer dinner recipes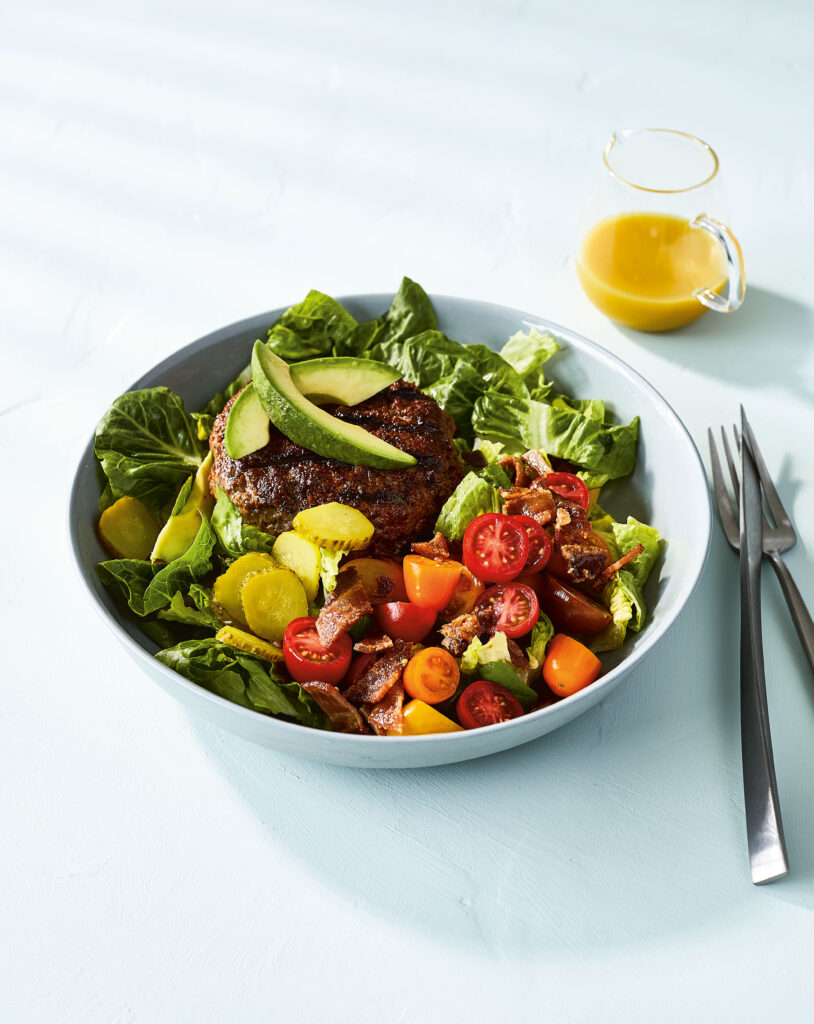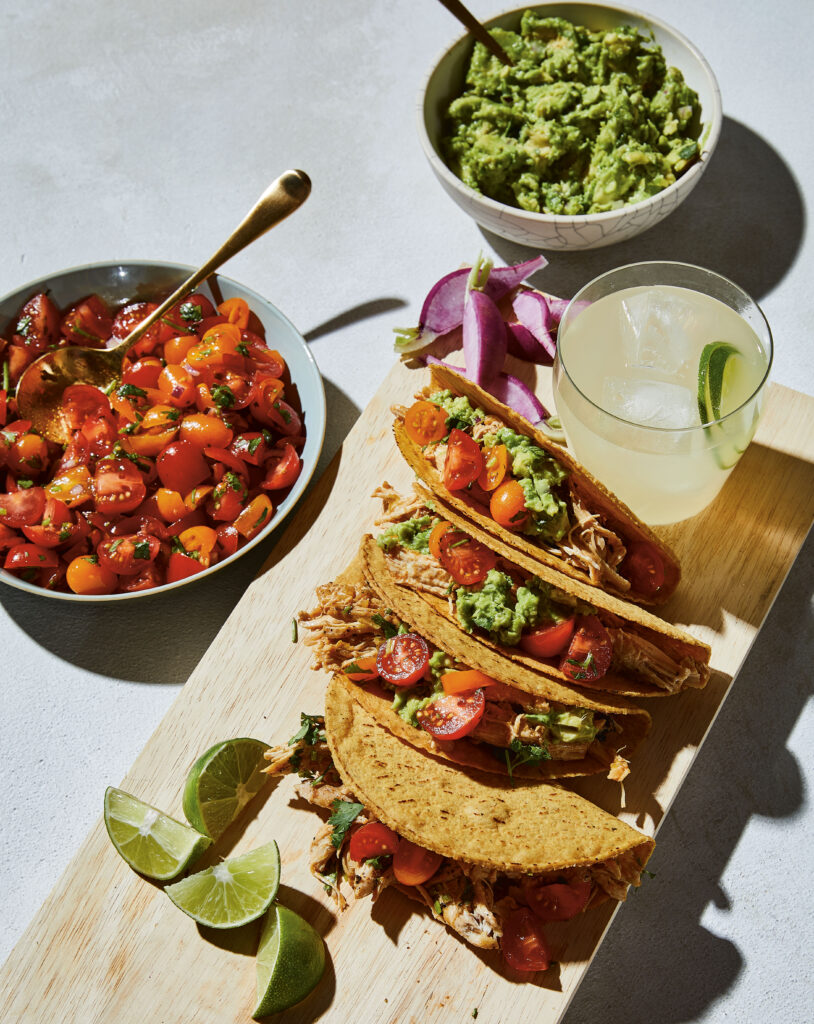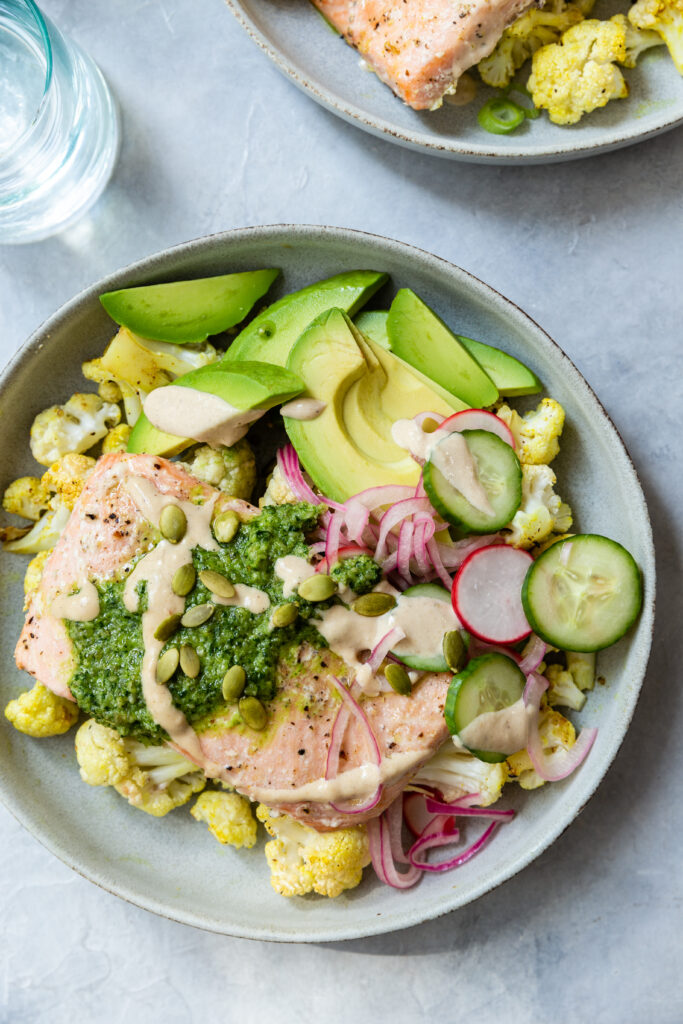 Print
Grilled BBQ Chicken Thighs with Stone Fruit Salsa
Author:
Prep Time:

5 minutes

Cook Time:

22 minutes

Total Time:

27 minutes

Yield:

4

servings

1

x
Category:

Dinner

Method:

Grill

Cuisine:

American
Salsa:
1

large avocado, pitted

10

cherries, pitted and diced

1

large yellow nectarine, pitted and diced

1

large peach, pitted and diced

1

jalapeno, seeded and minced

2 Tbsp

minced red onion

1 tsp

freshly squeezed lime juice

½ tsp

sea salt

2 Tbsp

chopped fresh cilantro
Chicken and Pineapple: 
3

lbs organic chicken thighs, bone in and skin on

2 Tbsp

bbq seasoning

Maldon sea salt flakes

1

pineapple, cored and cut into spears

1 Tbsp

avocado oil
Instructions
Sprinkle the chicken with seasoning and salt. 

Grill over medium heat, 20-22 minutes, or until internal temperature measures 165 degrees F. Brush pineapple with oil and grill 2 minutes per side. 

Mix up the salsa ingredients and serve with the chicken and pineapple spears over coconut rice or cauliflower rice.
Notes
For serving: Instant Pot coconut rice (just Google Instant Pot coconut rice) or cauliflower rice. I like to add a squeeze of lime and extra cilantro.
Grilled BBQ Chicken Thighs with Stone Fruit Salsa