Paleo BBQ Bacon Burger Bowls with Primal Kitchen Classic BBQ Sauce, Honey Mustard Vinaigrette and Marinade
In partnership with our friends at Primal Kitchen
Summer may have come to an end but grilling season definitely has not here in California with our weather still being so warm. 
My Paleo BBQ Bacon Burger Bowls are still on regular rotation. Making everything from scratch takes time. So, I'm always taking some shortcuts to make things go even quicker by using my favorite Primal Kitchen sauces like their Classic BBQ Sauce and Honey Mustard Vinaigrette and Marinade.
The bowl comes together easily and my favorite thing is to allow my kids to customize their own by adding their preferred toppings.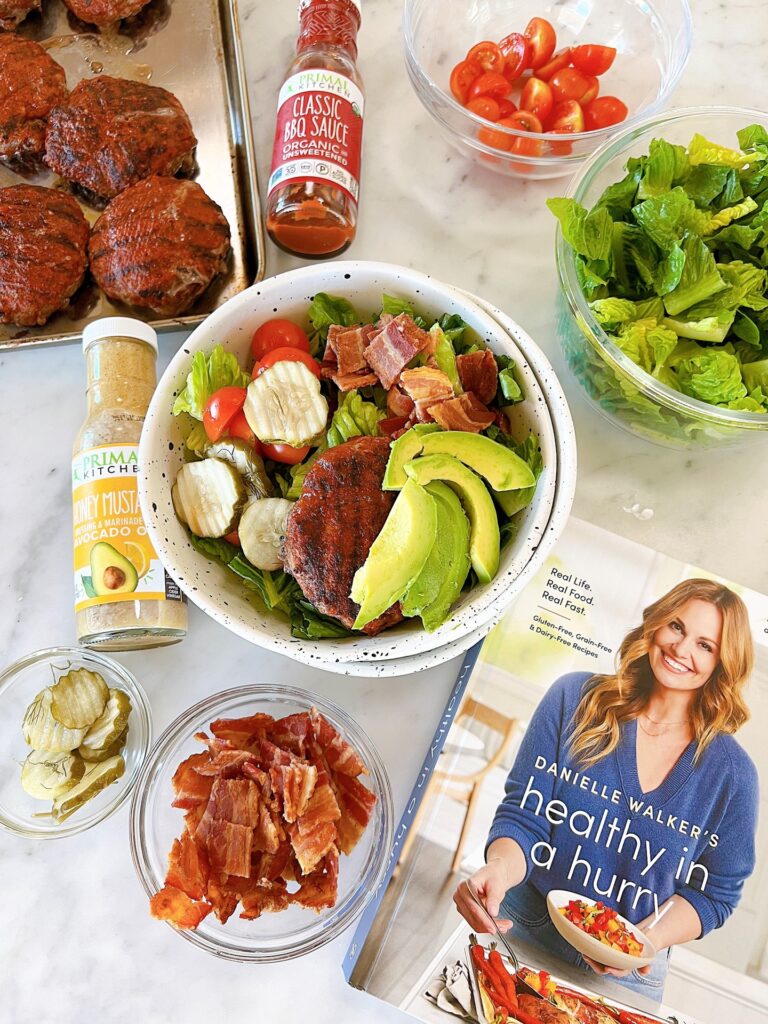 Why Primal Kitchen?
I love that Primal Kitchen uses real, high-quality ingredients that taste amazing! They don't use artificial sweeteners, are certified paleo and gluten-free, and don't use soy or canola oil in any of their products. That gives me so much confidence when feeding my family and myself to know I'm eating food I can trust!
I can find my favorite Primal Kitchen products at select Target and Walmart locations. Don't forget to pick up some Primal Kitchen pantry essentials the next time you are shopping in these stores so you always have the ingredients to make a simple and delicious meal like my Paleo BBQ Bacon Burger Bowls recipe!
In my new cookbook Healthy in a Hurry, I included some ready-made options along with some of my homemade condiment recipes so that you could choose. When making my Barbecue Burger Bowl Recipe, I like to take two shortcuts by using Primal Kitchen Classic BBQ Sauce and Primal Kitchen Honey Mustard Vinaigrette and Marinade. I always include an extra dose of each before digging in. It's such a time saver, and so delicious!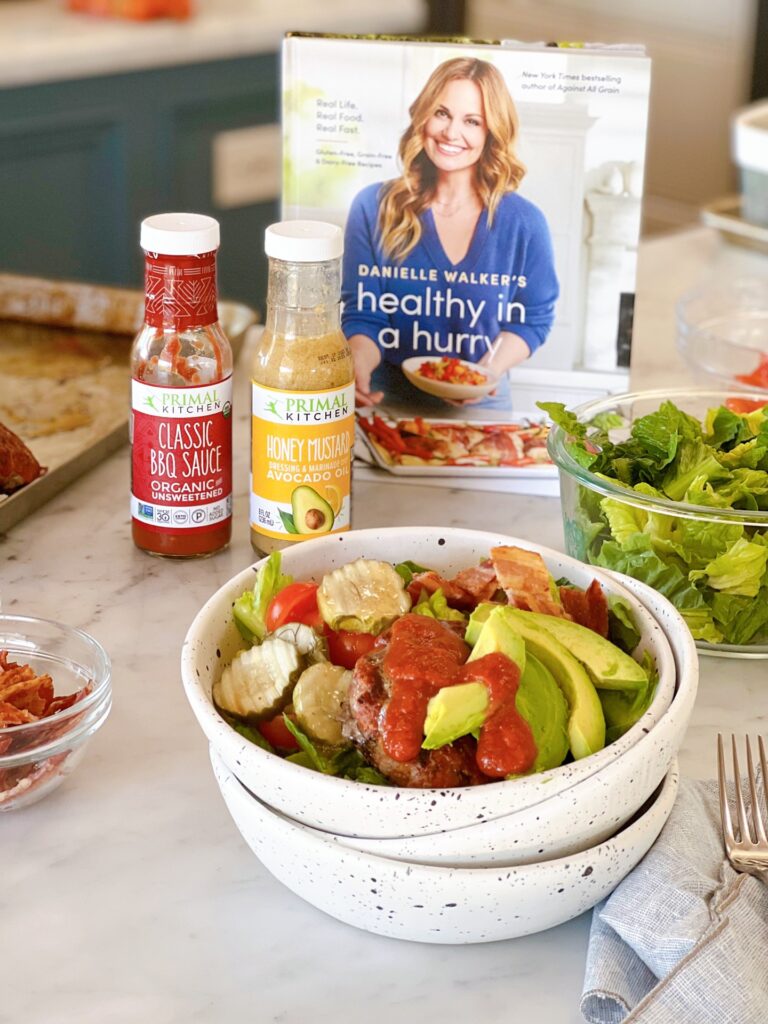 Burger bowls are my jam. I love a good lettuce-wrap sandwich (all hail the #aagwich), but burgers can be messy and end up spritzing juice down your hands and forearms. So loading all of the toppings I would have sandwiched between a bun into a bowl just seems like a smart move. I've been loving ground bison lately for its rich flavor and sustainability, but any ground meat would work here. I dust these bison burgers in my BBQ Rub and then brush them with Primal Kitchen Classic BBQ Sauce toward the end of grilling. But the real star here is a tangy and sweet Honey Mustard Vinaigrette and Marinade from Primal Kitchen.
View this post on Instagram
Shop This Recipe
Print
Paleo BBQ Bacon Burger Bowls feat. Primal Kitchen
Paleo BBQ Bacon Burger Bowls