Unleash the monsters!! These Gluten Free Monster Cookies are to die for; they're so chewy and irresistibly chocolate-filled. 
I believe that indulging in your favorite treats doesn't have to compromise your health. When I launched this Daniellewalker.com website, I began to incorporate a few grain recipes here and there, which was a departure from my againstallgrain.com website. While my cookbooks remain 100% grain and dairy-free, my family does eat some gluten-free grains and dairy. So I love sharing some of those hit recipes that can be enjoyed more broadly. But never fear my friends, I come to you with grain, dairy, and nut substitutes for these delectable cookies as well!! 
Let's dive into the world of monster cookies – those irresistibly chewy, chunky, and satisfying treats that are a beloved classic in many households. We'll explore how to make them a little healthier, gluten-free, and why we're passionate about dye-free options for the kids' well-being.
The best monster cookies recipe
The origin of monster cookies might be a bit of a mystery, but what's not a mystery is why they're loved by so many. They're said to have acquired their name because they're a monster of a cookie – packed with so many oats, creamy almond butter, and chocolate. My kids like to think their name is because they look like little monsters with 3 eyes on top. 
Either way, these cookies are a delightful combination of chewy and crunchy, thanks to the oats, and the mix of chocolate chips and candies adds a fun twist to a classic cookie recipe. Now, let's get into making them a bit healthier.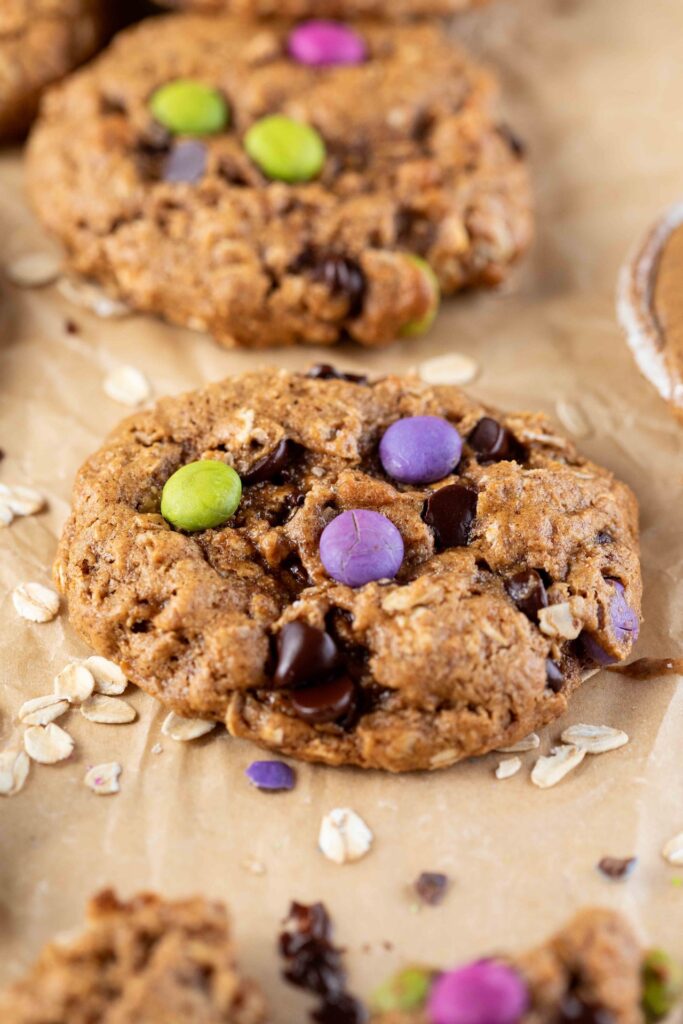 Gluten free goodness
Our gluten-free monster cookies are designed for those who want to savor the same delightful flavors while avoiding gluten and lowering the refined sugar. Here are the key ingredients: gluten-free oats, nut butter, arrowroot, coconut flour, honey, coconut sugar, and of course, dye-free chocolate candies and dark chocolate chips. 
Dye free candies 
In our household, we prioritize dye-free options for our kids' health. Artificial food dyes have been linked to various health concerns, and we believe that our children deserve treats without unnecessary additives. That's why we opt for dye-free chocolate candies in our monster cookies. It's a small change that can make a big difference in your family's well-being.
Making monster cookies your way
I understand that dietary restrictions can vary, so here are some substitutions to make these monster cookies fit your needs:
Paleo cookie recipe
To go grain-free, substitute 1 cup of hulled hemp hearts or shredded coconut for the oats.
Nut free cookie recipe
For a nut-free option, feel free to use sunflower butter as a substitute for almond butter.
Egg substitute for cookies
For egg-free, use 2 "flax eggs."
Dairy free chocolate chip cookies
For dairy-free, melt some Miyokos butter or sustainable palm shortening. 
Monster cookies are a timeless favorite, and with a few simple swaps, you can enjoy them without compromising your dietary preferences. Whether it's for the love of gluten-free baking or the pursuit of a dye-free lifestyle, these cookies are a delicious treat that everyone can enjoy. So go ahead, whip up a batch of these deliciously chewy and chocolatey Gluten Free Monster Cookies, and savor the magic of homemade goodness. Your taste buds and your family will thank you!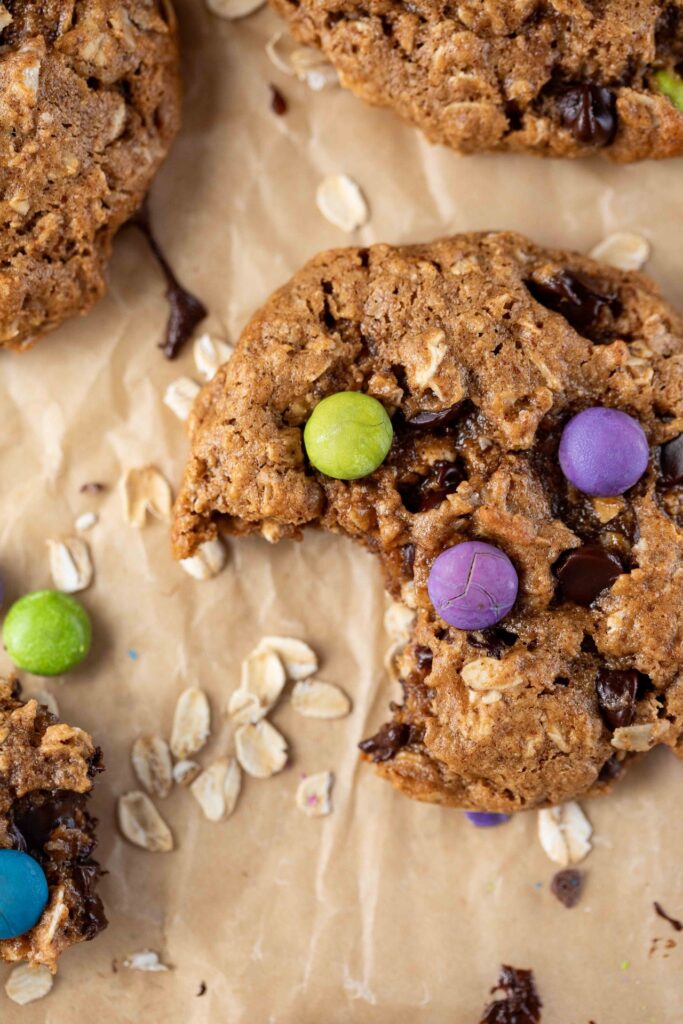 Best gluten free cookie recipe
More gluten-free cookie ideas and recipes for you to try!
P.S. Not that I need to remind you, but Thanksgiving is coming! If you are looking to create a delicious family meal that is gluten, grain, and dairy-free, my beloved Celebrations cookbook has the perfect menu and guides to get you prepped and set for success for Thanksgiving and holidays beyond!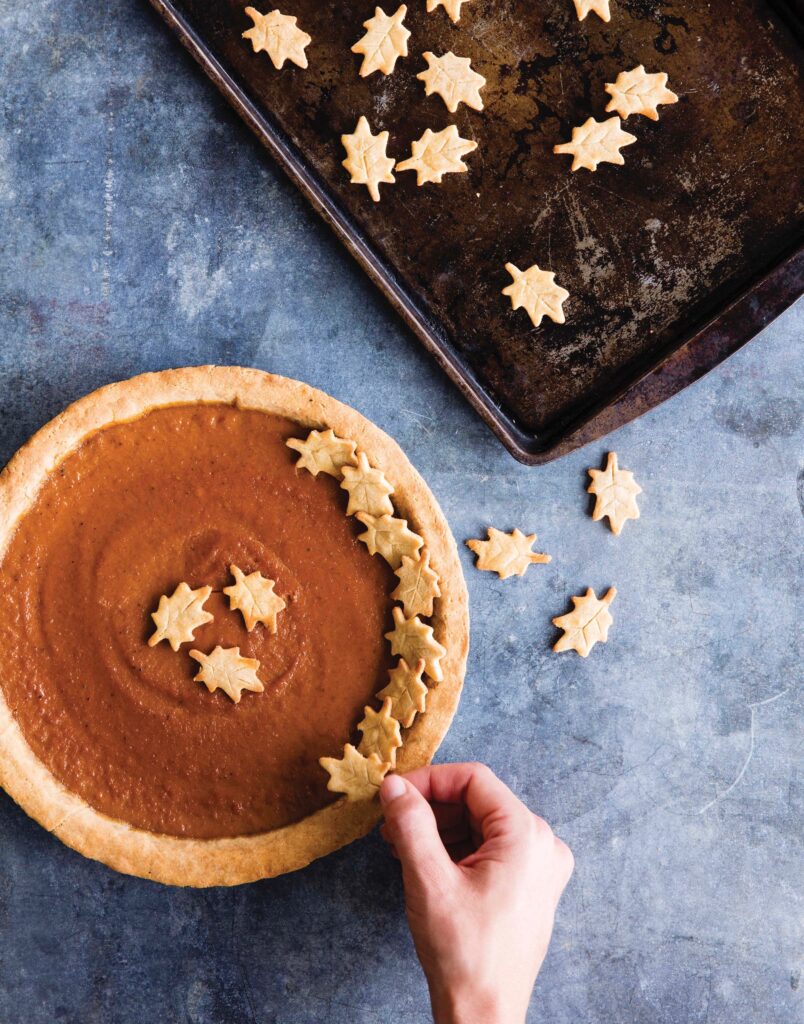 Shop the Recipe
Print
Gluten Free Monster Cookies
Author:
Prep Time:

7 minutes

Cook Time:

14 minutes

Total Time:

21 minutes

Yield:

24 standard size, 12 jumbo

Category:

Dessert

Method:

Oven

Cuisine:

American
Instructions
Preheat oven to 350°F (175°C) and line a baking sheet with parchment paper.

To brown butter, cut butter into small pieces and melt it in a light-colored saucepan over medium-low heat, swirling the pan occasionally. Watch for the butter to turn a light to medium brown color and emit a nutty aroma, then remove it from the heat and transfer it to a heatproof bowl to cool slightly.

In a mixing bowl, combine the almond butter, coconut sugar, and honey.  Mix until smooth. Mix in the arrowroot powder, coconut flour, baking soda, and salt. Add the warm brown butter and stir vigorously until combined. Add the eggs and vanilla extract and mix until well combined. Stir in the oats, chocolate chips, and chocolate candies.

Drop spoonfuls of the cookie dough onto the prepared baking sheet, leaving some space between each cookie. Gently press a few candies into the tops, flattening the cookies down just a bit. 

Bake in the preheated oven for 10 to 12 minutes or until the edges of the cookies are golden brown. Bake for 12 to 14 minute for jumbo.

Remove the cookies from the oven and let them cool on the baking sheet for a few minutes before transferring them to a wire rack to cool completely.
Gluten Free Monster Cookies