The smell of hot, fresh apple cider donuts instantly transports me to an orchard or pumpkin patch, out in the crisp air on a blue sky day. It's so evocative of the fall and winter coziness I can't get enough of right now and these Gluten-Free Apple Cider Donuts are the perfect seasonal (or year round!) treat. 
Back in 2008, Ryan and I were gifted a few nights in a rental home in New England for our first wedding anniversary and it was the one and only time we spent time together in that area.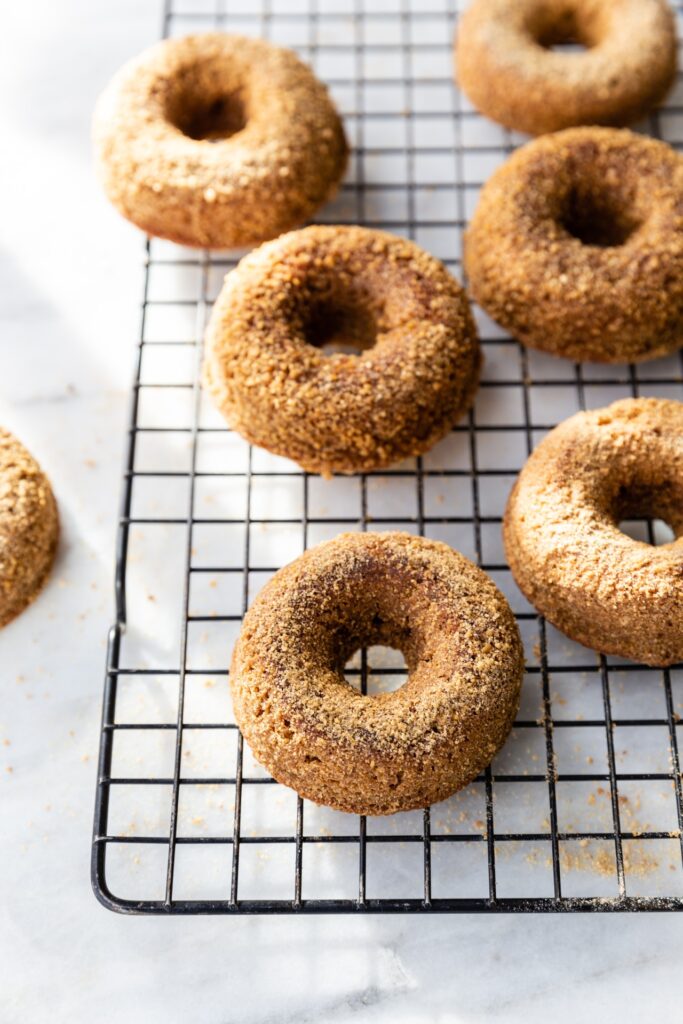 Ryan was a trooper and drove me around all of Vermont and Connecticut on a covered bridge tour. We found inns that reminded me of the one in White Christmas, posed for photos with all of the colorful trees and quaint steepled churches, ate all of the cider donuts and Cabot cheese, and became true "leaf peepers." It really felt like we were imported into one of those fall landscape puzzles I grew up putting together with my siblings.
The cider donuts were a must on our list because I had heard people talking about them for years but had never tried one. They were amazing.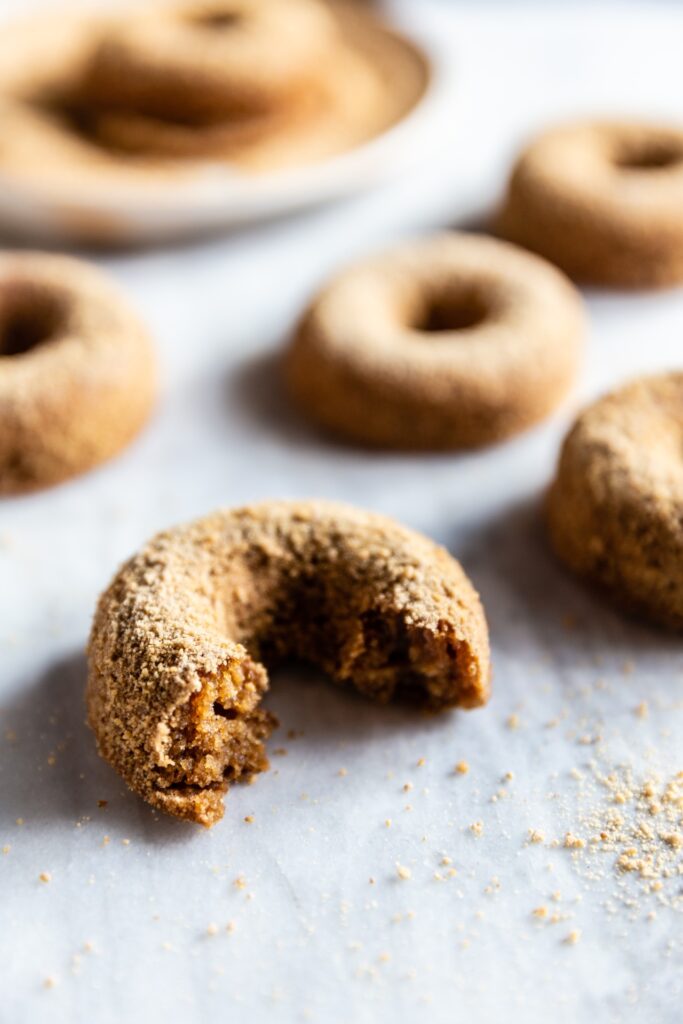 I created a replica a few years later after going gluten-free and grain-free in preparation for my very first cookbook, Against all Grain, but it didn't make the cut. The texture just wasn't right, and the sweeteners like honey or fruit juices that were allowed on SCD, the diet I was following at the time, made the donuts too wet and gooey.
Fast forward to almost a decade later and a ton of additional knowledge of grain-free baking, I've now revisited the recipe! With the inclusion of some new sweeteners and flours that I didn't know of back then or couldn't tolerate, these are finally a winner. And this recipe was the number 1 requested recipe when I polled everyone on Instagram a few weeks ago, so I hope you enjoy it! Oh, and #2 which was croissants, will be on my list to ruminate on. That one feels near impossible with grain-free flours, but never say never!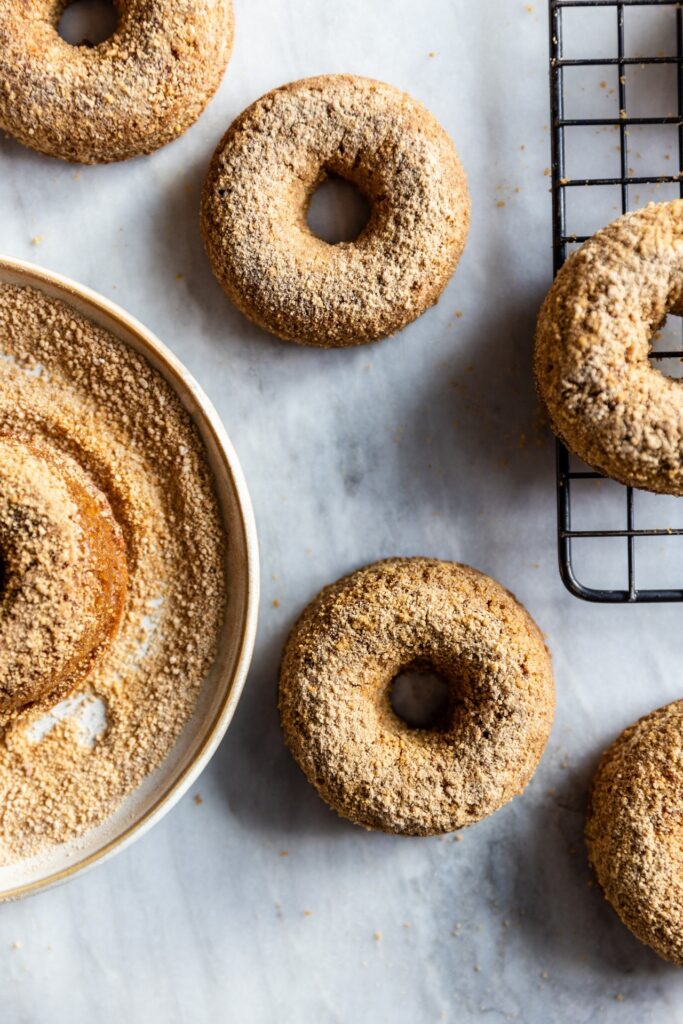 I hope you enjoy this easy and delicious baked Gluten-Free Apple Cider Donuts recipe to indulge your donut nostalgia while being gluten and refined sugar-free. Plus, these are ready fast – in less than 30 minutes – with your mixer doing the heavy lifting and with recipe ingredients that you probably mostly already have on hand.
Don't have a donut pan? No problem; this recipe for Gluten-Free Apple Cider Donuts makes beautiful muffins too. And if you're looking to be a hero, double up the recipe – one batch now as warm donuts and the other as muffins to freeze for breakfast later this month. If they last that long…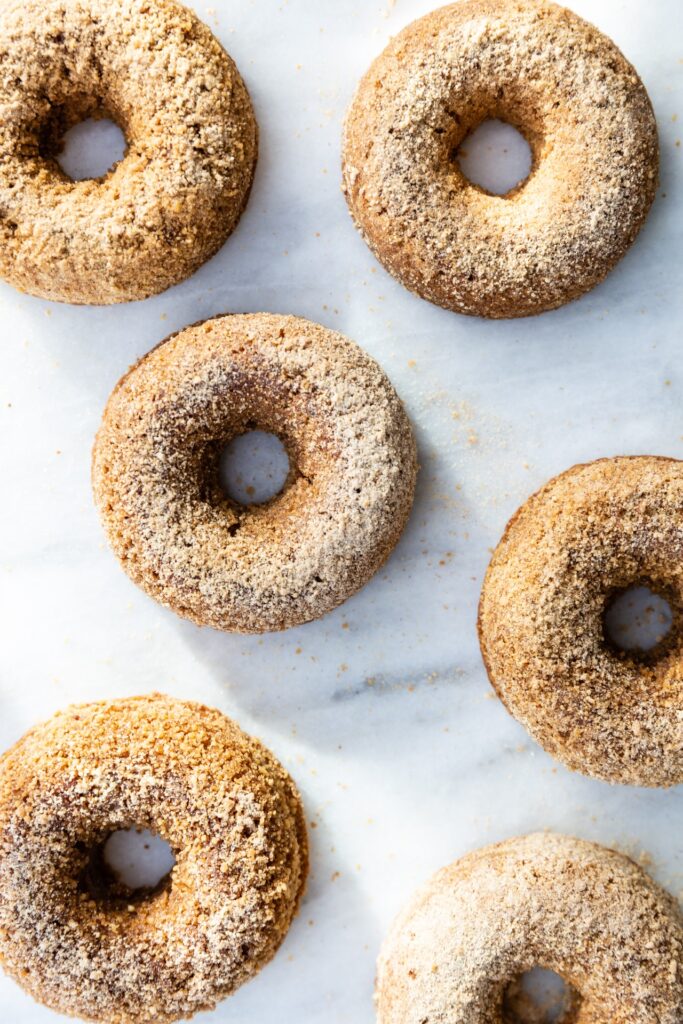 Photo credit: Ashley Lima
If you are wanting to make more delicious treats over the holidays, here are some of my favorites:
Shop This Recipe
Print
Gluten Free Apple Cider Donuts
Author:
Prep Time:

30 minutes

Cook Time:

17 minutes

Total Time:

47 minutes

Yield:

12

servings

1

x
Instructions
Heat oven to 350 degrees. Lightly grease 2 (6-cavity) doughnut pans (or a 12-cup muffin tin) with nonstick spray.

In a medium bowl, add almond flour, coconut flour, arrowroot powder, baking powder, salt, 1 teaspoon cinnamon and nutmeg and whisk to combine. Set aside.

In the bowl of a stand mixer fitted with the paddle attachment, cream butter, coconut sugar and ¼ cup/50 grams maple sugar on medium speed until light and fluffy, 3 to 4 minutes. Add the eggs one at a time and mix until well incorporated after each addition, scraping the bowl as necessary. Beat in the vanilla extract.
Add the flour mixture and mix on low speed until incorporated. With the mixer running, add the apple juice in a slow, steady stream and mix to combine.
Spoon or pipe the batter into prepared doughnut pans, filling them 7/8 of the way, almost to the top. (You can also do this using a disposable piping bag or a resealable plastic bag with a ½-inch opening cut from one corner.)
Bake until evenly golden brown and a toothpick inserted into the center of the thickest portion comes out clean, 15 to 17 minutes. Rotate the pans halfway through baking. (If you are making muffins, divide batter evenly between the prepared cups and bake for 20 to 25 minutes, rotating halfway through.)
While the donuts bake, blend the remaining ½ cup/100 grams maple sugar and 1 teaspoon cinnamon in a mini food processor or clean coffee grinder. Cool the donuts for 5 minutes on a wire rack then unmold them from the pans and dredge them in the cinnamon sugar while they are still warm. Serve immediately, or let cool to room temperature.
Notes
If sugar mixture isn't sticking to the donuts, brush them lightly with a bit of apple juice before dipping.
Keywords: Danielle Walker, paleo, against all grain, dessert, donuts, apple, kid-friendly, snacks
Gluten-Free Apple Cider Donuts