As we head into the holidays, you may be craving all your favorite sweet treats. There's no reason to go without! I've gathered all my top cookie recipes here for you to enjoy. You'll find gluten-free Brownie Corner Cookies, chocolatey Mint Slims, chewy Chocolate Coffee Mac Nut Cookie Pie and so much more! There's something for everyone to enjoy!
I'm really excited about sharing this recipe because I don't have anything like it yet, and it's loaded with my number one favorite ingredient: chocolate. This is not a gluten-free brownie recipe though, it's a recipe for gluten-free cookies that very closely resemble that beloved chewy brownie corner piece. The batter is thick and dense causing these cookies to bake to perfection. Crispy outside edges, a chewy inside, and a fun crackly top make these cookies irresistible.
Gluten-Free Brownie Corner Cookies
When my parents used to vacation in Hawaii, they always brought back chocolate-covered macadamia nuts for us kids. I have loved the combination ever since. This skillet-baked cookie pie is gooey and chewy and utterly delicious, and it combines those nutty chocolate flavors with just a hint of coffee. My favorite dark chocolate chips are Hu Kitchen brand's dark chocolate gems. The two scoops of dairy-free ice cream on top of this cookie pie are optional but highly recommended. May I suggest coffee or vanilla? You will thank me.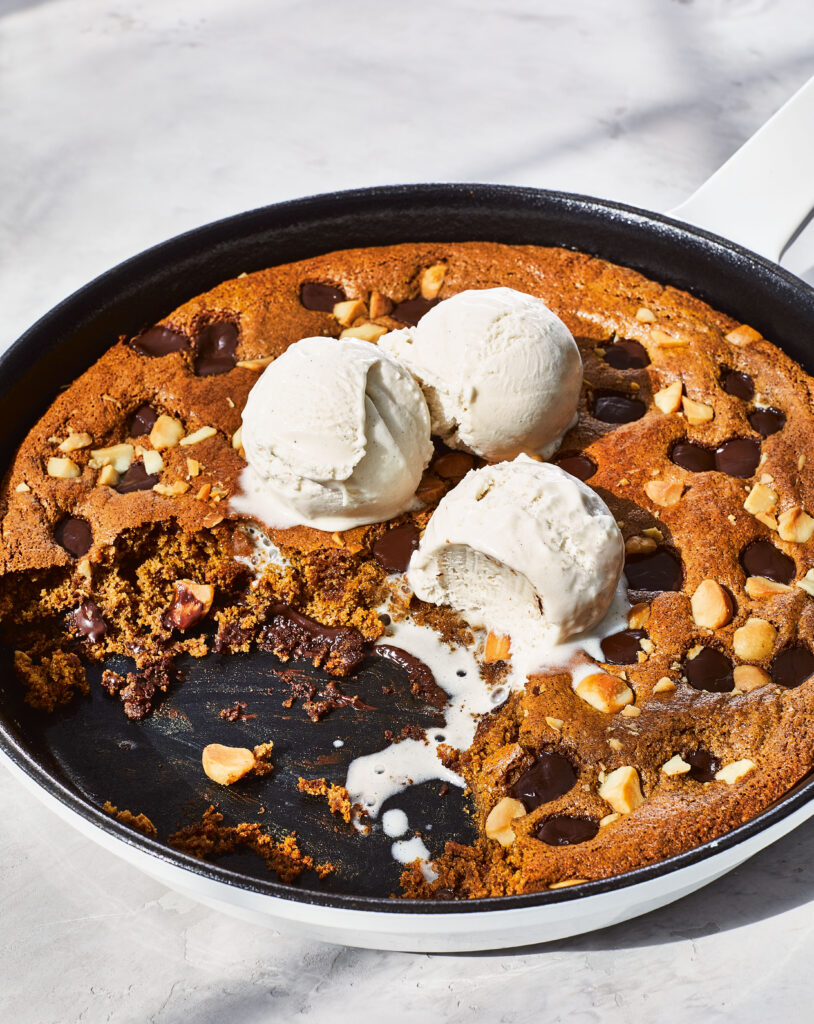 Chocolate Coffee Mac Nut Cookie Pie, Healthy In A Hurry, page 315
If I had to choose between a crisp and a chewy cookie, I would almost always choose chewy. Especially with these gluten-free ginger molasses cookies. They have just the right amount of spice and are so soft and delicious! They're paleo and grain-free too.
Gluten-Free Ginger Molasses Cookies
My grandma has been making batches of her mom's biscotti recipes to give as gifts ever since I can remember. Sometimes she even dips one end in a little melted chocolate for an extra-special treat. Biscotti is one of the most requested recipe makeovers from my readers, so I asked my grandma for her recipe to re-create, and finally created a cookie that I am pleased to share with all of you.
Granny Sarella's Biscotti, Celebrations, page 308
I first created these Gluten-Free Shortbread Cookies when I was playing around with crusts for my Lemon Bars. They have the perfect light and airy, yet crunchy, texture similar to the ones we used to buy in the tin boxes.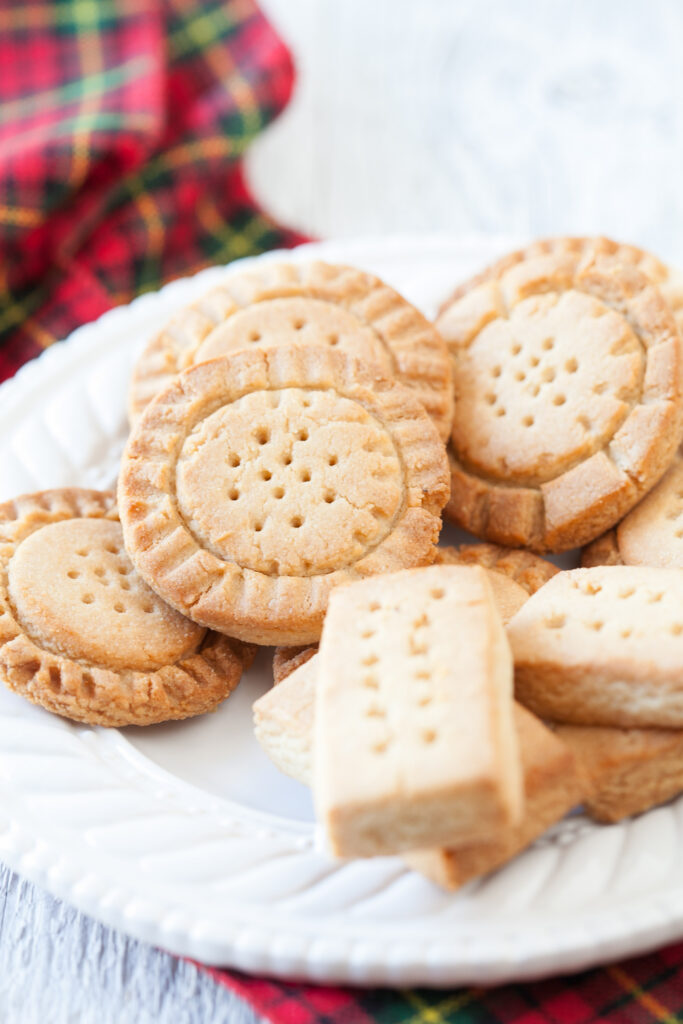 Gluten-Free Shortbread Cookies
I was never a Girl Scout, but I sure did enjoy their cookies growing up. My family could never say no to ordering a few boxes, and the Thin Mints were always my first choice. My favorite way to eat them was straight out of the freezer when they were cold and extra crunchy. My version dips a crisp, egg-free chocolate cookie in a mint-chocolate glaze. I guarantee that these will disappear just as quickly from the freezer.
Mint Slims, Eat What You Love, page 283
I've always been partial to a buttery-soft snickerdoodle, with its cracked and crispy surface and cinnamony flavor. Traditionally, a snickerdoodle is a sugar cookie rolled in cinnamon and sugar, but in this version, I add more cinnamon to the dough for an extra-spicy punch. I also use maple sugar instead of refined white sugar and it gives them a nice crunch with a subtle maple flavor, which is just amazing!
Gluten-Free Snickerdoodle Cookies
Cookies are my usual favorite to bring along to holiday parties. They are filled with a sweet jam and make lovely gifts and a fun activity to do with your kids! You can make these cookies egg-free if you omit the optional egg wash.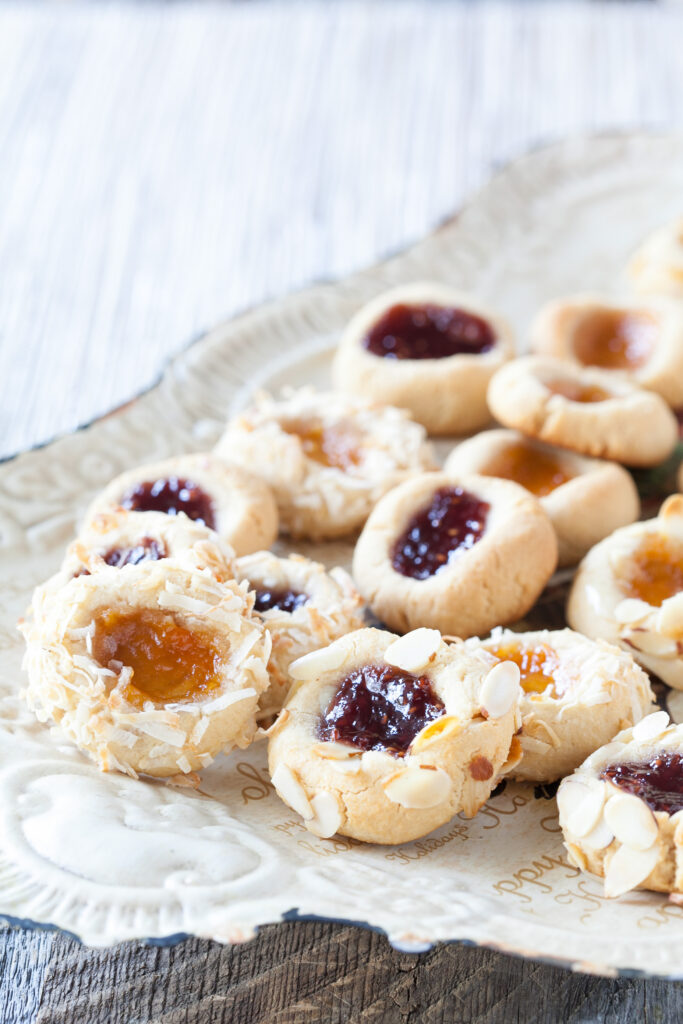 Gluten-Free Thumbprint Cookies
In this nut-free alternative to the classic peanut butter cookies, sunflower seed butter replaces the peanut butter, but I guarantee that you won't notice. Crisp on the outside and delightfully chewy on the inside, these cookies won't last long in allergy-free households!
"Peanut Butter" Cookies, Against All Grain, page 262
I wanted to create Nut-Free Chocolate Chip Cookies so that everyone with allergies could enjoy these classic cookies. This version has more of a crunch than the original. However, it still has the classic characteristics of a good CCC!
Nut-Free Chocolate Chip Cookies
These egg-free, nut-free, gluten free 'peanut' butter blossom cookies are so fun to make and are lovely to give as a gift or take to your holiday cookie exchange. I melt down chocolate and use a piping bag to make the kisses shape, but feel free to use a square of your favorite dark chocolate or splurge and grab some dark chocolate Hershey kisses!
Gluten-Free Cookie Recipes