This Gluten-Free Dutch Apple Pie is a delicious twist on the classic apple pie — a rich, flaky gluten-free pie crust on the bottom, a warming, spiced apple filling, and instead of a traditional full or lattice pie crust top, it gets a sugary cinnamon crumble topping. For someone like me, who is not a huge fan of pie crust, this is the perfect festive holiday dessert! And given the busyness of this time of year, a huge bonus is how make-ahead friendly this recipe is; the dough and filling can both be made up to 5 days in advance and stored in the fridge until you're ready to assemble and bake! 
The crust
Gluten and grain-free, this classic basic pie pastry is one to master and use again and again. It uses 100% palm shortening which has a similar melting point to butter (though you're free to sub butter), so it slowly melts in the oven, creating that perfectly flaky crust. Remember to roll it out between sheets of parchment to reduce its tendency to stick. And if it comes apart a little when you transfer it to the pie plate, no problem, just gently press it back together! A little egg wash before you add the filling will impart a rich golden color as it bakes and will seal in that nice chew and rich texture. 
The filling
I love using two different types of apples in any recipe calling for them — one tart varietal and one that breaks down a bit more and gets softer. I find that using two types balances and enhances the flavor and texture of the filling. Here, bright lemon, unrefined maple or coconut sugar, and cozy spices compliment the apples, the arrowroot thickens it all just enough, and the dash of salt brings out the sweet baked flavor of the filling. Don't be afraid to heap the crust with the filling as it will reduce down a bit as it bakes.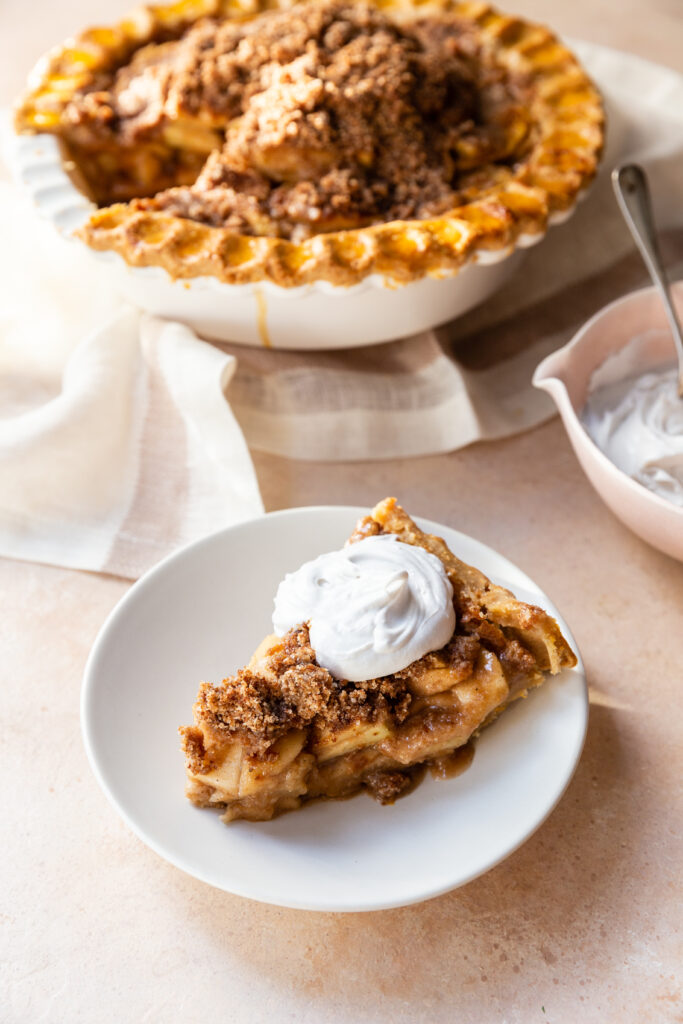 The topping
This cinnamon crumb topping on this Gluten-Free Dutch Apple Pie is incredibly addictive and would be delicious atop any fruit, but it pairs so well with warm apples. Bob's Red Mill Paleo Flour works here, but I love using my grain-free flour mix, which is available exclusively to students of my Eat Well, Feel Good cooking course. So if you're itching to get your hands on my exact blend, head over and pop your name on the waitlist to be notified the next time the course opens up!
Photo Credit: Ashley Lima 
If you enjoyed this Dutch Apple pie recipe, here are some more of my favorite treats to try:
Shop This Recipe
Print
Gluten-Free Dutch Apple Pie
Gluten-Free Dutch Apple Pie