My new book Food Saved Me is almost here and is available for pre-order now! I can't believe this book will be in your hands in just a few short months. I am so thankful to all of you, along with my friends and family who have walked this journey with me and encouraged me to continue writing and sharing my story.
I've told you this before, but pre-ordering a book really helps an author. It helps give bookstores confidence to stock it on their shelves; and it may help big box retailers bring it in, who may not otherwise carry it. Having it widely available will help it reach more people, and you never know if someone browsing Costco or Walmart who is dealing with health issues may just pass by it, pick it up, and have their lives changed.
Plus you don't pay for it until it ships!
I hope you enjoy reading the first 2 chapters, and then head back to pre-order!
To thank you for pre-ordering, I'm giving you some special gifts!
PRE-ORDER NOW AND RECEIVE:
A chance to win a private virtual cooking lesson with me and up to 6 of your friends!
You pick the recipe (I'll even create a new one for you if there's a dish you miss!), I'll send you the ingredients, and we'll hang out, cook, have a glass of wine, and I'll answer your questions!
Plus a free step-by-step cooking lesson from my online courses and 5 delicious bonus recipes (including my new grain-free flour mix!)

A little about Food Saved Me
Food Saved Me is the story of how food saved my life. It's also a love story—about loving food, loving family, loving friends, and loving myself enough to take an active role in managing my own health. I have experienced a decade-long cycle of diagnosis, disease, remission, setbacks, recovery, and loss, but one thing has held true: Food continues to save me. And my mission is to help you understand all the different ways food can help save you, too.
I want you to know that you're not alone. Hundreds of millions of people around the world suffer from various types of autoimmune diseases, and millions more from food allergies or chronic ailments. While diet may not provide a complete cure, changing how and what you eat can help you manage your health and significantly reduce both the frequency and the severity of flareups. I would bet my life on it.
That's why I have written Food Saved Me. I want to share my journey so that you will know that there is a path forward—there is healing and there is hope. In fact, if you take nothing else from my story, I pray it will be that—there is hope. Hope that you can live a full, happy, and healthy life without ever feeling hungry, excluded, or deprived. Hope that with each setback comes new learning and a renewed sense of determination. And hope that food can radically change your life for the better.
But Food Saved Me is not just my story. Over 400 of your stories of how food saved YOU are included within the pages, so it's OUR story. I'm so honored to share your voices, and pray that together we can reach and provide hope to those millions.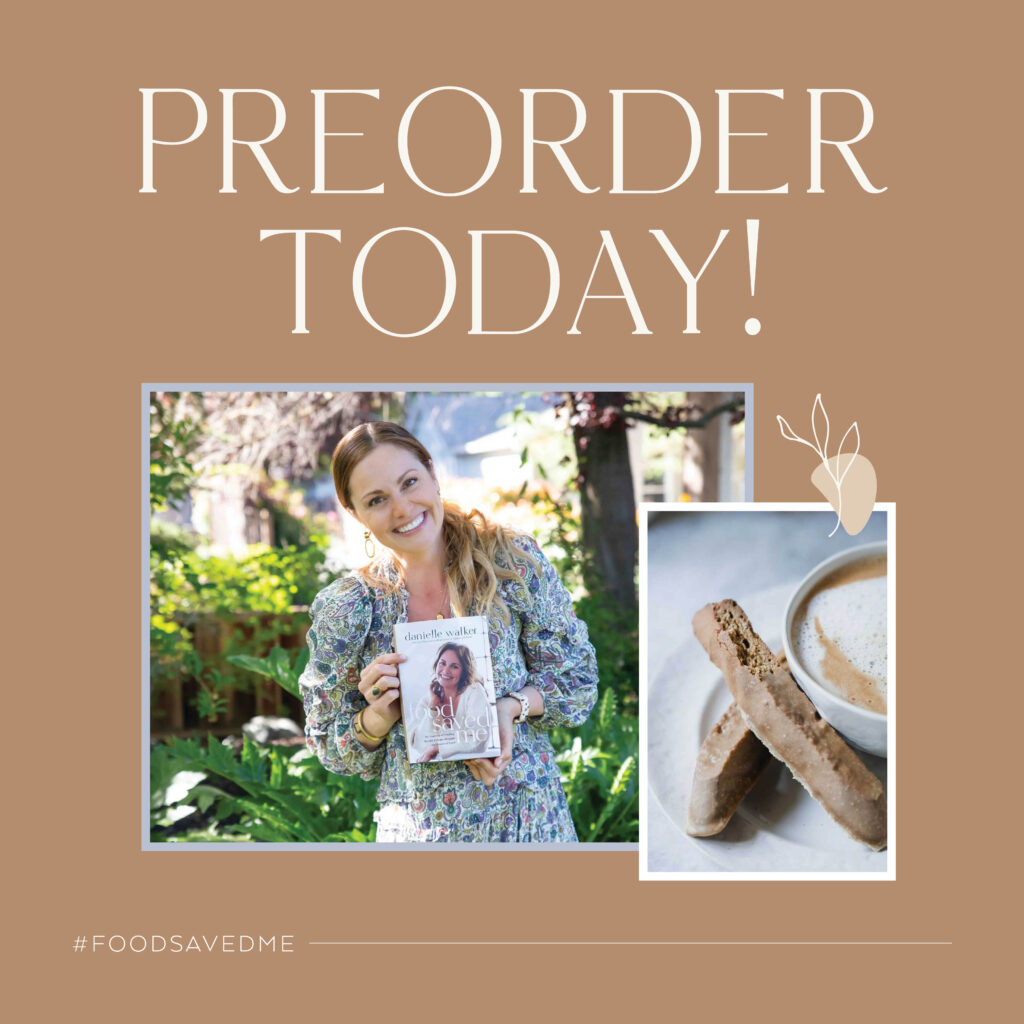 A few of your Food Saved Me stories
"Food saved me from crippling pain and skin issues. Gave me back my joy for life and the ability to be the mom and wife I wanted to be."
"Food saved me from 7 years of infertility. I was able to get pregnant naturally. Food really is medicine and the body has an amazing capability of healing itself it you give it the right tools."
"Food saved me from Crohn's disease, psoriasis, and melanoma diagnoses within a span of two years. Danielle's food saved me when I (falsely) believed family cooking traditions would end with me."
Thank you so much for pre-ordering!
xo
Danielle
Food Saved Me Pre-Order