I may say this every time I create a new ice cream, but I think this dairy-free Peppermint Candy Cane Ice Cream is my new favorite ice cream recipe. The base is incredibly creamy and boasts the most velvety and slightly chewy texture.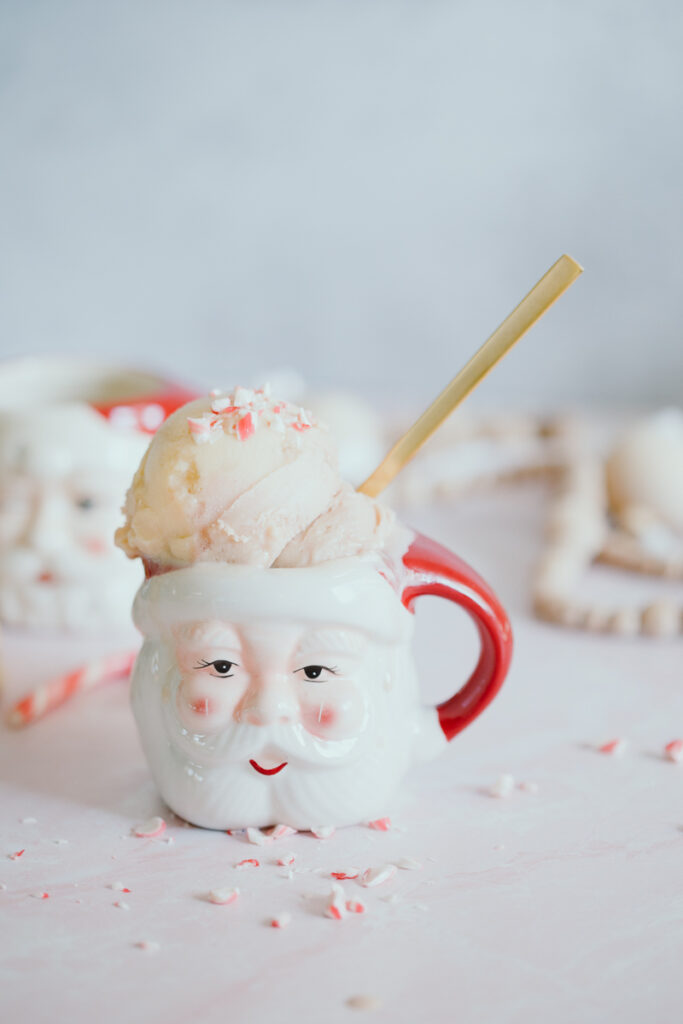 A "stretchy" ice cream
We have a friend in LA named Ryan. My Ryan and that Ryan love to taste ice cream together when we visit. He normally has their freezer stocked with at least 5 pints of different brands, and they sit there with spoons comparing the "stretchiness" of the ice cream, the texture, and the flavor – specifically of vanilla bean ice cream.
I had never noticed the "stretchiness" of ice cream, nor would I think to compare it, before our friend Ryan made a comment about it one night. It's similar to the chewiness, but so hard to actually articulate. 
Think taffy. The way it pulls from the spoon into your mouth and moves its way to the back of your mouth.
I always ranked ice cream based on its creaminess, and with dairy-free ice cream – how icy it was. A really good dairy-free ice cream should not be icy in the least bit, and this one is absolutely not!
But I haven't been able to truly master that stretchy or chewy dairy free ice cream. Creamy and delicious – yes. But not thick and chewy. This dairy-free Peppermint Candy Cane Ice Cream finally did it.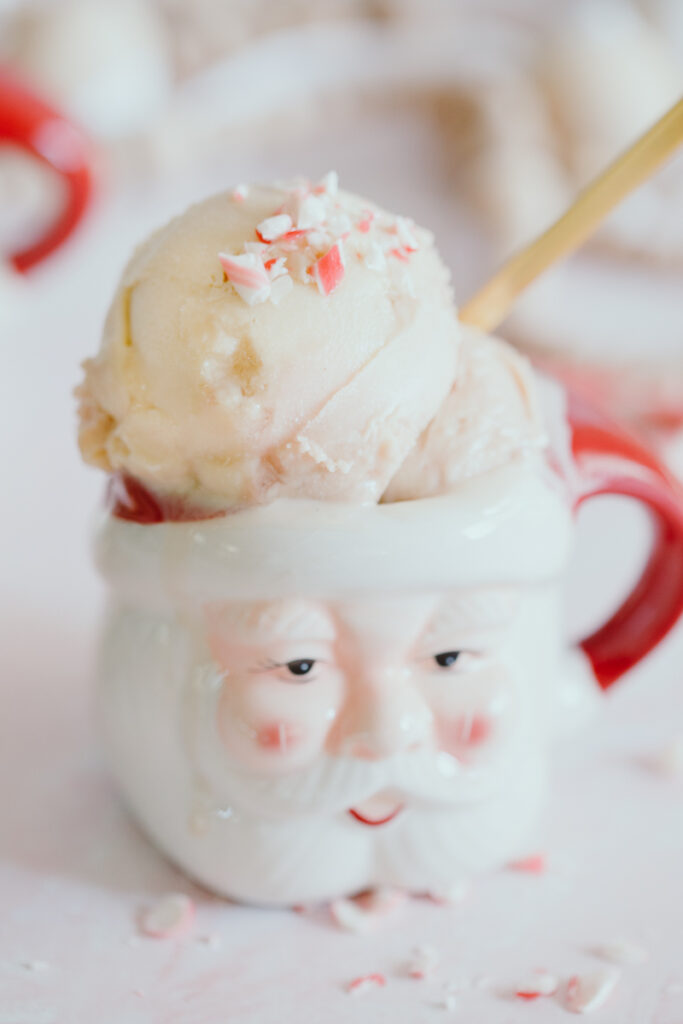 The Process
It starts with a base of raw cashews and full-fat coconut cream and heated slowly with egg yolks to make the custard. The base of this ice cream, before you add the flavor, would be an incredible base to start any flavor of ice cream. But here, we add peppermint extract and crushed organic candy canes.
A festive tradition 
When Ryan and I were first married, I would make him a peppermint ice cream chocolate freezer cake for his birthday every year. I frosted it in whipped cream and filled the top with crushed candy canes. He was born on December 4th, so I always loved to find a festive, Christmas flavored dessert for him. That quickly became his favorite tradition. Then, when we went mostly dairy-free, I couldn't purchase the peppermint ice cream I used to. His birthday treat then shifted to something from one of my books.
This ice cream didn't last long enough in our freezer the first time I made it with the intent to use it for a cake. Thankfully, I have some time to make another batch before his birthday. I might just surprise him with his old-favorite for the first time in 10 years!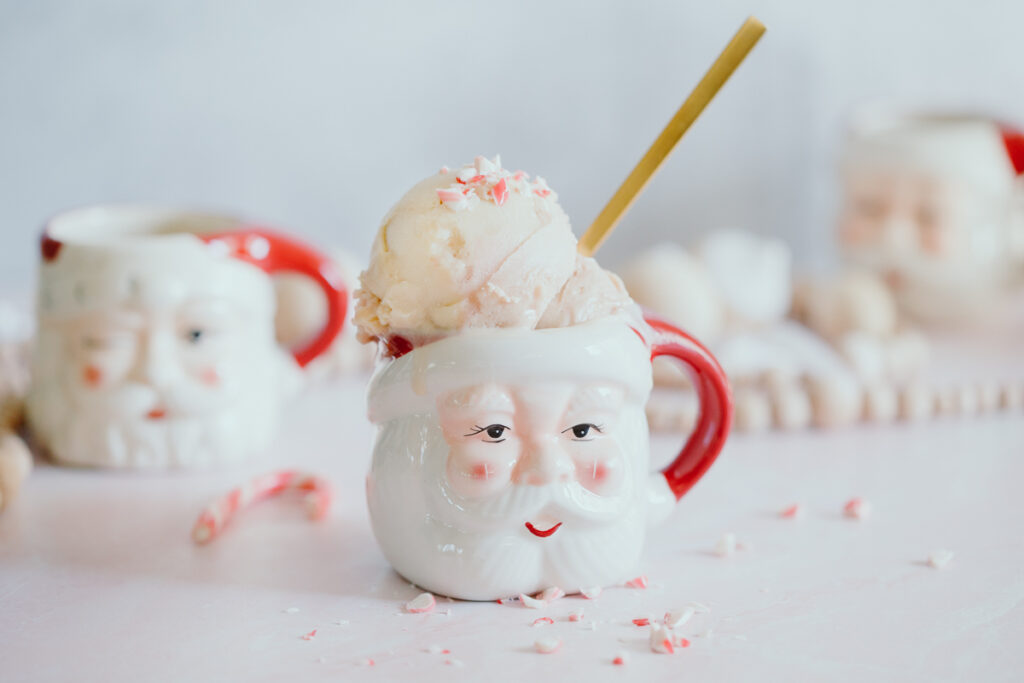 The Candy Canes
I have yet to find a naturally-sweetened candy cane. My kids love these organic candy canes or circular peppermints and I buy them as a treat around this time of the year! I love that there's no artificial red food dye too. One day I will make my own and give you all the recipe, just like my homemade sprinkles from Eat What You Love! I really don't think it will be that difficult to figure out- I just need to find the time! Ha! 
Enjoy this new ice cream, friends! And again – welcome, welcome to my brand new website!
If you stumbled upon this new recipe through my instagram or Pinterest, but haven't been fully introduced to the brand new DanielleWalker.com – hop on over to this welcome blogpost and grab your code to save 20% on my new store while you're there!
Shop this Recipe!
Print
Dairy-free Peppermint Candy Cane Ice Cream
Author:
Category:

Dessert

Cuisine:

American
Instructions
Soak the cashews in warm water for 4 hours. Drain and rinse well. Add them to a blender with 1 cup water and the can of coconut milk. Blend until very smooth and no visible pieces of cashews remain.
Whisk the egg yolks, maple sugar, honey, and salt in a saucepan. Whisk in the coconut-cashew milk.
Place the saucepan over medium-low heat and warm, whisking frequently for 10-12 minutes, until the custard coats the back of a spatula. Scrape along the bottom periodically to make sure the bottom of the pan doesn't scorch.
Pour the custard through a mesh strainer into a large bowl. Cover well and chill for 4 hours, or overnight.
Stir in the peppermint and churn the ice cream mixture in an ice cream machine according to the manufacturer's instructions. Once the ice cream reaches the soft-serve consistency, add the crushed candy pieces and churn until incorporated. If desired, drip in 4-5 drops of natural red food coloring and churn until it's just swirled in.
Keywords: frozen dessert, paleo, ice cream, holidays, danielle walker, healthy lifestyle, peppermint
Dairy-free Peppermint Candy Cane Ice Cream