Today is the day my new cookbook, Healthy in a Hurry is finally available in bookstores and book retailers everywhere. It was 3 years in the making, and I am beyond excited to share it with you!
If you happen to pick up a copy in your local independent bookstore, Target, COSTCO, or any other book retailer, please snap a photo and share it with me on Instagram @DanielleWalker so that I can see it! Grabbing a book from a physical store the week it releases not only helps support your local store, but it can help a new book be carried by more stores, and have better placement on front tables – which means more people with health struggles may stumble upon it just by walking by!
On September 13th, I am hosting a live, virtual celebration party with my friend Michelle Tam of Nom Nom Paleo. This fun event is for anyone who has purchased a book and we'll be cooking while sharing secrets to creating healthy food in less time. You can learn more HERE. I hope you'll join us!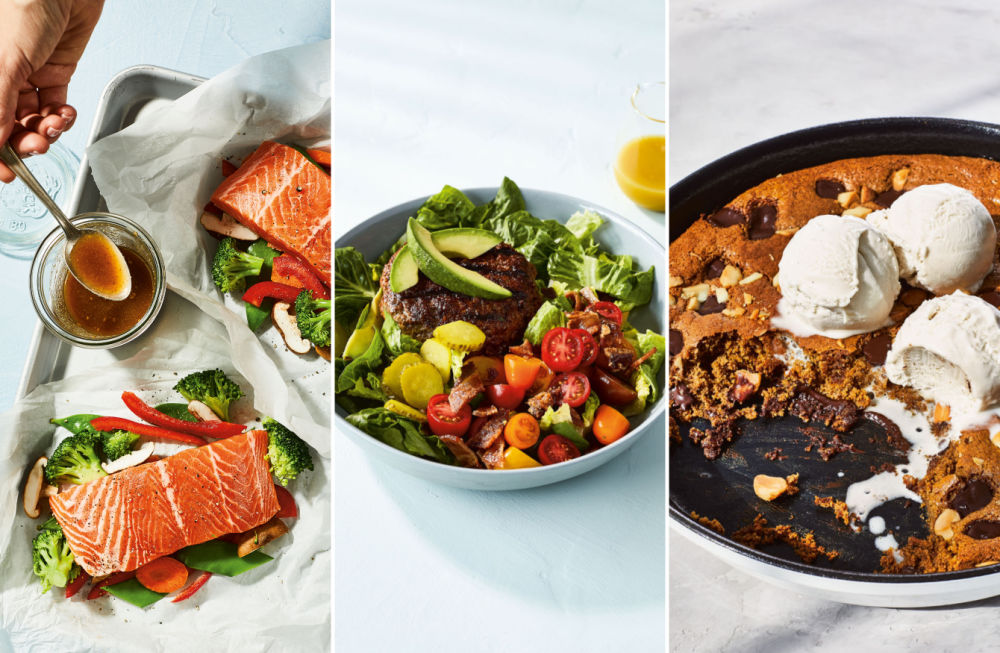 When I wrote my first cookbook in 2013, I wasn't sure I would have reason to write another. But as the years passed, more and more readers shared with me their stories of finding health through food, and my passion to provide recipes for those on a similar journey only intensified. Now, five books later, it seems that more than ever people realize the value of feeding themselves and their loved ones healthy, nutritious meals over highly processed foods.
I have been trying to recover from the autoimmune disease ulcerative colitis for twelve years. While food has saved me in so many ways over the years, it hasn't been a perfect process. Even while eating a healthy diet, I have run myself into the ground or bumped up against unavoidable trauma and life's daily stresses, causing me to experience setbacks. After going through that cycle many times, I've come to realize that food is a very powerful device in the overall toolbox of the ways I maintain my health. I've learned so much about how taking care of my body with nourishing food can be less impactful if I don't take care of my emotional, physical, and spiritual needs, too. For my body to be at its healthiest, I must also prioritize rest, exercise, mindfulness, counseling or therapy, and journaling. But the time I devote to preparing food also goes into the equation. Spending hours in the kitchen in an attempt to eat healthy can sometimes just add to the stress. I wrote this book to achieve the former (healthy eating!) and avoid the latter (kitchen stress).
"I'm too sick." "I don't have time to cook." "My kids or spouse won't like this dish." "The ingredients are too expensive." "I don't know how to cook." At one time or another, I've said all of these things about cooking. And they are also what I hear most frequently from people who are afraid to start cooking healthy foods.
After I released my cookbook Eat What You Love, which is filled with recipes for comfort foods and childhood favorites, I received so many requests from readers asking for easy meals for beginning cooks. Some wrote of being intimidated by my use of ingredients like arrowroot powder (it looks a lot like cornstarch), coconut aminos (it tastes a lot like soy sauce), and coconut milk (you can use it like cream). For a variety of reasons, many people sought a book that would teach them or their loved ones how to nourish their bodies with homemade, healthy food. Others told me of simply wanting to cook healthier for their families but not always have the time. Well, this is the book that does all of that! And although you may occasionally see an ingredient that you aren't familiar with, the majority of the ingredients are staples in a grain-free kitchen and each will be used multiple times throughout the book, allowing you to purchase them with the confidence they won't go to waste.
I drew upon my love of different cuisines from all over the world to create these recipes. Having lived in California nearly all of my life, I've had the pleasure of experiencing many different food styles. My dad also traveled internationally for work when I was younger, which meant we frequently had overseas guests who would share some of their culture through food. In addition to inheriting a love of Italian cuisine from my dad's side of the family, I came to appreciate many other food traditions during my childhood. From Thai, Korean, and Moroccan to Greek and traditional California cuisine, there's a lot to love in this book.
I wanted to keep the flavors and approaches fresh and exciting for those of you who, like me, have been eating grain-free and gluten-free for more than a decade. I also tried to ensure that each recipe is approachable enough for those of you who are just venturing into this lifestyle, perhaps feeling afraid that things won't taste as good as the foods you consider yourself losing. Nothing should ever, ever taste like cardboard! That's not a sustainable approach. And this way of eating is a lifestyle, not a diet.
Eat well, feel great, friend!
Danielle
Here is a sneak peek recipe from the book!
Healthy in a Hurry Launch Day