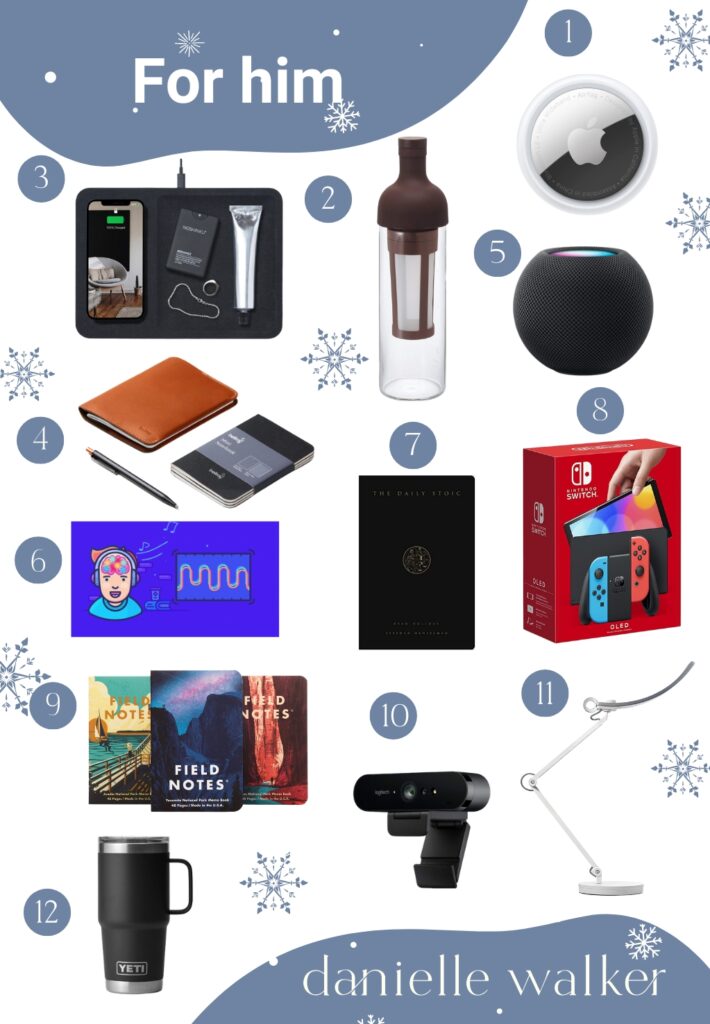 Apple AirTag– Where's the remote? Where are my keys?

  

Luckily with an AirTag, the case of the missing "things" is solved! Try one for your keys, your purse or even the dog!
Hario Cold Brew Coffee Pot– 

This is Ryan's (a coffee aficionado) favorite cold brew coffee pot!!

Courant Wireless Charging Station with Valet– 

Great by the bed or front door, this wireless charger is good-looking and practical.

Bellroy Notebook Cover & Pen– 

Ryan is a big fan of this brand, especially the notebook cover. It also includes a 3-pack of notebook refills

!

Apple Homepod Mini– 

We love the size of this homepod mini –3.3 inches tall, sounds amazing and works seamlessly with our phones

.

The Daily Stoic: 366 Meditations on Wisdom, Perseverance, and the Art of Living- 

Leather-bound edition that can be passed down through generations. A great gift that he will use every day!
Brain.fm– 

Ryan recommended, Brain.fm creates functional music to help people focus, relax and sleep better, backed by science, research and evidence.

Nintendo Switch –

On Ryan's gift list this year!! Enhanced audio, vivid color and 64 GB of storage, what's not to love? Demand is high so snag one while you can!

FieldNotes– 

Ryan always has one of these in his pocket to take notes on the fly! The National Parks sets are beautifully illustrated.

Logitech Brio 4K Webcam– 

An essential accessory for working from home! Look good at your next meeting with wide field of view and ultra 4K HD video calling.

BenQ eReading LED Desk Lamp– 

This fully adjustable lamp provides 35 inches of illumination and reduces glare. A must for your home office.

YETI rambler 20 oz travel mug with stronghold lid– 

For life on the go, we love our Yeti coffee mugs designed for cupholder convenience!
Other Gift Guides
Gifts for Him