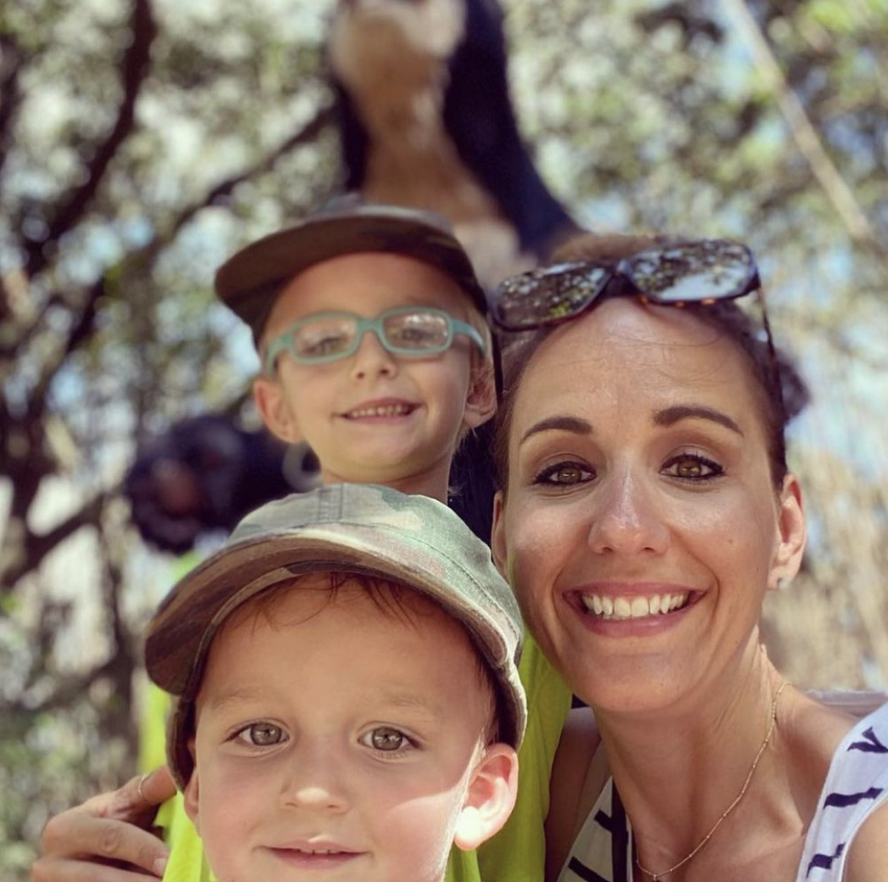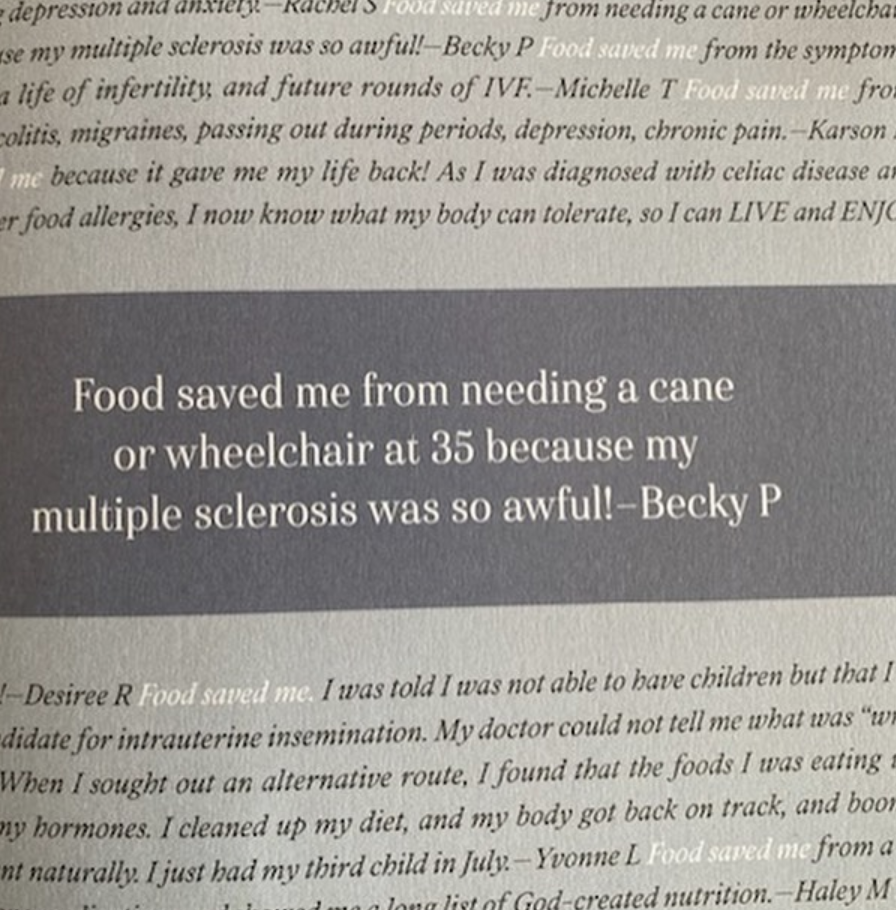 if you have a copy of the book, this is Becky from the inside cover!! (Swipe)
Food Saved Me repost from @lifewithmrspost08 (read her continuation on her page!)
In 2013 when I was diagnosed with Multiple Sclerosis I was told changing your diet won't help your #MS. The neurologist and nurses all said the same – food doesn't make a difference even though some people out there says it does.
In 2015 & early 2016 my MS attacks had made it to where I could barely walk, I was dragging one side of my body, I lost some of my eyesight, MS hugs where it felt like something was squeezing the life out of you, horrible pain, memory issues and the list does on. I went on high doses of steroids as a last resort.
Six months later things still weren't good. I was at the end of my rope. I was sure I was going to need something to help me walk soon. I was taking daily injections of MS medications. I decided to try a naturopathic doctor because the regular doctors just said this is your life now. I was determined this would not be my life at 35. @drlorimancuso immediately put me on a paleo diet & told me to watch @drterrywahls Ted Talk.
I saw how Dr Wahls went from a wheelchair to riding her bike and slowed the profession of her MS just with her diet. Really? Just with food?? So I decided to try it. Within 2 months I had lost weight, my inflammation drastically went down, and my MS symptoms were improving. Within 7 months I was able to exercise again and I went off all my MS medications.
I told my neurologist and nurses about the changes I had made with food. What a drastic difference I was seeing. No one listened to me. A year later my neurologist said hey I wanted to tell you about a book and held up Dr Wahls book. I wanted to smack him lol I said yes, that's what I've been doing and I told you about it a year ago! I left shaking my head but also happy he had seen the light.
Continued on @lifewithmrspost08 page!
View this post on Instagram
TalkShopLive w/ The Walkers
If you have a copy of Food Saved Me – what has been your favorite part so far?! Also, anything new you learned about Ryan? 🤣
I still can't believe this book is finally out in the world now for all you to read/listen to! If you are wondering whether this book is for you (or someone you know!), you can watch this live show here: https://talkshop.live/watch/noQJNtPTGE3t/5180 that I did with Ryan where we answer some of your questions and talk more about what you can look forward to in my newest book, Food Saved Me!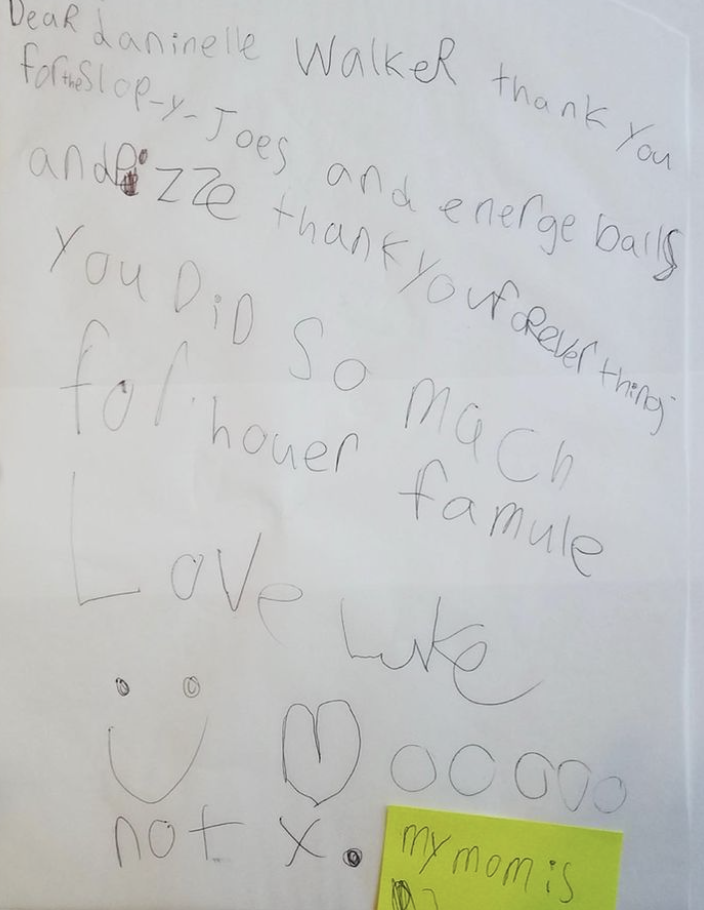 I don't know why I get the honor of being part of your healing journeys, but gracious am I thankful for it. Every note and letter you send in is read, prayed over, and cried for. I'm just so thankful you choose to share your stories with me. Especially when it's a child's healing story.
Thank you Erica for allowing me to share Luke's Food Saved Me story.
✨✨
My son Luke (and Oliver) had a chance to say hello at the meet & greet on Wed. He spent the rest of the time as we got ready for bed talking about how much he enjoyed it with a big smile on his face. Yesterday when I woke up, he handed me a note & asked me to mail it.
I got choked up & tongue tied during the meet & greet. That attentive, smiling boy is here because of food. When we first got his Sensory Processing Disorder diagnosis 4 yrs ago, he was having 3-5 meltdowns a week that sometimes lasted as long as 90 minutes. I remember crying & asking God for help during more than one of them. He was in a constant state of fight or flight, & all the accommodations we could get him to reduce noise, light, & give him the proprioceptive input he needs only did so much for his body. The change with food was so evident to us, but I'll never forget sitting in his IEP meeting one year later. His teacher looked at us & said, "I don't recognize the kid they're describing in last year's report. It's so clear that food is helping him. I'm going to make note of it so his kindergarten teacher will be aware."
Food gave his body the ability to start to heal. It gave a calmness that allowed all other pieces we're tackling to bring further healing to do the work they need to. At the beginning, we stuck pretty close to GAPS, & with time we've been able to branch out to Paleo.
But your food, it gave us normalcy. It gave me the ability to give him foods his friends can have. It gave me faith that he won't be bullied over his different diet, & quite the opposite, his friends have asked more than once if they can try his lunch.
I know I said it several times, but seriously, thank you for what you do & the space you've created. Please keep doing what you're doing. Your work is valued, & so is your kind spirit.
It gave me the chance to give Oliver, who suddenly developed sensitivities to nuts, eggs, dairy, & many vegetables we ate regularly, an actual nut free cookie. Neither of the boys has ever voiced disappointment when they're at parties because what I can offer them from your cookbooks or blog excites them, & I can give them the holiday meals now without lacking any flavor. Last 4th of July, we had smores as a family, & they still talk about them (I subbed cassava for Oliver's batch). As a family, we still pull out all 4 cookbooks & flip through them to make a menu for the week when we get in a rut. And when my mom asks what she can cook for the boys when she visits, it's always your recipes. When we visited them this summer, I bought a copy of Eat What You Love to give her when we left as she started making diet changes for herself. She couldn't stand to give up ice cream, but I insisted she wouldn't have to.
And it helped me, too. A traumatic birth & a surgery that followed triggered something in my body that I still don't have a diagnosis for, but I am healing. And food has been the biggest piece of that.
View this post on Instagram
Giving away some books and showing a few of my favorite Trader Joes items
to make a super quick Whole30 and paleo lunch!
🥳🥳🥳
Just comment and ❤️ this video to be entered. 😘😘
View this post on Instagram
Grain-Free Apple Spice Muffins! 🍎🍏🍎
Happy fall! Grab the full recipe here – and if you got the preorder bonus PDF for Food Saved Me, I used 2 cups of the grain-free flour mix instead of the flours/arrowroot called for in the recipe! We also made a crumb topping: 1/2 cup flour mix, 1/4 cup maple or coconut sugar, 1 teaspoon pumpkin pie spice, 1 tablespoon unsalted butter or sustainable palm shortening.
Enjoy!!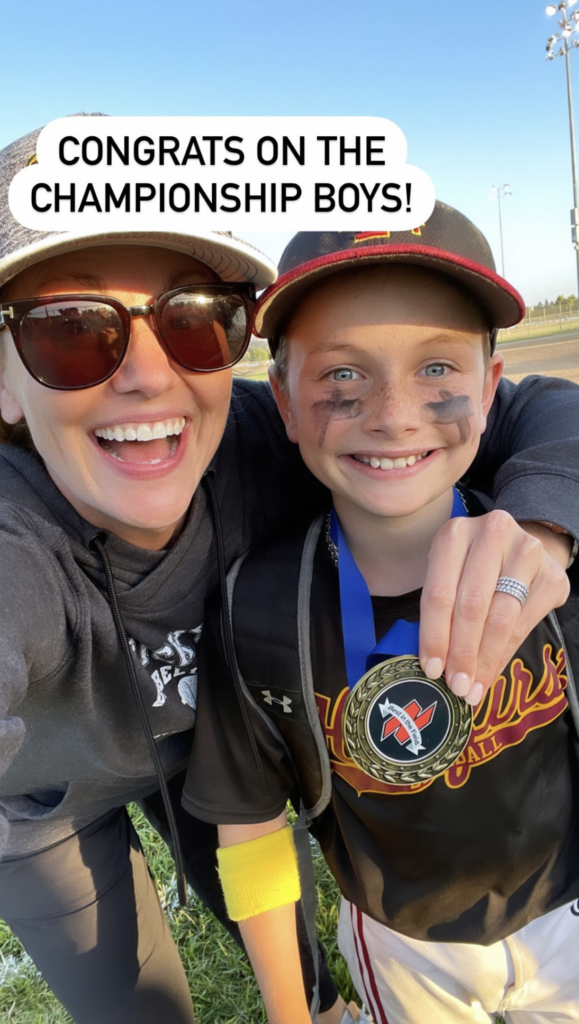 Danielle's Digest: Week of September 20th