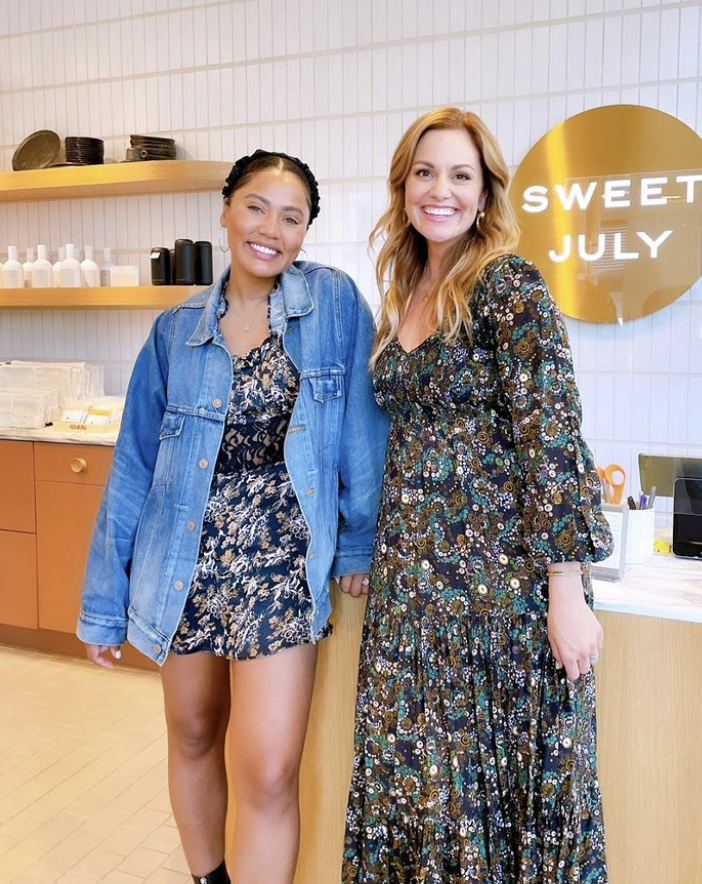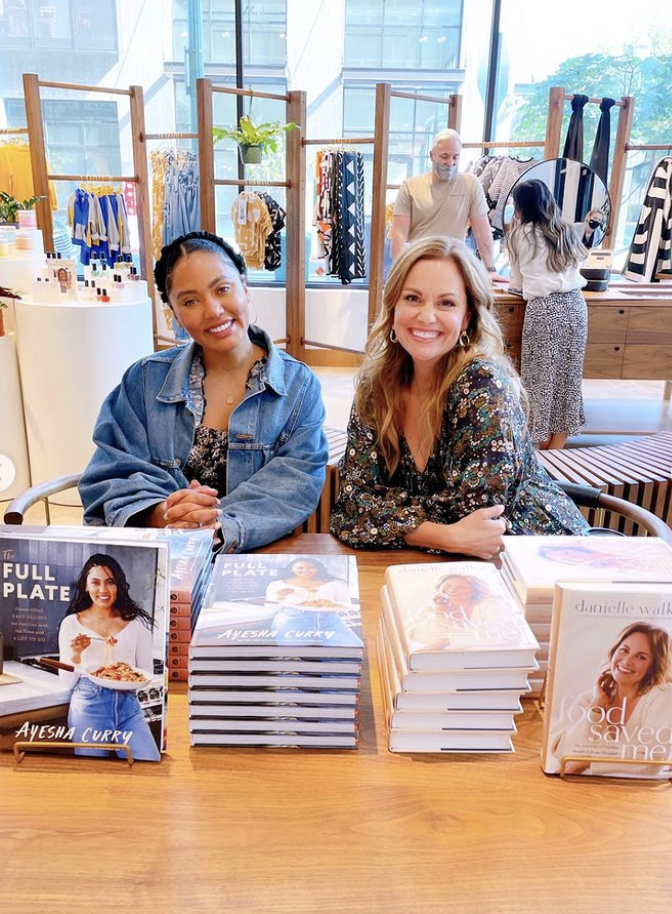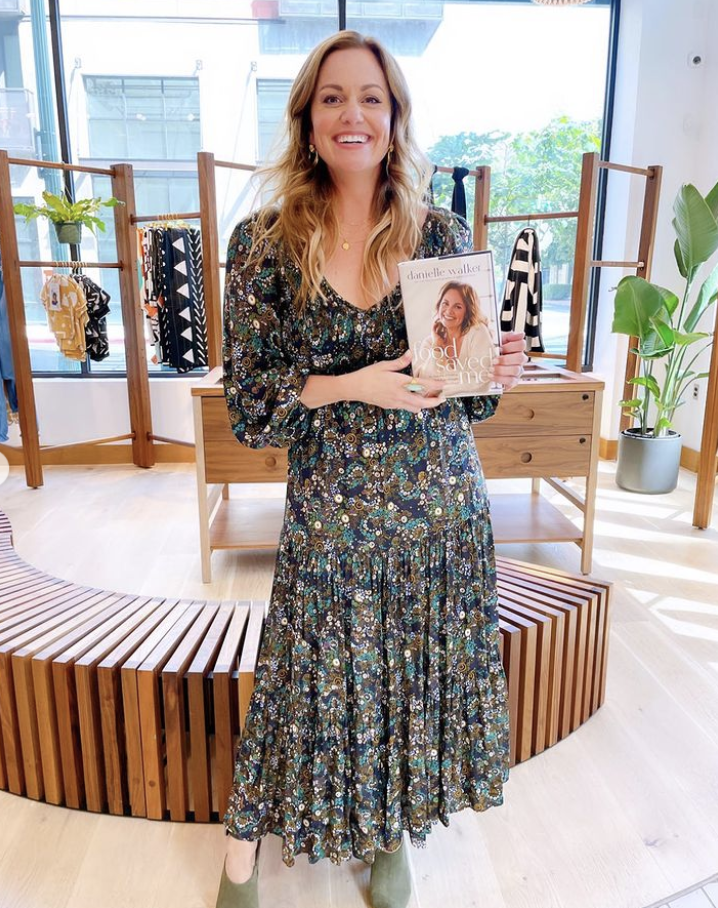 @ayeshacurry – you are the epitome of a woman who truly supports others. It astounds me how much you believe in everyone who surrounds you, and how invested you are in their success. I'm so thankful for your encouragement, wisdom, and inspiration over the years.
We had an amazing time sitting down at her beautiful @SweetJuly store and cafe in Oakland this morning chatting about Food Saved Me.
There's signed copies of Food Saved Me at the shop if you couldn't make it by today!
And while you're there, be sure to pick up some of Ayesha's ceramics – the white and black speckled are my favorite set to photograph on!
View this post on Instagram
Live with @hillaryscottla !
Gah! I love my bestie so, so much and am just so thankful for her. I was at her house for a week in 2018 when I first sat down to begin writing the book, and her friendship and wisdom have been such a gift during this whole process.
For everyone who always asks how we met, she answers it in this live. It may be one of my favorite stories ever. 🤣
And you can listen to @ladya's song Fire that we talked about on their album What A Song Can Do!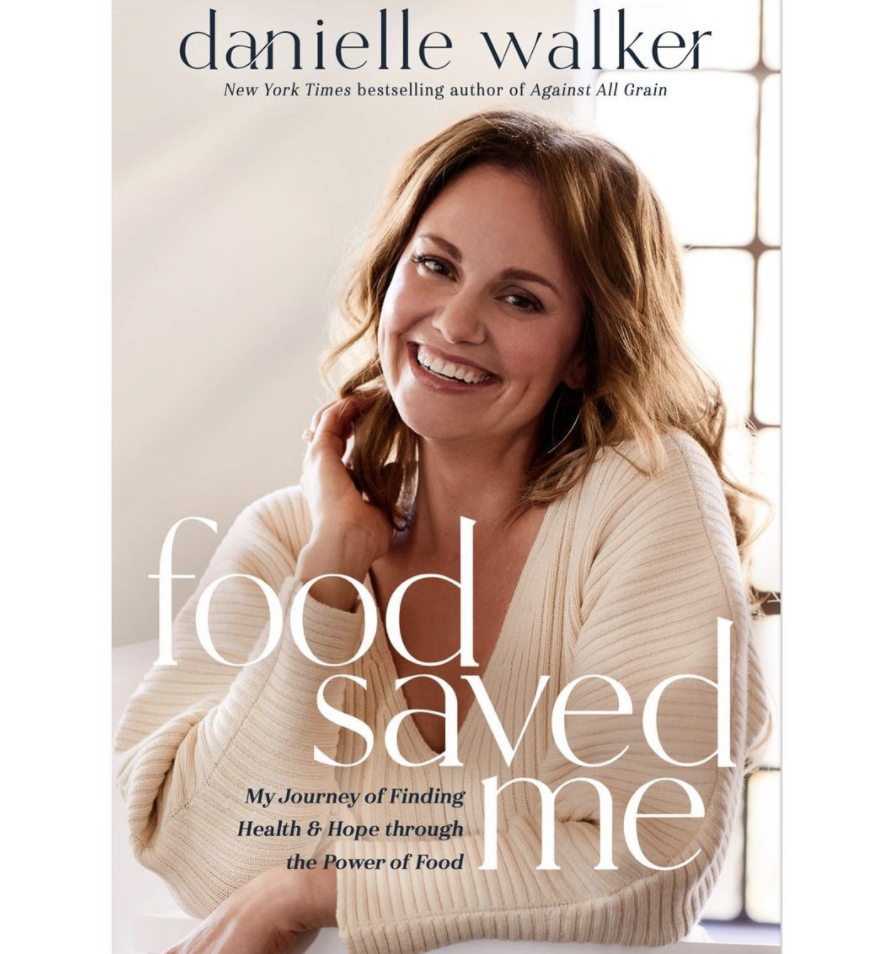 It's Pub Day!!!!
Normally, I'd be in NYC, waking up at 4am to do the Today Show. I'd find a Barnes&Noble afterwards and go on the excited search for my new book on the shelves for the very first time. I'd sign a few copies and tell everyone there to go find them. And I'd hide a few signed copies of my own around the city for people on their lunch breaks to go scavenge for.
That night, we would have a beautiful night celebrating together at a local bookstore or Brooklyn venue. Then I'd be on a flight to another city to hug more of you and hear your Food Saved Me stories face to face, and maybe even get to crack open the book to show Becky her story on the first page, or Hannah's letter in the middle of the book that she sent me 5 years ago and helped get me through a difficult time.
When I envisioned this book, I definitely didn't think I'd be launching my whole heart and soul on pages into the world from my own living room.
But I know I was called to write it, and I keep feeling like God is telling me that I've done my work, and He is going to do his.
I'm praying this book finds its way into the hands (or headphones for audible!) of someone who needs to hear the story. Someone who needs hope. Someone who needs a renewed resolve to fight for the beautiful life they want, and not let a diagnosis a loss define it. Someone who needs to feel like there's someone else in the world who gets their pain and despair. Someone who had walked through loss – loss of health, loss of a child, loss of an ideal for their life – and wants a friend to walk with them or learn from the person who has walked before them.
And then I pray that if the words on these pages did those things, that they'll find a friend to gift a copy to, and that friend will feel all of those same things.
You can find it on shelves today at your local bookstore, Barnes&Noble (signed copies!), and of course on Amazon. I can't wait to see pictures of you with it all over the world since I'm unable to travel this year!
"This is the story of hope, light, triumph, growth surrender, perseverance, family, and faith." -Ptizzz on Good Reads
View this post on Instagram
Pub Day Live! And we made dairy-free Pumpkin Spice Coffee Creamer!
This community means the world to me, and while I'm disappointed I can't be out celebrating with you in person, we're celebrating virtually! Join me as I share more of my heart behind the book and my PSL creamer recipe!
3/4 almond milk
3/4 coconut milk
1 T – 1/3 cup maple syrup (or dates for whole30 !!)
3 tablespoons pumpkin purée
1 teaspoon pumpkin pie spice
1/2 teaspoon pure vanilla extract
View this post on Instagram
Raising a glass with the kids and Ryan to Food Saved Me!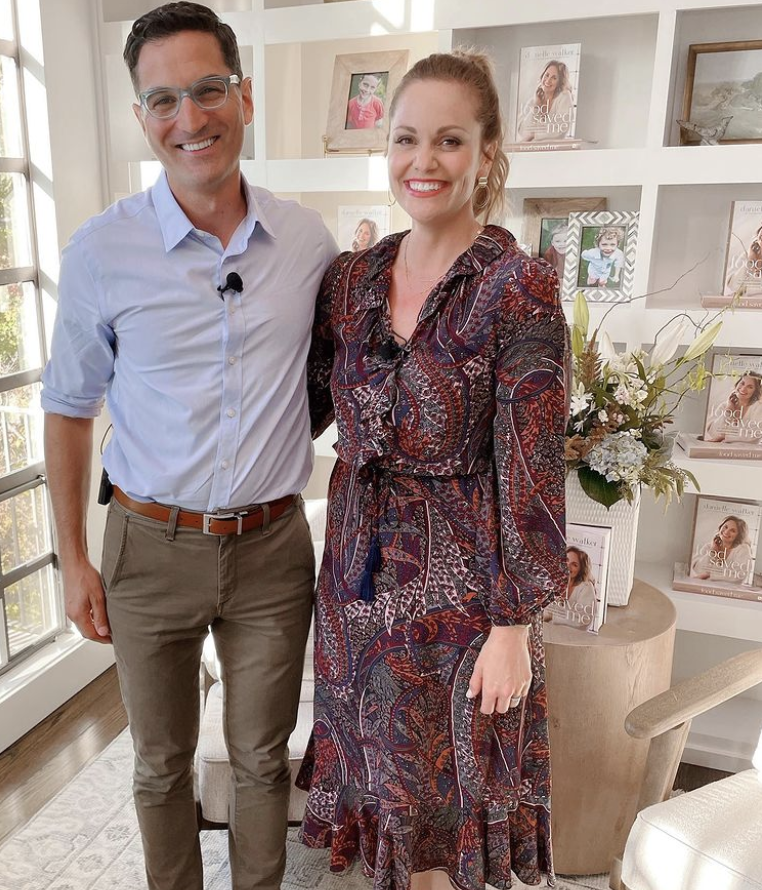 My mom texted me after the release party livestream and said "who's the guy who interviewed you Dani?" I said Guy. And she said "no, what's his name?" I said @guy.raz ! 🤣 My parents went on to say how nice and real Guy was, and I couldn't agree more. I'm thankful for a social media born friendship with a kind and inspiring family who happens to live close by!
Guy's questions were so thoughtful and fun, and I loved getting to talk about some topics that I'm not normally asked in interviews! I also love that he brought his beat up, pages falling out, food splattered copy of my very first cookbook Against all Grain. You get to read about how that book came to be in Food Saved Me, and I will always love the story of the important connection the publisher had to my work.
View this post on Instagram
My audiobook for Food Saved Me: My Journey to Finding Health and Hope Through the Power of Food, is officially out! If you try @audible you can get 2 free audiobooks! Tap the link in my bio to get the deal!
Did you know I read the entire book for the audio version?! My prayer is that sharing my journey will provide hope to you or someone you know. It also has a special bonus interview with Ryan and me and our friend @paulaferris all about living through marriage and parenthood with autoimmune disease.
What's your favorite way to consume books? Kindle, audio, or a physical book?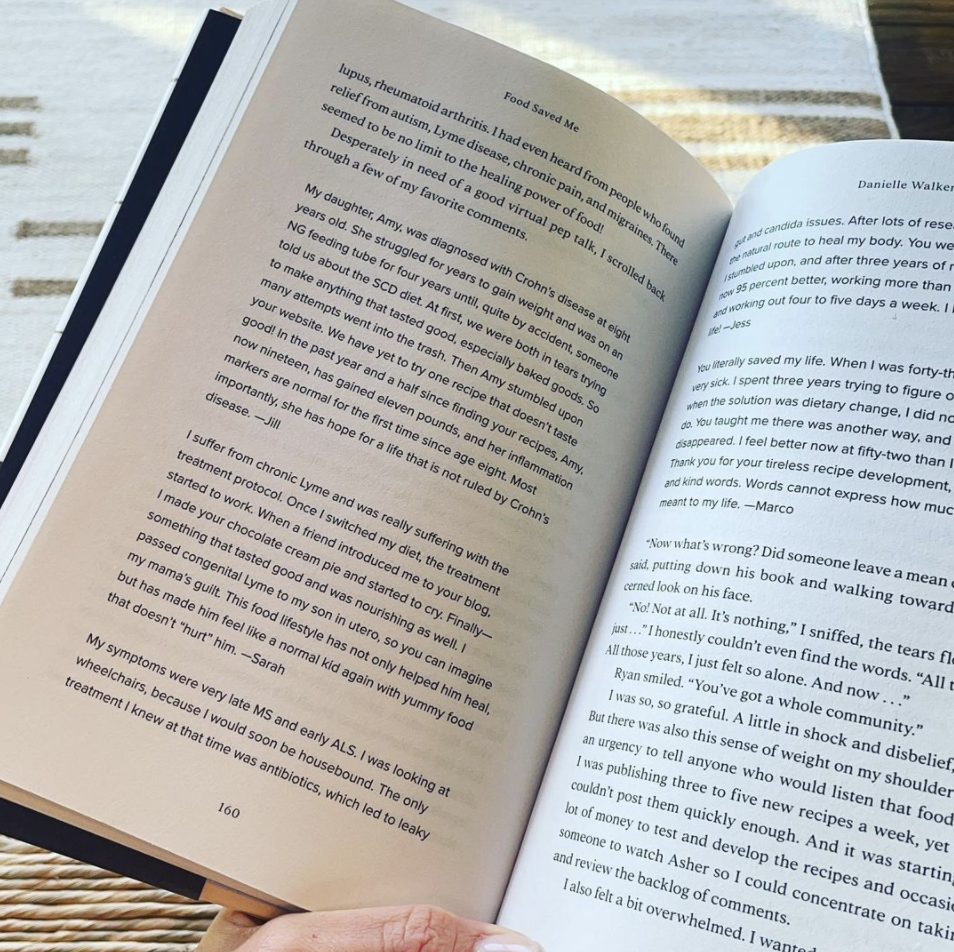 I just got to meet this Amy from this story on a video chat just now.
😭😭😭
I can't even remember when I got this comment on the blog. But it was a long time ago. I receive, read, absorb, and always remember every letter I get. But I never think I'll actually get to meet the person who sent it, or hear about how their life has been since they sent it. I included some of the ones that have stood out to me the most in Food Saved Me.
To Jill. Your daughter is so fortunate to have a mom who went through every and anything to fight for her health and her quality of life. You are a hero.
Amy- keep fighting. Keep evolving, keep searching, and keep advocating. Your smile and sweet spirit came through in the few minutes we chatted, and you've been through so much in your life already. Don't give up on your journey. I'm walking it with you.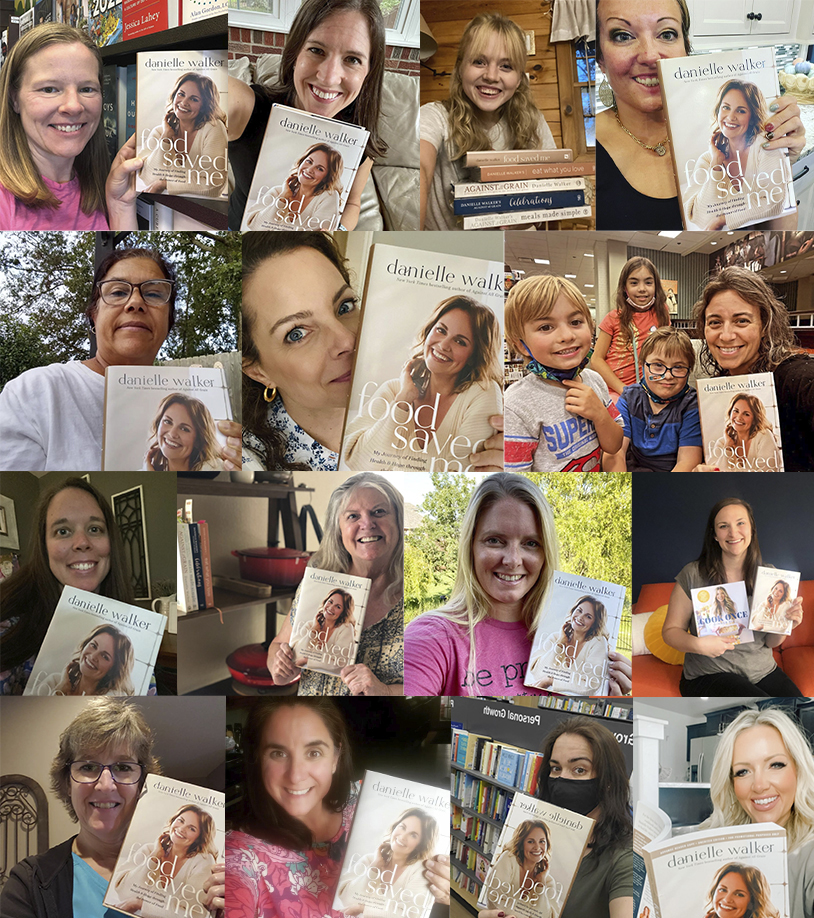 Big news! We're keeping the preorder freebies and bonuses open a little longer until Saturday!! AND I've upped the ante and added a giveaway of membership to my courses for one lucky person! Just plug your order number or receipt number in at foodsavedmebook.com
If you've seen it out in the world – what bookstore did you find it at?! Perusing all of your local independent bookstores when I'm out on tour for books is my favorite thing to do, and seeing your beautiful faces and looking you in the eye as you tell me your stories. So you, in a bookstore with a photo of my book is bringing me JOY this week!
👉Tag your favorite bookstore below! They need our support more than ever this year! I went first and tagged some of my all-time@faves in the photo. 🥰 📚 📖📙
View this post on Instagram
Our dates always end at a bookstore and we found our book at Amazon Books in Walnut Creek (Ryan really should have a byline on this book since he wrote a chapter and was with me through the entire writing process!).
I got a little giddy seeing it on the very front table next to both @michelleobama and @barackobama books in addition to a handful of other incredible books I've read this year! It's been a particularly difficult release week for a few different reasons so when Gloria Gaynor came on in the aisles, I just danced and let it all go and replaced it with joy (and embarrassment for Ry). 🤣🤣
Thank you so much for all of your support this week. And to those of you who have messaged to say you already finished reading/listening to the book (it came out Tuesday!🤯), thank you for giving my story space in your life these last few days. I pray my words brought you comfort and hope, and renewed resolve to advocate for your health and the vibrant life you want. And the resilience to keep pushing through the bumps that are bound to come, but not letting them derail you.
If you're thinking of reading this book – it would mean so much to me if you grabbed a copy this week before Sunday!! A book's 📚📖best chance to get picked up by stores not currently selling it, or get good placement where people can find it, is during its first week out!
Thank you for being here, thank you for trusting me, and thank you for being part of this story. As I said in my stories – your enthusiasm for this book shows the world (ahem bookstores who didn't believe the message mattered) that OUR story matters. Food matters. Healing matters. Sharing stories of suffering matters. And this community matters.
LOVE you all like family. 🤍🤍🤍🤍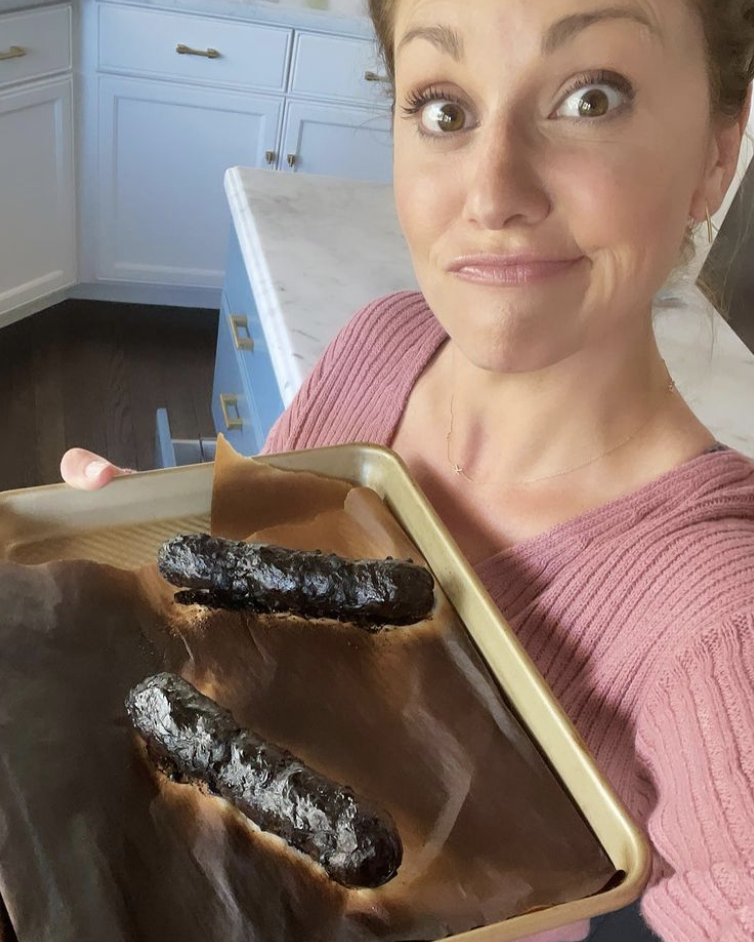 Burnt sausages.
Even the pros do it. 🤣🤣🤣 Sorry for ruining your chicken apple sausages Applegate. Sorrier that I don't have any left 😭
Danielle's Digest: Week of September 13th