Time for some real talk, you guys. This recipe requires a little patience, BUT I promise, it's so worth it! These Dairy-Free Hot Cocoa Bombs are not actually difficult, they just require a soft touch. And the final products are gorgeous, tasty, and so much fun! While they take some skill and patience to assemble, they also have moments for kids to help as you go. There are also lots of ways to customize them — from the sprinkles on top, to what you place inside the bombs — so feel free to get creative! To me, these are the perfect after-school treat for kiddos on Valentine's Day or a gift for a teacher, friend, or neighbor. I just love the surprise element and excitement that these bring to your table. And I want to see yours! So remember to tag me on Instagram, @daniellewalker, with pics of your final products!
PERFECT CHOCOLATE
The first step is double-boiling your dark chocolate. The trick here is to keep the heat high enough to melt it, but not so high that it makes the chocolate seize up. A medium temp should be just right, but if you're unsure, err on the side of caution and start low. Make sure that your bowl is elevated above the boiling water (not touching it) and stir the chocolate as it melts. This should give you a silky smooth texture.
LITTLE HANDS CAN HELP
Next is where the kids can help. Using the back of a spoon, or a small silicone brush, brush the melted chocolate into the inside of the half-sphere silicone mold. Take care to make sure the cavity is completely covered so you don't have any holes in your bombs. And important: you want to brush the chocolate a little higher than the edge of the mold (you'll see why later) and then it's time to let them harden.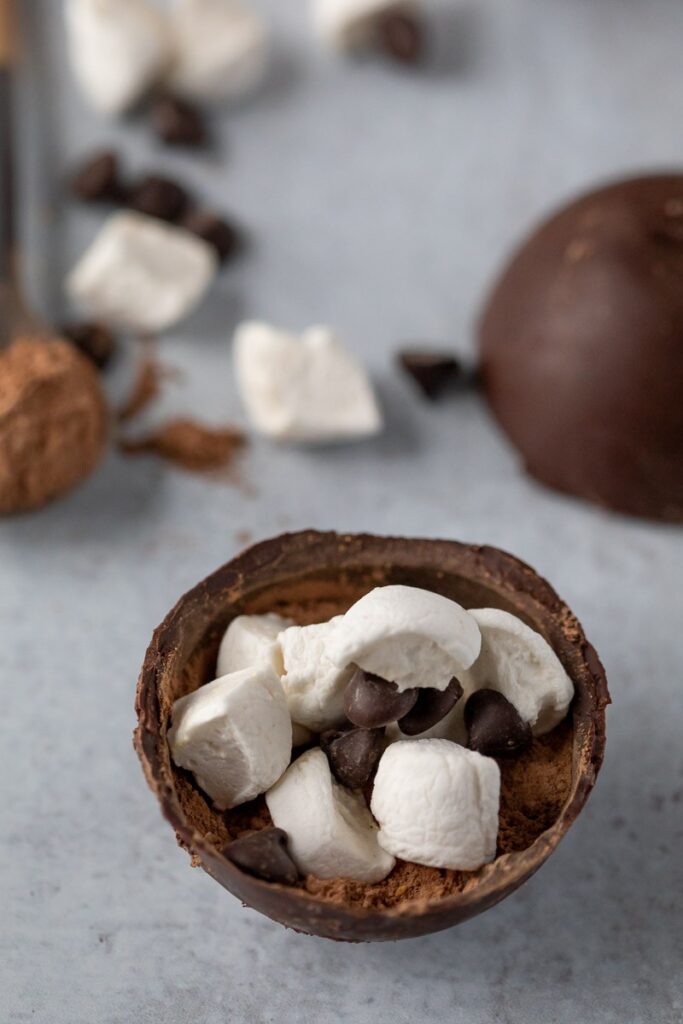 THE GENTLE PART
Once the two layers of chocolate have hardened at room temp inside the mold, this next part requires a deft hand. I like to wear gloves when I release the chocolate from the mold just to avoid finger prints on the outside of the bombs, but it's not absolutely necessary. Gently peel the chocolate out of the molds (watch how I do it in the Instagram video below) and carefully place in muffin liners.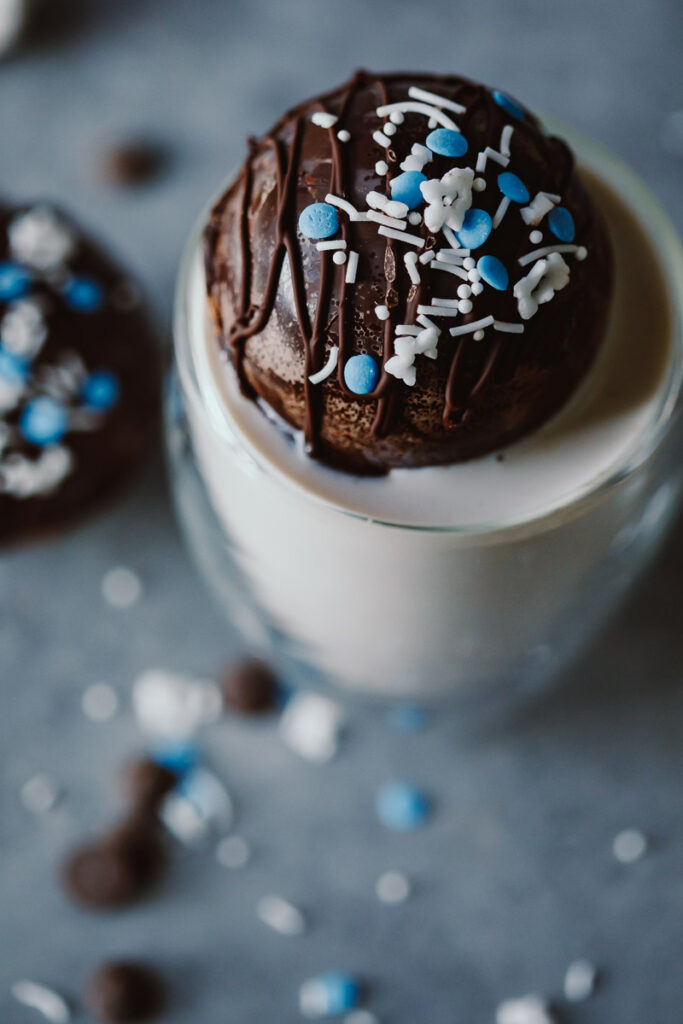 CUSTOMIZE YOUR SURPRISE
Time to pop in your treats! Each bottom half (you should have 6 lined up in your muffin liners) should get 2T of dry hot cocoa mix and whatever else you want inside. To me, what's hot cocoa without marshmallows? I love to make a batch of mine and then cut them into small pieces (kitchen shears work well) so a few of them will fit inside each bomb. I also love to add chocolate chips (these Hu ones are my favorites) or peppermint candy pieces. If you love cinnamon, you could add a tiny dash of that, or some ice cream sprinkles for color. There are no wrong choices here! Well, hardly any. I wouldn't recommend you fill them with queso, but hey, you do you!
ASSEMBLY TIME!
The microwaved warm plate is a great hack here. It will melt the edge (remember how we made it a little higher than we needed?) without compromising the structure. You'll be able to see and feel the chocolate edge melt and once it does, press it against the bottom half of the bomb and it will fuse together. Another option is to use a tiny piping tip and pipe a thin line of melted chocolate along the edge of the bomb and then fuse them together that way.
Once the dairy-free hot cocoa bombs are assembled and set at room temp, it's time for a drizzle of that reserved chocolate. Then top with some sprinkles and your little works of art are ready to enjoy!
WATCH THE PROCESS
Before you start, you may want to watch me make mine on Instagram. Take a peek!
View this post on Instagram
You might also like these delicious treats….
SHOP THE RECIPE
Print
Dairy-Free Hot Cocoa Bombs
Author:
Prep Time:

75 minutes

Cook Time:

0 minutes

Total Time:

1 hour 15 minutes

Yield:

6

servings

1

x
Category:

Dessert

Method:

Stovetop

Cuisine:

American
Instructions
Fill a medium pot halfway with water and place a glass bowl over the top to create a double boiler, ensuring it does not touch the water. Turn the heat to medium.

Finely chop 12 ounces of dark chocolate. Add 8 ounces of the chopped chocolate to the bowl and melt the chocolate in the double boiler, stirring regularly with a rubber spatula. Stir frequently to ensure the chocolate melts evenly and doesn't get too hot. When there are just a few remaining pieces that are unmelted, remove the bowl from the heat.

Add the reserved chocolate a bit at a time, stirring until incorporated and melted. Continue mixing until the chocolate is between around 90F.

Spoon about 1 tablespoon of the chocolate into each of the 12 half-sphere silicone mold trays. Use a brush or the back of a spoon to spread the chocolate up the sides and over the edges of the molds slightly.

Let the chocolate harden at room temperature, about 15 minutes.

Brush the cavities for a second layer with more of the chocolate to even out any gaps or holes. Let sit at room temperature until completely hardened, about 30 minutes.

Wearing gloves to avoid fingerprints on the glossy chocolate, gently release the chocolate bombs from the molds by pressing from the bottom and turning the mold inside out. Place 6 of them in muffin liners to keep them upright.

Place 2 tablespoons of the hot cocoa mix, marshmallows, sprinkles, or peppermint candies.

To fuse the 2 spheres together: warm a plate in the microwave. Place one empty sphere ridge-side down, on the plate for 30 seconds, just long enough to slightly melt the edge. Place it on top of one filled sphere and gently push down to connect.

Alternatively, pipe a small border of chocolate on the filled spheres and place an empty sphere on top.

Let sit at room temperature for 20 minutes to set.

Drizzle leftover chocolate overtop and sprinkle w

ith sprinkles if desired. Let set again.
Keywords: chocolate, kid friendly, Danielle Walker, fun, holidays, beverage, paleo, against all grain
Dairy-Free Hot Cocoa Bombs