My kids are officially back in school, but I am definitely enjoying the last few weeks of summer before I head out on tour and indulge in all the flavors of Fall and cozy sweaters. For now, I am squeezing in one last fun summer recipe for Dairy-Free Chocolate Chip Cookie Dough Ice Cream. I have been wanting to make a cookie dough ice cream ever since I created the recipe for my Real Deal Chocolate Chip Cookies, and started to experiment with making homemade dairy-free ice cream. I can't believe it has taken me 12 years to create this recipe, but I am thrilled for you to try this one. While I was in cookie dough land, I also created a new recipe for Cookie Dough Cupcakes, so be sure to keep an eye out for those coming to the blog later this year! 
This recipe for Dairy-Free Chocolate Chip Cookie Dough Ice Cream uses my famous Real Deal Chocolate Chip Cookies for the dough, replacing the egg with a flax egg and a creamy cashew milk-based ice cream with fresh vanilla extract. The ice cream is perfectly stretchy and chewy and with delicious gooey bites of refined sugar-free cookie dough. My kids, specifically Easton, absolutely love this recipe, especially digging for the cookie dough bites!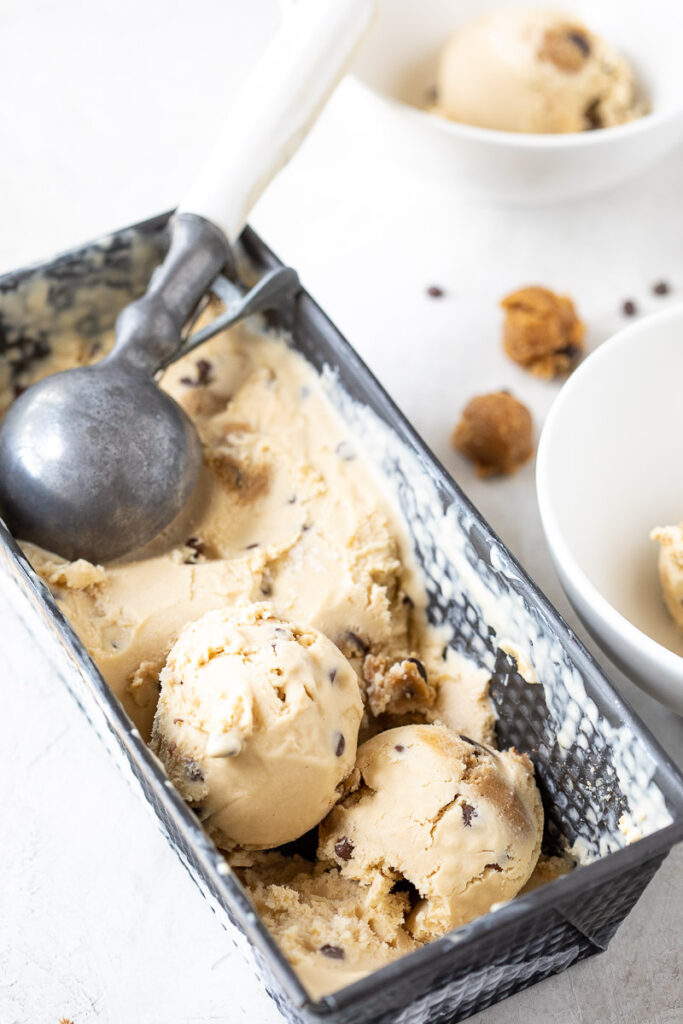 The Cookie Dough
As a kid, I always ate raw cookie dough straight from the fridge. While raw cookie dough is delicious and irresistible, it does contain raw eggs, which could make you sick if not pasteurized. I wanted this recipe to be completely safe to eat raw, so I used a flax egg. A flax egg can be used in a 1:1 ratio of a real egg. Typically a flax egg works really well in recipes that call for 2 or less eggs. When a recipe needs 3 or more, it can become dense and wet and changes the texture of the recipe. 
Flax seeds can become rancid very quickly when buying them ground, so I like to buy fresh whole golden flax seeds and grind them up in a coffee grinder before using it as an egg replacer. The ratio of making a flax egg can vary, but I like to use 1 Tbsp of ground flax mixed with 3 Tbsp of water per egg. It should be a thick enough consistency to coat the back of a spoon and resemble an egg white consistency.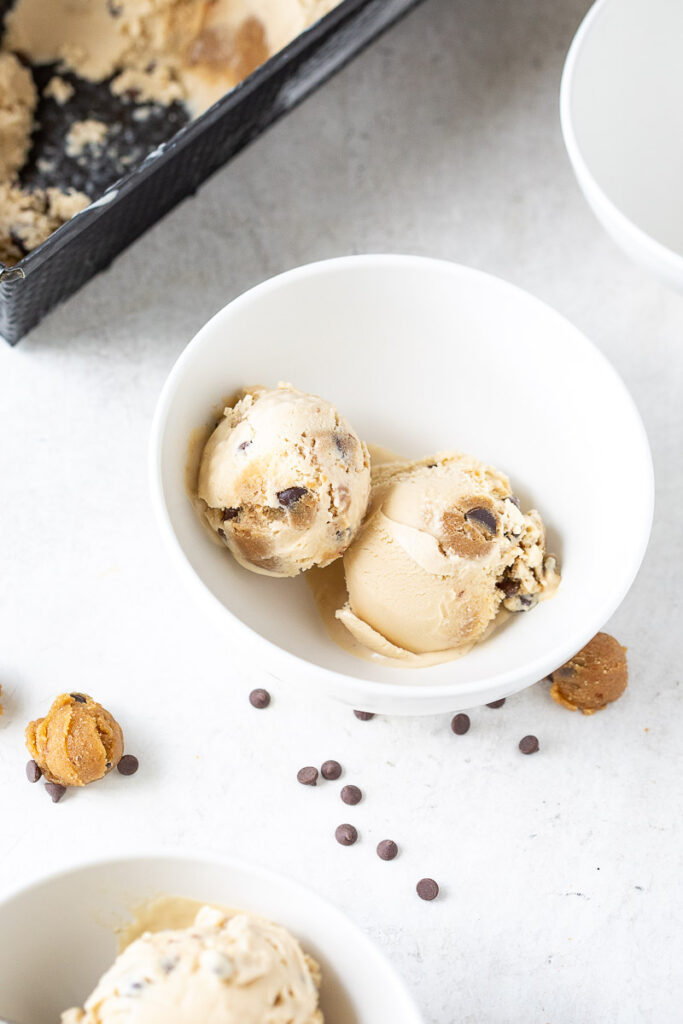 The Ice Cream
I have made many versions of dairy-free ice cream over the years, but I have finally created a recipe that is nearly fail-proof. I use the same base as my Peppermint Ice Cream, but traded in the peppermint for vanilla extract. This cashew-based ice cream is the best consistency I have had yet! Due to the fat in the cashew and coconut milk, the ice cream has a good stretch and chew, and doesn't get icy once stored in the freezer like many other dairy-free ice cream recipes. 
Once the ice cream is made, I scooped small gumball-sized dough into the ice cream and poured in some extra dairy-free mini chocolate chips in for some extra chocolatey goodness. I didn't use all the cookie dough from my recipe for  Real Deal Chocolate Chip Cookies, so I ended up baking the leftovers and enjoyed them at another time!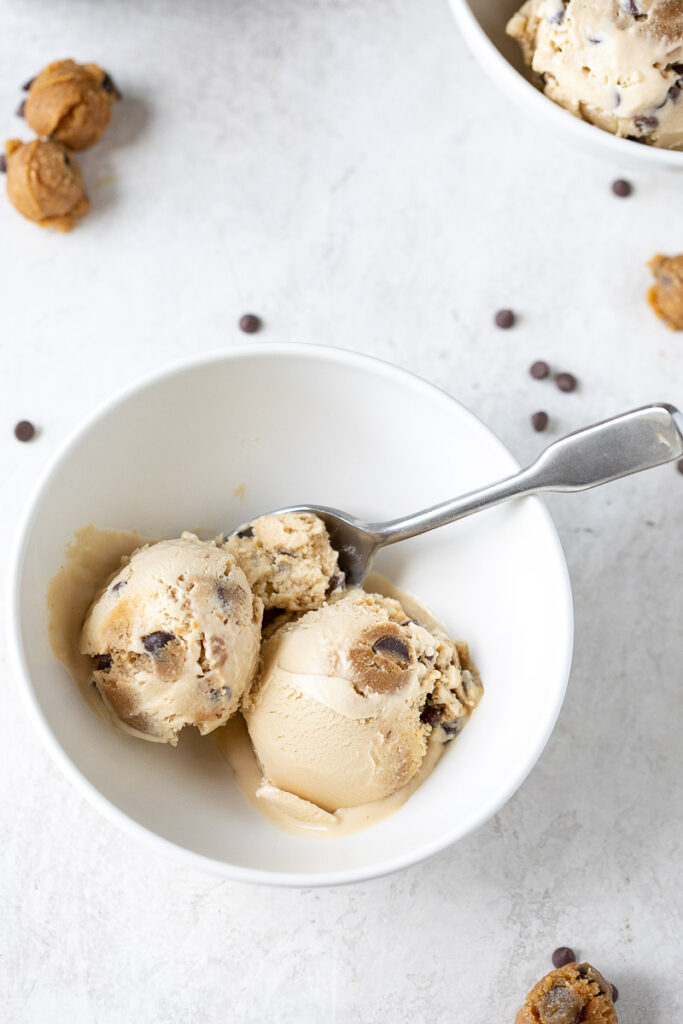 I hope you love this recipe! If you are looking for more Ice Cream recipes, below are some of my favorites. 
Shop this Recipe: 
Print
Dairy-Free Chocolate Chip Cookie Dough Ice Cream
Author:
Yield:

4

-

6

servings

1

x
Category:

Dessert

Cuisine:

American
Instructions
1. Soak the cashews in boiling water for 30 minutes. Drain and rinse well. Add them to a blender with 1 cup water and the can of coconut milk. Blend until very smooth and no visible pieces of cashews remain.
2. Whisk the egg yolks, maple sugar, honey, and salt in a saucepan. Whisk in the coconut-cashew milk.
3. Place the saucepan over medium-low heat and warm, whisking frequently for 10-12 minutes, until the custard coats the back of a spatula. Scrape along the bottom periodically to make sure the bottom of the pan doesn't scorch.
4. Pour the custard through a mesh strainer into a large bowl. Cover well and chill for 4 hours, or overnight.
5. Meanwhile, make the cookie dough. Scoop into small gum ball sized bits and freeze.
6. Stir in the vanilla and churn the ice cream mixture in an ice cream machine according to the manufacturer's instructions. Once the ice cream reaches the soft-serve consistency, add the cookie dough bits and chocolate chips and churn until incorporated.
Cookie Dough:
Place the shortening and flax egg in a food processor and process for 15 seconds.
Add the coconut crystals, honey, and vanilla extract. Process again until combined.
Add the flours, baking soda, and salt and process for 30 seconds. 5. Scrape down the sides and pulse again if necessary to fully incorporate the dry ingredients.
Stir the chocolate in by hand.
Keywords: Paleo, dessert, Danielle Walker, Against All Grain, ice cream, kid-friendly, gluten free, dairy free, chocolate
Dairy-Free Chocolate Chip Cookie Dough Ice Cream