It is officially spring, so I think it's the perfect time to share this recipe for Gluten-Free Lemon Poppy Seed Muffins. I made this recipe over on my IGTV in the beginning of February – since so many of you enjoyed them, I decided to publish the recipe in a proper blog post. The original recipe is from my first cookbook, Against all Grain, and it is actually a Lemon Poppy Seed Bundt Cake. The muffin version of these are perfect for a midday snack or as breakfast muffins with a cup of coffee or tea. 
Here in California, we have 2 seasons of citrus and we happen to have a massive Meyer lemon tree in our backyard! When they are in full bloom I try to utilize all of my lemon recipes. Meyer lemons are my favorite because they get so plump and have an incredible sweet/sour flavor and juice to them. This muffin recipe is simple to make and freezes really well. You can make a batch (or double!) and freeze them for when you are craving a delicious snack. 
The process: 
For this recipe, I just put all the ingredients in a blender. Be sure to put the wet ingredients on the bottom to help with the blending process. I prefer using the blender for the majority of my grain-free baking for a variety of reasons, but mainly because it helps create a better texture. Almond flour is finely ground, but not as finely ground as an all-purpose wheat flour. Utilizing a blender really helps mix it together and ensure a smooth batter. It also adds some nice air bubbles to it, so they become a little more fluffy in the oven. 
The Glaze: 
The original recipe has a lovely glaze on top that is optional but I highly recommend it! The muffins taste delicious without it, but if you are craving something slightly sweeter and dessert-like, you can definitely add the glaze to these muffins. The glaze is completely dairy-free using cashews as the base and coconut milk with hints of lemon flavor.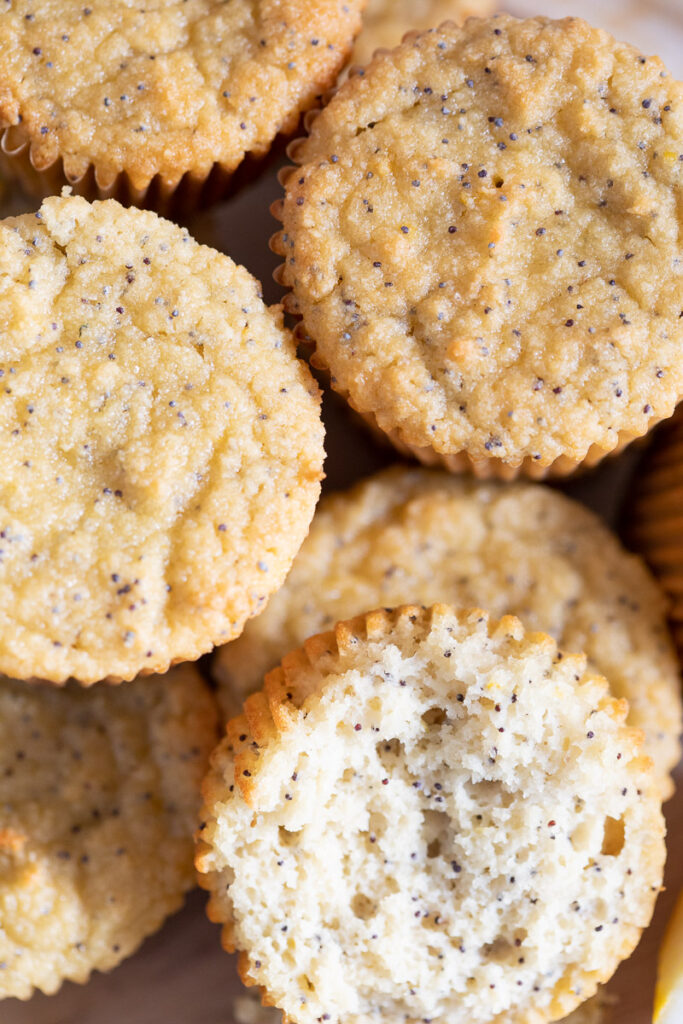 More lemon recipes:
I have several lemon recipes for you to enjoy this upcoming spring and summer season. Some of my favorites are below! 
Meyer Lemon Meringue Pie- page 276 in Against all Grain
Lemon Bars- page 117 in Celebrations 
Lemon curd- page 286 in Against all Grain
View this post on Instagram
Shop This Recipe: 
Print
Gluten-Free Lemon Poppy Seed Muffins
Author:
Prep Time:

10 mins

Cook Time:

20 mins

Total Time:

30 minutes

Yield:

24

servings

1

x
Category:

Snack

Cuisine:

American
Instructions
Preheat oven to 350F.
Add the eggs, palm shortening, honey, maple sugar, almond milk, lemon juice, vanilla to a food processor. Process for 15 seconds until combined. Add the almond flour, coconut flour, arrowroot, baking soda, sea salt and process for 30 to 45 seconds, until the batter is smooth.
Stir in the poppy seeds and lemon zest.
Line 2 muffin tins with parchment liners, and fill the cavities ⅔ of the way full.
Bake 20-25 min, until a toothpick inserted into the center comes out clean.
Cool completely on a wire rack.
Keywords: snack, dessert, breakfast, lemon, baking, Danielle Walker, against all grain, paleo, gluten free, grain free
Gluten-Free Lemon Poppy Seed Muffins