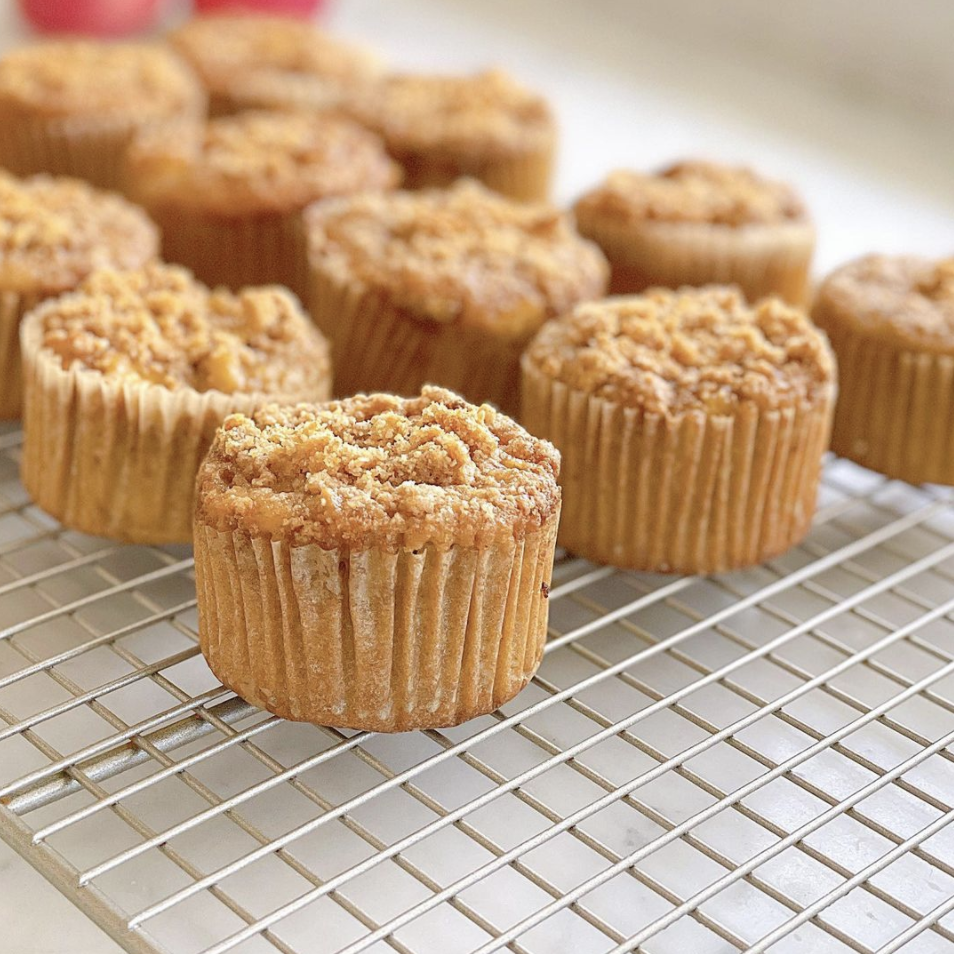 🍎🍎🍎
Here's the full recipe from my live demo yesterday! It's on daniellewalker.com (search Apple muffins), but these are the modifications I did! Also I made them again and upped the flour to 2 1/4 c. 🥰 I'm planning on using that crumb topping for an apple pie. It's SO good.
3 large eggs, at room temperature
2 tablespoons fresh lemon juice
¹⁄4 cup palm shortening or unsalted grass fed butter
1 teaspoon vanilla extract
¹⁄3 cup honey
1/4 cup maple syrup
½ cup warm water
2 1/4 cups Grain-Free Flour Mix (if you didn't get mine with the preorder or as a course member – Bob's Redmill paleo flour or Thrive Market Paleo Flour)
1 teaspoon Pumpkin Pie Spice
3/4 pounds fuji apples, peeled, cored and dice (about 2 cups)
Topping
1/2 cup grainfree flour mix
1/4 cup maple sugar
1/2 teaspoon pumpkin pie spice
1 tablespoon unsalted butter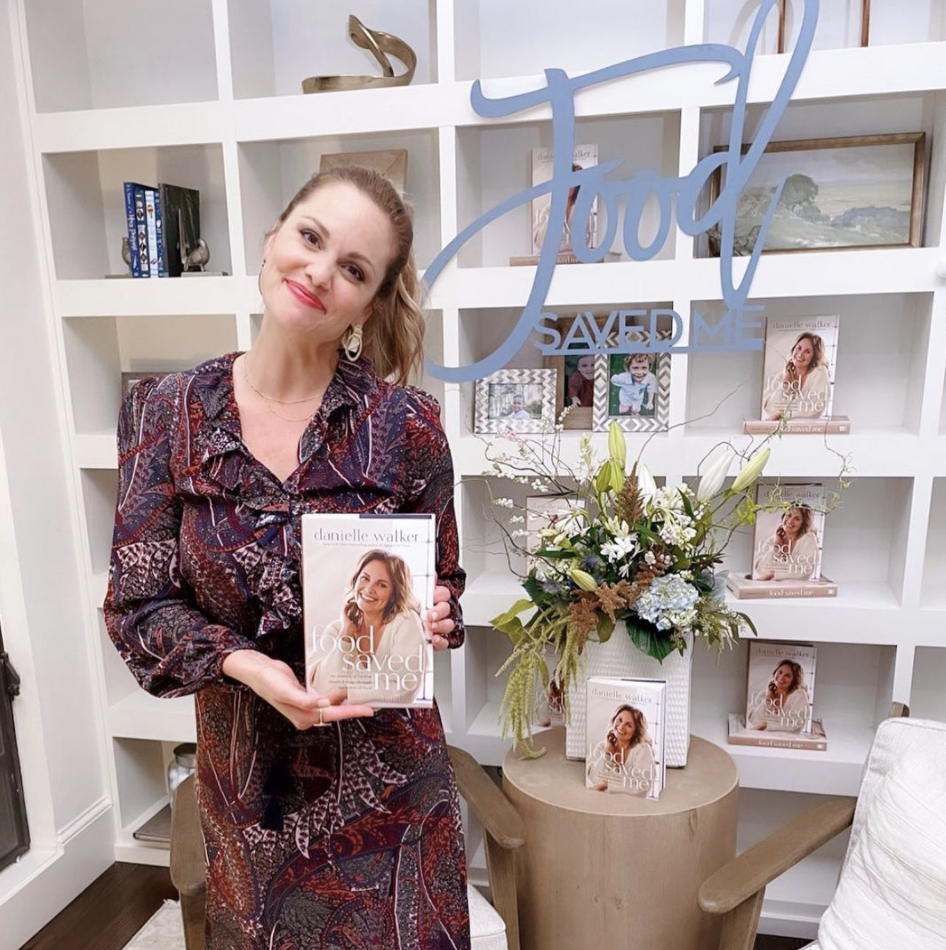 #14 on Publisher's Weekly bestsellers list!! 🥳🥳🥳 We're celebrating this recognition this week, and that only includes hard copy! That doesn't even include all of you who have listened to the audible copy or read on your kindles this week! Our stories deserve to be heard, and your vulnerability in sharing your journeys in the book has the potential to impact so many. To everyone who is included within the book, thank you for your courage.
Amazon is officially back in stock and has marked the book to 29% off today!! And your local bookshops should have it on shelves soon (if they don't have it, you can order and they'll have it within a week or so!).
THANK YOU to everyone who picked up a copy, shared with your loved ones, and wrote a review this week.
"This book is about so much more than food and recipes. Danielle candidly takes the reader along through the lows and highs of dealing with illness. We learn that food does matter, greatly, in so many ways. The right food can give us hope and heal our bodies so that we don't always have to be at the mercy of drugs or surgery. Danielle takes us along on a very personal journey with an autoimmune disease. She does not sugar coat what it is like to live with autoimmunity, but along the way she offers a great deal of hope through healing with food. This book was so good that I had a difficult time putting it down until I finished it!" – Chris S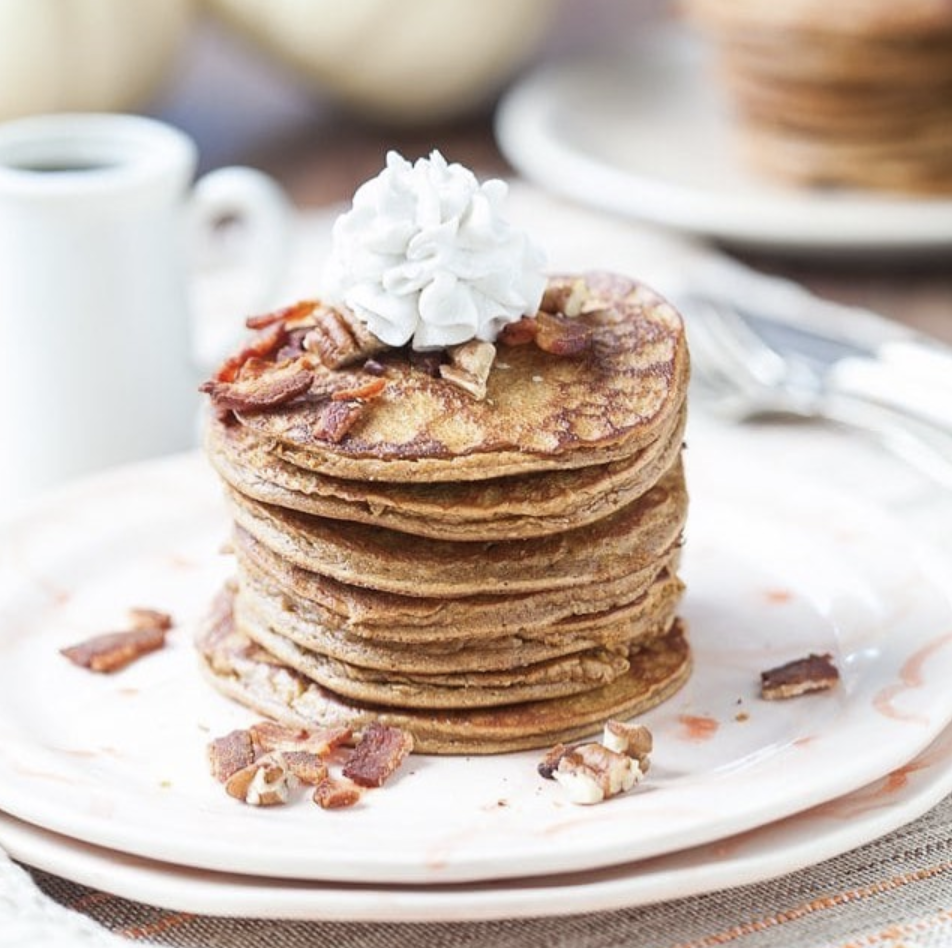 we're decorating for fall today and I want these grain-free Pumpkin Pancakes with Maple-Bacon Pecan Topping! Sadly my kids are requesting regular pancakes with chocolate chips so…I lose.
INGREDIENTS:
4 large eggs
½ cup almond butter or sunflower butter
½ cup pumpkin puree
¼ cup honey
¼ cup almond milk or coconut milk
2 tablespoons melted coconut oil + more for pan
½ teaspoon vanilla extract
¼ cup coconut flour
¾ teaspoon baking soda
1½ teaspoons cinnamon
¾ teaspoons nutmeg
¼ teaspoon ginger
¼ teaspoon cardamom
¼ teaspoon sea salt
Topping
6 slices cooked bacon, chopped
¼ cup chopped pecans
maple syrup and whipped coconut cream, optional
View this post on Instagram
giveaway!!
I put this gift basket together for a friend with some of my favorite things, and wanted to gift one to someone here too!
I love gifting a homemade gift basket and filling it with my favorite items – my favorite salt, favorite honey, 3 of my favorite spice mixes, custom DW wooden cookbook stand, DW recipe page flags, and of course a copy of Food Saved Me ☺️
Just share this to your stories and comment below once you've done it to enter!
🥰🥰🥰
Burger night!
This burger patty recipe (below!) from Celebrations Cookbook if my go-to. Always. I love the BLTA salsa but it's not always made so much as just putting on the components on a cutting board and building lettuce wraps.
Also check my stories before they expire for a way to get 2lbs FREE grass fed ground beef for life!
Ingredients
3 pounds ground grass-fed
beef
1⁄4 cup grated yellow onion
3 tablespoons extra-virgin
olive oil
1 tablespoon prepared
yellow mustard
1⁄2 teaspoon fine sea salt
1⁄4 teaspoon freshly ground
black pepper
gently mix together the beef, onion, olive oil,
mustard, salt, and pepper in a bowl. Use your hands to loosely form eight
3-inch patties. Preheat a grill for indirect-heat cooking to medium-high
heat.
Sear the patties over direct heat for 2 minutes on each side. Move the
patties to indirect heat as far from the coals or gas jets as possible and
cook for 5 minutes more per side, or until a meat thermometer reads
160°F for medium doneness.
View this post on Instagram
Book talks with @ayeshacurry @sweetjuly in Oakland!
If you missed our live chat a couple of weeks ago, here's the replay! Thank you for opening up your beautiful sweet july store for us A, and for having such a meaningful chat about the Food Saved Me!
View this post on Instagram
Ok so summer is almost over, but I'm not willing to let go of my favorite summer drink yet!
Find the honey simple syrup recipe on daniellewalker.com!
🍹🍹🍹
1 part honey syrup
1 part fresh lime juice
2 parts tequila (I love the Kirkland anejo!).
Shake with a couple of ice cubes, strain, and serve over ice!
View this post on Instagram
believe it or not, 2 of my kids had never had a grilled cheese 😭🙈 I don't know why it's one of things I forget to make, because it's one of my favorites. After years of being dairy free, I can tolerate sheep and goat's milk cheeses, grass fed butter, and ghee. Still no milk or cream for me, but cheese is my true love so I'm good.
I used my grain-free sandwich bread, grass fed butter, Trader Joe's sheep's milk manchego, TJ'a goat milk cheddar, and my all time fave – Lamb Chopper from Cypress Grove. The soup and pesto are dairy-free and are both from Eat What a You Love!
What's your favorite cheese for grilled cheese?!
ps when I was fully df my fave was Miyokos Mozz mixed with Violife Feta. 😍
One of the things I love most about the audiobook version of Food Saved Me is Ryan's part in it. He read the chapter he wrote for caregivers, and he joined me and our friend @paulafaris for an hour bonus interview about walking through marriage and parenthood when one of the partners has a chronic illness. I loved the honest conversation and that it's a private bonus for audiobook listeners.
My friend @anniefdowns asked me recently on her podcast what character traits I think my kids have developed because of what I have been through and my resilience. I honestly had never thought of that before, and loved that question.
To see our hardships as character builders for our children, not detriments.
👉What traits do you think your kids have developed by watching you go through chronic illness, autoimmune disease or loss?
View this post on Instagram
anyone else's kids obsessed with the yoda filter? 🤣
All I could think of was elphaba 💚🐸☘️🌿🍃🐢🦖🦎🍏🥒
Danielle's Digest: Week of September 27th